Efficient business processes are the lifeblood of any organization. The opportunity to leverage intelligent technologies such as artificial intelligence, machine learning and various forms of robotic process automation integration with enterprise applications are abundant today. However, organizations need to carefully select the right business processes and activities that are fit for RPA adoption in line with their business culture, skillsets and existing solutions to get the maximum benefits of RPA.
Why you should automate business processes and activities
The reason is simple: automating mundane business tasks to save time, money and allocate valuable resources in constructive work. With Deloitte, Forbes, IBM, Accenture, McKinsey and others reporting on RPA efficiency, it has already become a buzzword. The trend will see an upward movement with Gartner estimating nearly 69% of routine business activities becoming fully automated by 2024. Hence, it is essential to know what business activities are fit for RPA adoption. If you want to learn more about RPA: what it is, why you need it, how RPA exactly works and so on, read Softweb Solutions' RPA implementation guide.
Regardless of the industry you belong to, you can leverage the business benefits of RPA implementation by applying it into the following processes.
Industry
Customer-facing division

Banking and financial services

Refund processing
EMI registration
Statement reconciliation
Report validation
Brokerage processing
Debit/credit card issuance
SIP registration processing

Manufacturing

Invoice processing
Order booking
Supplier onboarding
Supply chain supervision
Compliance reporting
ERP reporting
Central database updation

Insurance

Tax compliance
Claims processing
New policy issuance
Document verification
General ledger reconciliation
New business bulk data entry
Endorsement processing

Healthcare

Medical billing
Staff onboarding
Appointment scheduling
Rapid patient registration
Account settlement
Test requests management
Treatment cycle supervision

Retail and E-commerce

Store planning
Customer support
Business and sales analytics
Supply chain management
EOD and month-end reports
Product categorization
Loyalty management
That's why
80% of finance leaders are already using some form of RPA for various purposes.
64% of large manufacturers have applied RPA to automate rule-based processes.
The insurance industry expects to automate 25% of the processes by 2025.
The healthcare industry saves an astounding $2.1 billion each year from poorly performed manual tasks.
The retail sector saves almost 30% of the time spent on low-level, repetitive tasks.
Routine business processes of various industries that are a good fit for RPA adoption
Benefits of RPA in invoice processing
A worker collects necessary data from various invoices, arranges it and uploads it into a company's financial database. During invoice processing, the company works with different file formats like .pdf, .doc, .txt, or emails given by a client. Working with massive amounts of diverse data makes invoice processing tedious and prone to error.
Automating invoice processing with RPA involves the configuration of a software robot. It gathers invoices, reads data fields across different file formats and transfers data to the financial database. Automating invoice processing with RPA saves significant time and makes the process error-proof. As a result, those resources can now concentrate more on strategic tasks and bring greater business values.
RPA in onboarding/account opening/device registration and activation
All these processes – RPA in onboarding/account opening/device registration and activation – more or less follow the steps given below: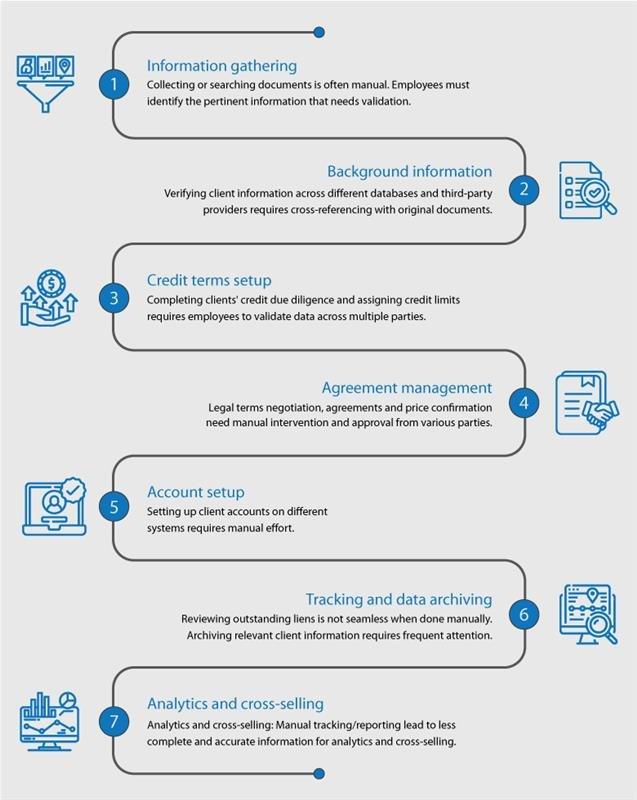 Imagine placing the staffing required for such mundane tasks to more meaningful jobs that cannot be replaced by RPA adoption. You can make it a reality with RPA solution implementation. Software robots check email whenever a new customer onboards, creates an account, or registers the devices. After checking the correctness of the data, the bots perform the actions as per the requirement. In the final step, the solution sends an email to the user that their requirement has been successfully fulfilled. The biggest business benefit of RPA adoption by industry is it makes monotonous, open to error steps efficient and flawless. In many cases, it cuts down the required time from a few hours to some minutes for such tasks.
RPA in payroll processing
The payroll processing activities usually need employees' wage information, tax figures, time and attendance records as inputs. Isn't that tedious, fallible and high-transaction volume-driven work? What if you automate a payroll process? According to the American Payroll Association, it reduces payroll processing costs by as much as 80%, as it cuts invoices and paychecks errors. Other benefits of automating payroll activities are:
100% consistency
No keystroke errors
Noteworthy processing speed improvement
With that, your employees get time to engage, inspire and lead performance at new levels. Learn how RPA can impact businesses, what you should take care of while going ahead with RPA adoption, what are the key characteristics of robotic process automation software and more by reading why you should adopt RPA for your business?

Upgrade legacy systems with RPA
RPA adoption by industry started in the 1960s, but most companies' vital data remains in silos and is held in legacy systems. Data works best when you get it in a unified view and can be analyzed for business intelligence. As the clients', customers' and companies' demands evolve constantly, firms need to integrate legacy systems with RPA to stay on top of the game.
Several firms use APIs, integrated applications, or human expertise to integrate/upgrade legacy systems and enhance system integration. RPA is more adaptable, faster and less expensive to deploy than APIs. Firms also start realizing value almost immediately from function-based legacy systems. Additionally, there is a large inventory of mainframe legacy applications, which APIs cannot integrate. That's where the use of RPA for legacy systems serves as a boon.
RPA adoption has already become a business transformation essential
Knowing more about what top 4 business processes different industries automate with RPA can help you significantly set up the direction. We all know that speed is good, direction is what matters. Considering the business benefits of RPA, business leaders worldwide ranked RPA as the second most essential technology for business transformation. Consequently, it's reasonable to state that RPA is much more than a band-aid solution. Decision-makers and technical leaders perceive RPA as an automation-first strategy. Are you? If your firm looks to eliminate inefficiencies, maximize the value of your investments and reach new peaks of efficiency through RPA adoption – we're happy to help you.