Over the decades, organizations are driven by automation. We have seen great innovations from basic spelling checks to flying drones that can capture photos and videos. Automation robots have truly simplified our menacing tasks to a certain degree. However, today's limelight belongs to robotic process automation (RPA) that is making waves in the technology world. RPA solution is slowly becoming an integral part of business processes, allowing organizations to automate desired areas for better efficiency. Let's address some of the common questions related to RPA.
According to CIO Insight survey,
"98% of IT business leaders consider automation to be essential to drive business profits."
What is RPA exactly?
Unlike a physical robot, robotic process automation technology eases rule-based and structured processes. RPA operates such processes without interruption and reduces the scope for both error and fraud.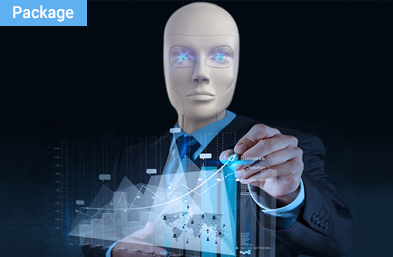 Robotic Process Automation Services
Businesses continuously look forward to improving operational efficiencies, increasing revenue and reducing operating costs.
Mundane jobs such as back-office, administration, IT maintenance and clerical corporate finance can be easily automated with robotic process automation implementation. For instance, your sales and service reps can spend more time consulting clients, instead of struggling with delays caused by the collection of information from various sources. With intelligent automation, enterprises can make their business processes better, faster and more accurate.
What are the top benefits of implementation of RPA?
While manual processes are inefficient and prone to errors, RPA empowers modern organizations in the following ways:
Better accuracy: RPA eliminates errors and increases business process efficiency. It automates low-level and backend tasks that are repetitive and tedious in nature. Moreover, the use of RPA allows the human workforce to focus on higher skilled work thereby improving business and employee satisfaction.
Improved data quality: Often organizations struggle with managing data and its quality. By employing RPA, enterprises get an improved quality of data and lower compliance risks due to reduced manual data edits.
Higher scalability: Each time when heavy workload arrives, robots can be quickly scaled to handle the spikes as RPA can execute multiple tasks with equal speed. Hence, it becomes easy for enterprises to manage high volume data workloads at greater speed.
Reduced costs: RPA enables significant cost reduction by simply automating repetitive and structured tasks. It mimics human activities and learns from patterns and outcomes. For instance, RPA software can work on customer experience enhancement and can prove to be more efficient in creating customer-centric work. Researches have shown average handling times (AHT) reduced by 40 % and processing costs lowered up to 80 % by using RPA.
Easy integration: To make the most of RPA, it can be integrated with other technologies such as CRM and ERP systems for efficient outcomes. By doing so, organizations can demonstrate their capability in streamlining various customer-centric tasks.
Improved focus: Enable your human workforce to get rid of fatigue and boredom often brought by mundane tasks. With RPA deployment, your skilled employees are freed up for value-added tasks such as monitoring projects, decision-making, and delivering insights and services to customers.
What are some ordinary ways to use RPA?
As we know that RPA is best suited for organizations that struggle with high volume, time-consuming, and repetitive tasks. Here are some common uses of how RPA can be put into practice:
RPA is ideal for entering data into multiple systems
Arranging a sequence of activities based on priorities
Making rule-based decisions
Sifting through large data sets to identify relevant information
Receiving, reading and validating data from multiple sources
Monitoring and reporting on performance
Is RPA the next big thing?
RPA plays an important role in the analysis of Big Data and the Internet of Things (IoT) by streamlining data management. It helps to analyze available data with faster processing and automates several tasks at the same time. This ability combined with machine learning and artificial intelligence has undoubtedly permitted RPA to become the pillar for modern organizations and a core part of Industry 4.0.
RPA is expected to lead businesses with greater speed and efficiency. In fact, RPA is promising for the workforce in this era of digital transformation. Henceforth, the human workforce will no longer be restricted to any redundant job limitations. Modern enterprises are already planning to use RPA to address new business challenges while creating greater automation opportunities.
Why must I care about RPA?
It is advisable for visionary enterprises to consider successful RPA implementation and start making decisions based on a complete view, to equip a better workforce and to become future-proof. Subsequently, we know that enterprises which evolve around digital transformation are likely to stay ahead of the curve. In short, companies that exercise RPA are assured to keep away from complexities and benefit from significant opportunities for efficiency, quality enhancement, risk mitigation, innovation and ultimately, growth.
Insight
RPA is the tool with which companies can increase workforce engagement and satisfaction. If your enterprise wishes to maximize value and leverage automated operating models, then RPA is the right fit for your business. Bring your queries to us and we can help you get started with your RPA journey.