With Industry 4.0, manufacturers have already started deploying automation and IoT applications in their business operations. With robotics in place, manufacturers are able to streamline assembly lines and efficiently manage production departments. However, the manufacturing industry still struggles to effectively manage operational or backend processes.
Manufacturers have to operate time-intensive processes like procurement, inventory management and payment processing while simultaneously strategizing cost reduction and innovation in business operations as well as keeping up with regulations.
Robotic process automation (RPA) in manufacturing offers companies improved agility in operations across the entire value chain.
Refer our blog – Why you should implement RPA in manufacturing operations.
72% of the companies by the year 2019 will be relying on Robotic Process Automation (RPA) to increase operational efficiency, productivity and increase compliance. – Information Services Group
Being an RPA service provider, we receive several questions regarding the uses of RPA in manufacturing operations. Let's address these questions one-by-one.
How do we deal with auditing while adhering to changing regulations?
We understand that changing regulations and compliance policies in operational areas like finance, health and safety, and sustainability is a constant worry for most manufacturing companies. Moreover, manufacturers dealing with global clients and suppliers have to adhere to so many different regulations varied between countries. With RPA in place, manufacturers can automate audit and regulatory updates to reflect changes in the regulations. RPA software has the ability to adapt to changing regulations and exceptions.
How can we handle inventory imbalance?
Raising and processing purchase orders is a crucial administrative task that requires precision. Reducing inventory waste is another issue that manufacturers face due to unpredictable supplier delivery and customer demands. These challenges prevent companies from maintaining efficient communication with suppliers. With RPA implementation, manufacturers can scale supply chain operations to meet supply requirements when the demand increases.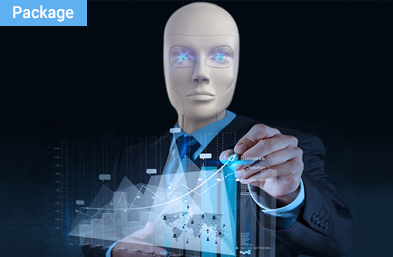 Robotic Process Automation Services
Businesses continuously look forward to improving operational efficiencies, increasing revenue and reducing operating costs.
How do we efficiently maintain logistics records?
It is a tedious job to keep track of every carrier and freight that leaves and enters the warehouse, especially when is the process is carried out manually. Notifying customers about ETAs, shipping charges and maintaining records of every transaction are some of the major challenges faced by the manufacturing industry. RPA improves logistics operations by automating the scheduling, sending automated notifications to the clients and real-time reporting of the logs.
How do we minimize errors in processing invoices?
The volume of invoices handled by manufacturers is massive. With traditional invoice processing systems that are still paper-intensive, the chances of errors are high. The cost an organization incurs in correcting such errors often results in late payment penalties. Moreover, invoices come from multiple channels, which add to the processing time. By implementing RPA in invoice processing, you can automate data input and error reconciliation. With the help of OCR and natural language processing, RPA bots can read useful information from the input data and generate as well as read invoices.
How do we address the skills gap?
Many manufacturers face skills gap challenge due to overburdened work and are unable to hire skilled resources as quick as required. This increases operational hurdles for the HR team with tasks like reviewing resumes, scheduling interviews and many more. RPA software can help organizations to minimize this burden by automating jobs like collecting, processing and sorting candidate profiles into the database system, candidate sourcing and screening, and providing required information to the candidates.
How to better manage a bill of materials (BoM)?
With a wide list of raw materials, sub-components and other details, it is difficult to maintain a BoM. All employees refer to this document to understand the purchase process, products and customer requirements. Hence, a single error can create havoc in the entire system. RPA makes BoM systems more agile, which enables manufacturers to easily eliminate issues like overstocking, increased product cost and delay in consignment.
We have listed several other areas in Robotic Process Automation blog, where RPA can help organizations to deliver transformational changes.
Benefits of implementing RPA in manufacturing operations
Cost savings
Companies can increase productivity with uninterrupted round the clock working ability of RPA bots which in turn increases the total savings. RPA also saves the cost of manual labor required to perform mundane and repetitive tasks.
Robotic process automation typically results in up to 20% cost saving. – Capgemini
Reduced errors and wastage
RPA bots can solve manufacturing challenges like manual errors and inventory waste by automating scheduling. The rule-based functioning of RPA systems minimizes the occurrences of errors. As a result, wastage declines significantly too.
Increased focus and efficiency
As seen above, RPA helps manufacturers to maximize efficiency by reducing the errors. While RPA handles administrative tasks, workforce can attend to higher value activities.
Leverage RPA for back office operations
By implementing RPA, manufacturers can replace their error-prone traditional systems with more reliable digital ones. With our RPA consulting services, we will help you to understand and implement the full potential of the technology to automate processes, achieve efficiency, cut costs and gain better human to machine collaboration.
Contact our RPA experts to learn more.