Today, enterprises are working vigorously to achieve greater business process automation (BPA) and provide state-of-the-art customer experiences. This has generated the need to leverage several automation technologies to automate all the connected business processes.
RPA for business process automation is one of the most important automation technologies. RPA adoption by any industry increases business productivity and efficiency. RPA adoption acts as a catalyst for digital transformation by empowering organizations to control their business processes.
This paves the path for constant enhancement of business processes. Moreover, when you take help from an RPA service provider, you can easily create an intelligent automation roadmap for your organization.
Furthermore, organizations need to take help from RPA service providers to utilize fully the capabilities of RPA. RPA service providers like us help organizations to integrate ML and AI with RPA to transform the entire business ecosystem. With our end-to-end RPA consulting services, we first identify why should companies adopt RPA. We then develop respective RPA solutions and apply seamless RPA capabilities to enhance productivity, reduce operational costs, improve scalability and create better customer experiences.
Learn about how does intelligent automation work? Also, know the key business benefits that intelligent automation provides to organizations by reading a blog on implementing intelligent automation.
Let's look at what you should know about RPA in businesses:
Intelligent automation
With intelligent automation in place, you can use intelligent business process automation technologies to direct the course of work throughout systems, employees and devices. This requires the integration of artificial intelligence, machine learning and natural language processing to enhance the competence of your business system. This also assists you to achieve insights based on data analysis and make better decisions for your business in the future.
Having a well-implemented, task-oriented RPA base helps you to build your intelligent automation capabilities. All you need is an efficient arrangement of corresponding tools and technologies. In addition, it is also crucial to understand what value can be derived by implementing various process optimization techniques.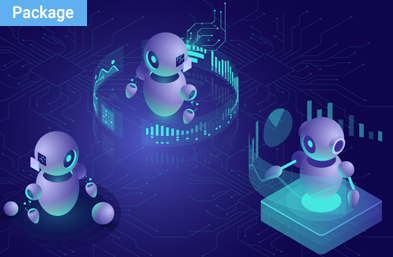 Robotic Process Automation Consultation
Robotic Process Automation (RPA) is the solution as it can be undoubtedly applied across multiple sectors to automate various processes and save tremendous time and efforts.
For best results, it is always better to combine it with task‑based automation to achieve benefits quickly. Like redistribution of people from activities that are not very significant, etc.
Cognitive automation
You can increase your automation efforts by introducing RPA with cognitive technologies. Technologies like speech recognition, artificial intelligence, machine learning, natural language processing, etc. automate high-level tasks that required human insights and decisions in the past.
RPA service providers are beginning to explore cognitive automation. Uniting AI and ML skills helps RPA bots make more complex decisions. RPA automation software can improve efficiency and productivity by streamlining manual tasks and using the workforce more efficiently. This is definite to create a system that will take automation to an eminent level.
In 5 years, at the current growth rate, the adoption of RPA will reach almost all companies that will use the technology in some way. In other words, the RPA will reach almost universal adoption sometime in 2023. – Deloitte
The key characteristics of robotic process automation software:
Seamless integration – RPA tools provide unique flexibility in the evaluation of digital workforce performance with seamless integration.
User-interface interaction – RPA bots can imitate human interaction like filling information, cursor actions, push-button clicks, etc.
High volume data handling – RPA bots are designed to handle greater volumes of data in process interactions.
Learning capability – By employing ML algorithms, advanced RPA robots can integrate with AI.
Rules-based exception handling – RPA system supports deployments with rules-based exception handling. This feature proactively handles the exception.
RPA services market will reach the US $ 12 billion by 2023.
– Forrester
How does RPA impact on businesses:
As per a report by Everest Group, RPA is expected to lead to a 65% reduction in cost. This is because it can register data at the transactional level and facilitate quick decision-making.
RPA will continue to:
Enhance the productivity of your employees
Develop better business competence and precision
Reduce costs
Result in an increase in profit on the whole
It is a step-by-step task that allows you to automate regular and recurring tasks. And therefore frees your staff to concentrate on more essential jobs.
Read our blog on benefits of implementing RPA to know about what are the top benefits of implementing RPA, whether RPA is the next big thing and why must you care about RPA.
Here's a list of things to take care of while you go ahead with RPA adoption:
Scalability– Select RPA platforms that you can manage and scale up centrally.
Speed– Bot designing and optimizing must be executed quickly.
Reliability– Look for tools that have built-in monitoring and analytics.
Simplicity– Solutions must be simple to use and capable of handling various types of work.
Governance– Consider multiple security and governance capabilities.
Financial planning– Tools for classifying bot usage must help your teams to assess the ROI of existing bots.
Some benefits of robotic process automation from a business perspective at a glance:
2x return on investment on a mundane task
1.5x improvement in overall employee productivity
Increases efficiency
Adds to accuracy
Augments security
Boosts scalability opportunities
Improves analytics
Enhances customer service
The final say
RPA software is useful for organizations that have several distinct and complex systems and need to interact with each other constantly. If a process platform or application is outdated, RPA can be used to solve this problem. If your existing business processes and IT infrastructure are effective, RPA automation will be an easy-to-use tool to achieve your automation goals.
Implement RPA solutions with processes that require little thinking and consistent application movement to save time, money and effort. To know more about how to automate business processes with RPA, talk to our experts.