Modern businesses are interested in leveraging robotic automation to automate business activities as they compete in a digital-first environment that demands smooth operations and more value from resources. RPA implementation has become a mainstream investment priority across sectors because of the benefits it provides. However, the world has moved on with advancements in intelligent process automation.
You're far away from the hyper competitive world if you have not implemented RPA yet. Automate your rule-based processes such as ERPs, workflow and databases. Intelligent automation (IA), which encompasses technologies like machine learning and dynamic workflow, is the next step in the automation journey after RPA. By learning and adapting as it automates, Intelligent automation creates exponential value.
Kofax 2020 benchmark report has revealed a few facts that will surprise technical leaders:
About 98 percent of decision-makers said that taking an unintegrated approach to automation has resulted in unexpected issues.
High technical debt (46 percent) and delayed success (35 percent) were two of the most prominent challenges.
Nine out of ten decision-makers think working with a single automation vendor and platform can provide considerable value.
The Kofax 2020 benchmark report has revealed that organizations are making considerable headway to automate front-end and back-office operations. That's why we are talking about intelligent automation as a solution.
What is intelligent process automation (IPA)?
Automation today touches practically every element of business operation and is a must-have for organizations determined to live competitive. However, many businesses patch together poorly linked and siloed automation capabilities to keep pace with arduous external pressures. If you're a technical leader, you'll understand such scenarios quite well.
How can firms achieve their automation goals while maintaining high quality and long-term flexibility? Intelligent process automation is the answer, simply because it features the combination of process automation with artificial intelligence capabilities.
How does intelligent process automation differs from other automation
Intelligent automation varies from typical IT automation in several ways because of its machine learning (ML) and artificial intelligence (AI) capabilities. The main purpose of IPA is to train robots or computer applications that stimulate repetitive responses. Workers usually give these responses. Automating it results in a faster time-to-market and increased profits.
The key benefits of intelligent process automation are: near real-time communication across all business operations, error-free jobs at a lower cost and allowing people to focus on important tasks.
Be it logging into applications, copying and pasting data, moving files and folders, filling out forms and extracting structured data from documents, IPA robots can perform the majority of repetitive human user operations. As a result, businesses in recent times already use IPA to solve a variety of business difficulties and needs in order to cut costs and boost profitability.
Here are a few potential reasons to adopt intelligent automation
1. Works securely at the speed of light across the enterprise
2. Digitizes operating models to readily match expectations
3. Supports any technology-powered business processes
4. Adapts to changing work structures
5. Resolves the cost of scaling against new workloads
Intelligent process automation (IPA) use cases:
1. Customer support
Today's modern customers demand prompt responses and satisfaction of grievances. Due to human constraints in handling such a large number of customer services, it is humanly impossible to cater solutions timely. The only solution is to build an automated rule-based solution with intelligent automation. Automated customer service solutions have enabled businesses to respond quickly to frequent consumer questions and FAQs, giving the human side of interventions additional credibility.
2. Processing invoices
Invoice processing can be a time-consuming and tiresome activity as it demands extreme precision and accuracy. Therefore, payments can often be delayed, and inaccuracies may occur with such repetitive tasks. Intelligent process automation robots can assist finance staff in automating error resolution, data inputs and even decision-making involved for invoice processing. Consequently, automated invoice processing with AI enables them to limit errors in such processes as well as reduce the need for manual intervention.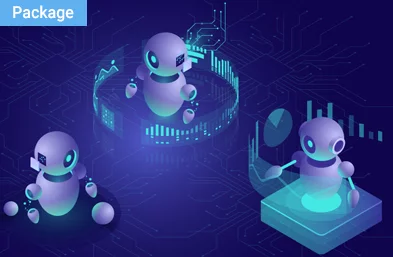 Robotic Process Automation Consultation
Robotic Process Automation (RPA) is the solution as it can be undoubtedly applied across multiple sectors to automate various processes and save tremendous time and efforts.
3. Payroll transactions
Payroll processing demands considerable data input efforts on the part of HR staff, which usually results in data errors, payment delays, and employee dissatisfaction. IPA can validate timesheets and deductions as well as evaluate the consistency of employee data across multiple systems. Automate payroll processes using IPA to manage benefits and payments as well as salary formulating operations. Importantly, it eliminates inaccuracies and delays by automating end-to-end payroll transactions.
4. Comparing prices
Large purchases are frequently made by businesses to provide a diverse range of services or products. Organizations routinely do research online in order to make educated decisions because the cost of these transactions might have an influence on a company's revenue or profitability. Many companies are already increasingly benefitting by automating pricing intelligence to make reliable decision-making instead of getting involved in tedious processes. The use of IPA not only evaluates pricing from many vendors but also assesses product features and quality.
5. Customer information storage
IPA can assist you in storing, organizing and categorizing all forms of client data so that you have quick access to everything. Different data sets, such as contact information, purchasing history, preferences and personal information can be automatically classified as customer information storage automation.
IPA eliminates the need to enter data manually or be concerned about its accuracy. In contrast to employees, IPA can always be counted on for correctness and has a lower error margin. This way IPA can assist you in reducing repeated tasks, and as a result, saving your time and effort.
6. Recruitment process
Another process that can be automated with IPA is recruitment. IPA can assist HR team to obtain resumes from a range of online platforms, analyze individual skill sets, determine value, and screen out spam and unwanted applications. It enables HR to acquire access to the necessary capabilities for candidates with significantly less work and expense.
Recruitment automation with AI will not only enable HR to sort through the relevant resumes and have access with every application that is most appropriate for the requirement, but it will also assist in filtering out unnecessary applications.
IPA assists HR employees throughout the recruitment process, from screening through final onboarding and administration. For a better understanding, watch this video, which shows a real-life example of how Unilever uses AI and machine learning to automate the recruitment process.
7. Reporting and documentation
There aren't enough hours in the day to meet the demand for reporting. It's nearly impossible to achieve reporting uniformity across the organization, especially when regulations differ by sector and business unit. The consistency and quality of reporting can have a significant impact on an organization's ability to generate superior long-term results. Week after week, businesses may expect to receive reports and analysis.
Intelligent report process automation uses the same business logic each time and collects reports as soon as they are ready. It can reduce manual effort in reporting and documentation process, and the company can expect continuous real-time insights instead of waiting for the present reporting cycle to finish.
Intelligent process automation is the next big step in automation
We've seen how IPA can be used in many unique ways. Over time, your employees will acquire accustomed to quickly adapting to new technology, allowing them to work more efficiently. Are you still hesitant about implementing IPA-led automation? Contact us for a consultation and to discuss your needs with our professionals.