Organizations across the world are rapidly switching to advanced ERP systems with an aim to streamline their processes, make smarter decisions, and work more efficiently. However, even after spending a lot of time and money in installing and implementing these ERP systems, businesses have not received the expected ROI. One of the major reasons behind this is that there are still certain limitations that crop up even after their implementation. A number of tasks still need a lot of manual input and human intervention. This hinders ERP systems from achieving their full potential.
Robotic process automation (RPA) is an ideal tool that is helping ERP systems like SAP, Microsoft Dynamics, NetSuite and many others to overcome these limitations. Use of RPA for ERP driven processes helps organizations in making these routine, time-consuming tasks less expensive and less labor-intensive. This results in accelerating workflows and at the same time freeing up time for employees to focus on other important tasks.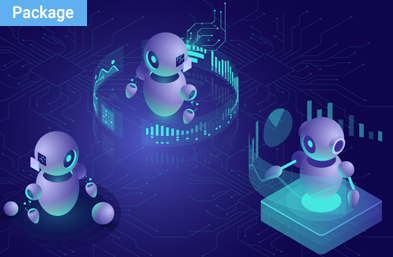 Robotic Process Automation Consultation
Robotic Process Automation (RPA) is the solution as it can be undoubtedly applied across multiple sectors to automate various processes and save tremendous time and efforts.
Most common use cases where organizations can use RPA for ERP
Automated data entry in advanced ERP systems
Executing SAP upload or download processes
Filling a form on screen
Comparing data fields on screen
SAP ERP integration with legacy systems and third-party applications
Automated data migration in ERP
Screen scraping data on screen
Identifying an exception to a process and flagging it for review
Data mining
Monitoring the sending of emails
Benefits of RPA integration with SAP:
Reducing costs for SAP operations is one of the biggest reasons why businesses look forward to automating SAP processes with robotic process automation. The list below shows some other important advantages of integrating RPA with SAP and other ERP systems:
Increased productivity and efficiency
Labor-intensive and time-consuming SAP tasks can be automated using RPA. This helps organizations to enjoy increased productivity through business process optimization within SAP. Companies have also witnessed an improvement in their SLA that directly affects the overall customer experience.
Improved accuracy
Even experienced professionals can make SAP data entry mistakes. However, in case of RPA, the probability of occurrence of these kinds of mistakes is close to zero. Therefore, through SAP automation with RPA, businesses can reduce the rate of error occurrence for processes and improve accuracy for their business outcomes.

Insights
Understanding the use of RPA in top 5 operational areas of manufacturing
Manufacturing companies still struggle to keep back-office processes fast and simple, mainly due to less skilled labor, repetitive processes, old-fashioned supply chain and inventory systems, and frequently changing regulatory requirements.
Higher level compliance
With RPA in place, it becomes easy to monitor all-important information related to your SAP system. This helps in identifying any abnormal behavior and pattern that is not in accordance with SAP compliance checkpoints. All this helps you to deliver higher data governance and quality.
Click to know more about RPA and its benefits.
RPA streamlines key ERP processes
RPA can help organizations to streamline a number of common ERP processes, as the opportunities for automation are quite high here. We will be discussing two key processes where the potential benefits of using RPA go above and beyond.
Vendor evaluation in SAP
One of the most time-consuming tasks involved in supply chain management is the evaluation and selection of the right vendor.
The Vendor Evaluation component in SAP helps in the selection by generating a ranking list of the vendors. However, this evaluation process in SAP involves a number of manual tasks that increases the time as well as the likelihood of errors.
Some of the key tasks include:
Comparison of the price of materials and services provided by the vendors
Identifying the vendor with better delivery performance
Selecting the vendors that adhere to delivery requirements and safety standards
Evaluating quality notification against the vendors listed
Instead of spending hours to manually extract this information and carry out further analysis, it is better to use RPA. Data related to payment history, delivery, credit rating, customer satisfaction and other such parameters can be extracted automatically using RPA. By taking rule-based decisions using this data, selection can be automated, while processing time and efforts involved can be reduced.
Procure to pay process
Procure to pay process is another important task which is carried out through an ERP system when a company needs to buy some products/services from an external vendor. The overall process involves a number of key steps like opening the contract, creating contract release order, generating goods receipts, making service entries, handling invoices and finally processing payments. Though ERPs provide the groundwork to digitize these steps, the functionality to streamline them fully does not exist in most of the systems.
By using RPA along with ERP, businesses can get a fully automated and seamless solution for procurement. Steps like requisitioning, document management, invoice matching and payment processing can be automated within the ERP using RPA. Regardless of how complicated an ERP procure to pay process appears to be, RPA can be trained to see and fill out the needed fields.
Let us explore some of the ways of using RPA to improve ERP's procure to pay process:
Automate the process of data extraction from receipt of bids and invoices using OCR and ICR
Key fields from documents can be updated in the ERP system
Identify discrepancies automatically in order handling
Takeaway
RPA can help ERP systems in a number of ways. But the areas where it can benefit the most for your SAP implementation depends on the nature of your business, current issues and your specific needs. Our RPA experts can help you in identifying these business areas within your ERP system as well as guide you through in selecting a suitable automation platform as well.