The emergence of the Covid-19 pandemic compelled the healthcare industry to be on its feet. It ultimately challenged the healthcare sector to undergo a dramatic change, from the reinvention of health-related facilities to the utmost transparency in delivering patient care while undermining the ongoing resilience to the crisis.
The healthcare industry is transforming into a data-driven world now, as it generates a lot of data from EMR, CRM, HMS, outpatient registrations, labs, pharmacy reports, claims, patient billing, memberships and more. Although a massive amount of data is available, it offers less insightful information. Here is where adopting a healthcare dashboard in Power BI would be of great help.
What is Power BI
Power BI is a cloud-based business analytics tool by Microsoft. It gives you a unified view of your business data by allowing you to monitor the health of your business with live dashboards. You can create visually interactive business intelligence reports using Power BI Desktop and give access to your data on the go with Power BI Mobile applications.
Why you need a healthcare dashboard in Power BI
Data scattered across multiple systems
Time-consuming manual reports
Quick turnaround time on report modifications
Nonexplanatory and noncentralized reports
No resources to clean up or consolidate data
Security concerns
Lack of actionable insights
Role of Power BI in the healthcare industry
Healthcare providers can derive insights required to reduce costs, increase revenue and improve patient care while adhering to compliances and regulations by integrating Power BI. Moreover, Power BI for healthcare organizations provide greater visibility into their data and allow them to collect meaningful insights into their key performance indicators (KPIs). This tool has great potential to contribute to many areas of the healthcare industry.
All in all, Power BI for the healthcare industry gives a 360-degree view of all the necessary metrics. These metrics include a single healthcare dashboard, updated in real-time and compatible with all your devices – Mobiles, desktops and tabs. Just with a click, you can delve into data using business intelligence tools that have artificial intelligence (AI) capabilities to find answers and uncover new insights rapidly.
Moreover, for a philanthropic cause, they have an interest in operating the hospital as competently as possible. Here Power BI dashboards make it seamless to share business intelligence reports with all team members and request their ideas or feedback.
With a Power BI dashboard, one can monitor hospital and healthcare quality indicators mentioned in the image given below.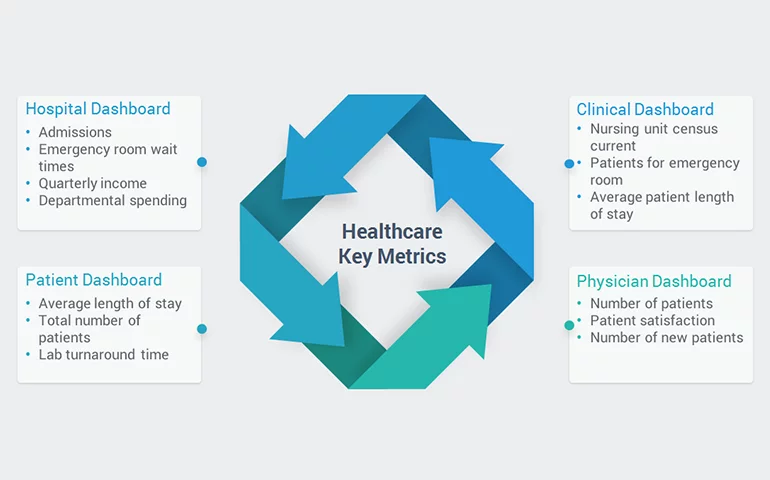 Above all, the characteristics of powerful data visualizations include personalization, storytelling, impact, timeliness, comparisons and connections.
It helps to measure and compare physician allocation, patient satisfaction, number of occupied beds and ER wait times. With healthcare dashboard reports, you can enhance operational efficiency, resulting in smarter decisions and better outcomes.
Even today, some healthcare organizations are hesitant to move to the cloud for storage of all their information securely.
Power BI offers a data storage facility in the cloud and on-premises. With gateways, you can keep your data fresh by connecting to on-premises data sources without shifting your data. So, now with data on-premises, keep your healthcare dashboard reports updated and easily accessible to your users on multiple types of devices. Otherwise, you also have an alternative to securely store the data in the cloud based on your healthcare organization's necessity.
For example, surgeons and stakeholders might not get a chance to have a direct conversation with each other. However, both are ultimately affected by each other's requirements and goals. A surgeon needs the best medical equipment and trained support staff to perform surgeries safely. While investors and stakeholders need to provide excellent care to patients, although they anticipate getting a good ROI.
Some of the benefits of Power BI for the healthcare industry
Shows key data clearly
Indicates trends and patterns within the data
Increases the understanding of complex data
Makes data more accessible to key decision-makers
Supports top medical executives in quick decision-making
Conveys clinical insight effortlessly
Enables easy data management for use across diverse departments
Leveraging Power BI in healthcare can help providers put the mounting data into context for physicians, executives, administrators and more. It offers an economical method for communicating information to people across the healthcare organization while ensuring high-level data representation in detailed and in a controlled manner.
Hire Power BI consultants for a healthcare organization
Power BI is a dynamic and feature-packed application, and Microsoft keeps adding more features to its list. The modern medical setups must use Power BI for operational efficiency without setbacks. However, their employees need professional Power BI training to extract business analytics and intelligence from data. Hence, healthcare organizations must choose to hire Power BI developers to train the staff to use Power BI dashboards, business intelligence reports, data visualization and data analytics in the best way.
The final say
Consider key metrics to implement Power BI correctly. It will, without a doubt, help you to surpass the competition and deliver world-class service to the patients.
What's more, if you don't have in-house data visualization capabilities, you can choose to partner with a Power BI solutions provider like Softweb Solutions. We can assist you with your entire setup from planning and designing to delivering. Also, post-implementation, we are always at your availability for any support. Feel free to write to us if you have any questions about Power BI implementation in the healthcare domain.