In today's technologically advanced world, the notion of business intelligence (BI) is no longer alien to enterprises across industries. As newer analytics tools and techniques are emerging rapidly, most enterprises have started integrating Power BI to address the crisis of data management.
Apart from that, now we live in a changing world. As the ongoing COVID-19 pandemic is causing upheaval, a question that arises to most of us is – what role can Power BI implementation play in a time of crisis? In response to it, Microsoft created a Power BI tool kit that analyzes the COVID-19 global spread and quickly presents up-to-date data to the people.
If we look at Gartner's 2020 Magic Quadrant for Analytics and Business Intelligence platform, Microsoft is positioned in the Leaders' quadrant with a continued high thrust in Power BI.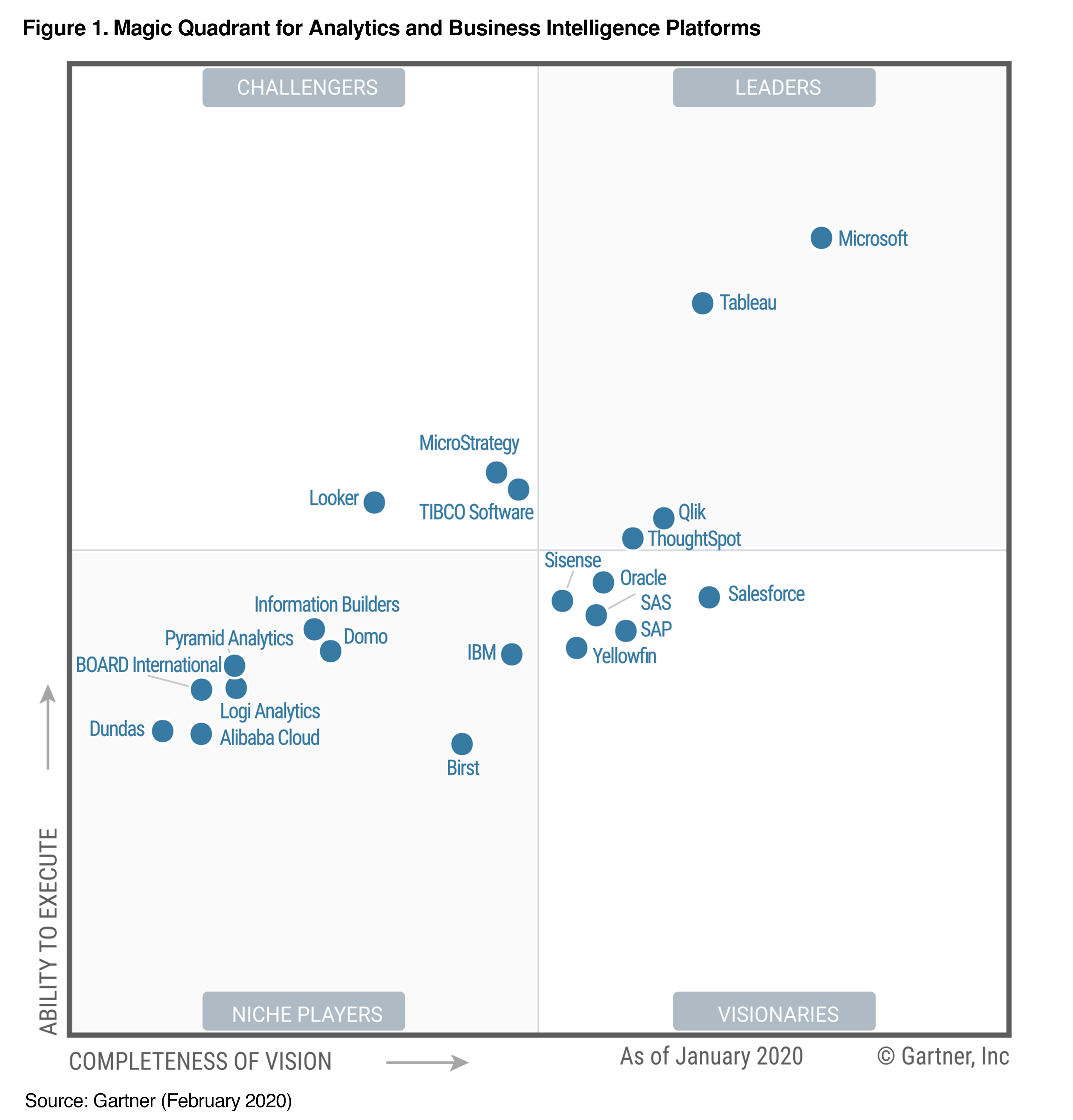 Source: https://www.microsoft.com
This blog post will help you realize the business value of Power BI implementation and the reasons why it is deemed to be the most preferred business analytics tool.
Power BI at a glance
Power BI is an innovative cloud-based business analytics tool that turns large amounts of data across silos into meaningful, intelligent insights. The platform connects multiple data from different sources like on-premises and cloud-based platforms including SQL DB, Excel, Salesforce, Dynamics 365, Google Analytics, etc.
Power BI can help you to make savvy business decisions with the help of the following features:
Data modeling: Connects data from multiple data sources to build rich, interactive reports.
Data shaping: Adjusts or shapes the data as per the need using a tool called Query Editor.
Data visualization: Provides huge libraries to create stunning custom visualizations using the visualization SDK.
Case Study
Real-time data transformed into insightful reports and visualizations through Power BI
Softweb Solutions helped Bartz Viviano Flowers & Gifts Inc to implement Microsoft Power BI and created dashboards that provide the insights and real-time self-services capabilities
Moreover, Power BI does not require any additional engineering resources, licenses, infrastructure support, or CAPEX investment. Also, you can even subscribe to a free, off-the-shelf version of Power BI for data governance.
Top seven reasons to leverage Power BI for data management
Here are the key benefits of using Microsoft Power BI for your modern business requirements.
1. Stream, visualize and update data in real-time
With the support of a real-time streaming feature, you can push streaming datasets into Power BI via PubNub, REST API, or Azure Stream Analytics. The real-time streaming functionality of the Power BI data management tool will facilitate you to:
Push and stream datasets in real-time
Present real-time visuals
Update dashboards in real-time
2. Integrating BI with Cortana intelligence
You can integrate Microsoft's digital assistant Cortana with Power BI for instant access to the data reports and charts. With Cortana integration, you can also verbally ask questions in natural language and get rich, data-driven answers straight off from your business datasets.
For instance, as shown in the screenshot below, if you type in a search query using Cortana, then it will give you the result in the form of custom visualization of the context.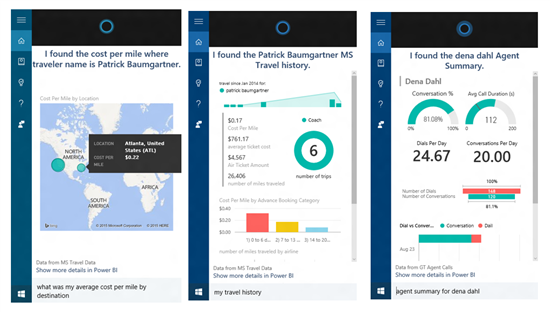 Source: https://powerbi.microsoft.com
3. Boost customer-centricity
Implementing Power BI can help you deliver critical business insights quickly without writing any code for data integration and analytics. You can also adopt a customer-centric approach to drive personalized customer experiences and develop customized reports.
4. Bring the predictive power of advanced analytics
Using the forecasting and predictive analytics feature of Power BI, you can extract actionable insights from big data. Moreover, an advanced data modeling feature will help you track past trends, monitor current performance, and predict future outcomes precisely. It will even allow you to compare and run 'What If' scenarios.
5. Build intelligent custom visualizations
The custom visuals SDK will empower you to develop a rich library of fully tailored, open-source, customer-centric visualizations. Power BI is very flexible and not a one-size-fits-all solution. So, you can either integrate Power BI with your existing visuals or develop custom visualizations from scratch.
6. Effectively monitor and manage Azure databases
If you are already using the Microsoft cloud environment, then Power BI's Azure Activity Log Analytics feature is just for you. This feature facilitates generating reports of the past ninety days of the Azure Activity Log data. And, leveraging Microsoft Azure Synapse along with Azure is the icing on the cake as it will enable countless possibilities for your business.
7. Optimized data management and security
Power BI can also help you to protect sensitive data and reduce the risk of data leakage, all while maintaining productivity. Using the security solutions and features provided by Power BI, you can keep a close eye on unauthorized activities. Besides, the Cloud App Security and Microsoft Information Protection features of Power BI will enable you to:
Categorize and label critical data
Empower security administrators
Monitor and protect user activity in real-time
Transformational value Power BI can bring to your business
In a world of remote everything, Power BI can help you unlock the new superpower of BI to drive an unparalleled data culture. As Power BI brings all the data to a single, centralized platform, it will help you save costs and achieve quick turnarounds.
With the transformational capabilities of Power BI, you can make smarter and faster business decisions and thus bring more value to your business. This automated BI tool can also help you to achieve self-service business intelligence and drive competitiveness.
Additionally, the recent Power BI updates and integrations announced at the Microsoft Ignite 2020 have a lot to offer your business, including enhanced data protection, better collaboration and the ability to achieve ROI up to ten times faster.
Experience the power of Power BI
Most enterprises have already started establishing a robust data culture and realizing the benefits of Power BI in these times of uncertainty. If you want to take your business to the next level and thinking to board on a business intelligence journey, then get in touch with us.
Our certified Power BI specialists can not only help you drive intelligent, timely business decisions by integrating Power BI with your existing systems but also help you to analyze your enterprise data for rich insights.