The rapid rise of cognitive computing has created a big impact in the business world. It has become essential for enterprises to adopt smart apps using cognitive technologies to meet the changing dynamics of business. In this blog, we will see some ways how enterprises can leverage AI-powered apps integrated with cognitive technology.
"Cognitive services market to grow from USD 2.59 Billion in 2018 to USD 15.28 Billion by 2023, at a Compound Annual Growth Rate (CAGR) of 42.6% during the forecast period."

– MarketsandMarkets, Research Report, 2018.
Here are the 5 major reasons for incorporating cognitive technology in your existing app:
1. To create engaging interactions
When an organization chooses to adopt cognitive solutions they benefit at large as it brings empowerment to their business. The increased ability of applications to see, hear, speak, understand and interpret information sets, allows businesses to create new and engaging experiences for its users.
Cognitive technology will change the way users interact with each other and the system as it will create an efficient, safe and sustainable environment. Cognitive solutions will deliver more engaging and immersive experiences for your customers. For instance, the process of raising incidents for telecom service providers can be improved with the help of cognitive computing technologies related to speech and language in order to understand natural language and translate the text across mobile, desktop and web applications. Such a cognitive advantage has the power to transform the telecommunication industry.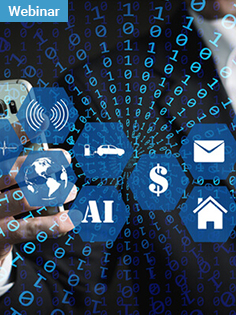 Discover what, why and how of Vision AI at the Edge
Webinar agenda
What is Vision AI at the Edge
Why vision AI at the edge is a game-changer
Applications of Vision AI at the Edge
Industrial use cases for accelerating AI at the Edge
Q & A
2. To infuse intelligence in your applications
Cognitive technology is comprised of artificial intelligence, machine learning, and distributed algorithms that add intelligence and drive user engagement and user experience automatically. For instance, cognitive technology integrated in your existing applications will provide the intelligence features across the components in your system such as emotion detection, facial recognition, speech and vision recognition, language understanding, video detection, translations and more into each app that is being used.
These capabilities are wide and can be applied to an organization's back-end system to support their communications. Artificial intelligence in apps has evolved through various forms and this is one of them. The ability to infuse intelligence in your apps has resulted in creating new types of customer engagement, building smarter products, improving internal operations and making smarter decisions for all kinds of enterprises regardless of any industry.
3. To facilitate user engagement
Enterprises today are demanding enhanced user engagement and cognitive solutions can be the best fit to address this issue. Cognitive services help to elevate cross-channel experiences for your customers at every stage of their journey.
By leveraging a cognitive advantage, you are undoubtedly enhancing your customers' experience. By learning more about their desires, you will be able to provide experiences that adapt to customer needs, and process and analyze their interactions in real-time. For instance, organizations can recommend next best offer or next best action (NBA) to their customers based on their previous purchase history.
4. To give your applications a human touch
Computers, as we know, do not exercise human thinking. But with cognitive technology, you can give a human touch to your existing applications and bridge the empathy gap. Cognitive solutions have overcome the traditional tasks by introducing a human element (the ability to speak, hear, and talk like a human).
These technologies enable natural and contextual interaction and help in creating human-like conversations. For instance, with the use of search based on cognitive technology, banking personnel can make content-specific search and gain access to the latest financial news and announcements for their work. This feature can bring a new shift in the banking industry.
5. To identify threats and fraudulent activities
Many organizations require the monitoring of security measures to maintain the safety and security standards, whether it is monitoring mobile phone calls, credit card activity or identifying a person caught on the cameras. Facial recognition, video analytics and text analysis are some of the cognitive technologies which provide you the ability to analyze data in real time to detect fraudulent transactions or other anomalous activities.
A traditional analytics system can take hours to analyze such activities, but these cognitive technologies can be faster and more effective. Industries such as telecommunications, banking, or eCommerce can largely benefit using these features.
Insight
There's no doubt that cognitive computing services will create numerous opportunities for enterprises and shift them to experience modern-day cognitive technologies. We will see rapid growth in cognitive technology used by enterprises in the near future. If you wish to know about how you too can start reaping the benefits, then get in touch with our experts and start with a consultation over the value of cognitive technology.