Cognitive computing is a concept which involves self-learning systems. These systems involve AI, machine learning, NLP and pattern recognition among several other technologies. IBM Watson and Microsoft are the two cognitive computing giants in the market today. These companies are giving us the ability to develop intelligent apps with the help of their cognitive services.
These services offer the best collection of their technology using which you can have an automated as well as an interactive model of an application. With the help of this technology, you can infuse your application with power and intelligence to automate a lot of important tasks.
Cognitive applications will yield productivity improvements in excess of $60B annually for U.S. enterprises by 2020 – IDC
APIs of cognitive services grouped into various categories
Vision: The vision APIs help in integrating vision detection features into applications that detect images, landmarks, faces, labels, optical character recognition as well as tagging of inappropriate content. Using Vision API, finding new insights, deriving significant value, and taking significant action becomes easier.
Speech: The speech APIs support in identifying who is speaking, in converting speech to text and text to speech by understanding the intent, and in fine-tuning speech recognition for anyone, anywhere. With the help of the Speech API, you can train your app on various language models.
Language: The language APIs classify natural language text, conversations, semantic concept extraction, entity extraction, language translation, document conversion, passage retrieval and ranking, tone analysis, relationship extraction, and more.
Data Insights: The Data API helps in reading, writing, and modifying information on the web such as news stories and blog posts. This enriched content with natural language processing facilitates highly targeted search and trend analysis.
Each of these APIs can perform a different task, and they can solve many business challenges or create very engaging experiences. When you combine these cognitive services and overlay it with customized data analytics capabilities, it offers predictive insights, complex discoveries, and engines to carry the decisions that are taken based on the insights.
Cognitive services and IoT
Make use of cognitive insights from IoT data to improve assets and facilities management.
Use real-time tracking and monitoring data of vehicles to figure out failures and decrease diagnostics time for maintenance needs.
Simplify store operations by creating intelligent merchandising and a supply network that improves overall customer experiences.
Optimize business processes and security while facilitating smart cities and improving the lives of the city's residents.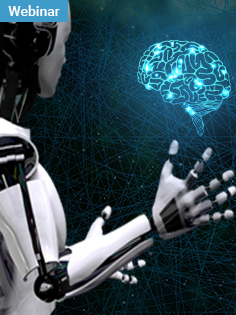 Enterprise AI is all about cognitive computing
Webinar agenda
Basics of cognitive computing & AI
Integrating cognitive computing APIs with enterprise systems
Significance of cognitive computing & AI across industry verticals
Use cases of cognitive computing combined with AI
Present day examples/ case scenarios
Q & A
How cognitive services underpins diverse industry verticals
Retail
Get detailed insights to understand your customers better, gain new prospects and retain the existing customers.
Identify the problems customers' face during online shopping and offer them a seamless shopping experience.
Make appropriate alterations with the help of analytics to enhance customer engagement as well as satisfaction.
Create and deliver inspirational content and engaging messages to present an exceptional brand identity.
Help sellers in showcasing the right product and simplifying the payment or checkout process.
Enable intelligent fulfillment by streamlining order management and tracking the status of the order.
Education
Support educators in gaining insights about the learning styles, skills, and interests of each student.
Generate suggestions on how to improve the method of teaching and make the classroom sessions more effective.
Teachers can get in-depth reports of the students' academic performance, strengths, and weaknesses for implementing targeted learning methods.
Manufacturing
Supports intelligent asset and equipment management to optimize performance and decrease downtime.
Helps in evaluating gathered information about processes, workflows, context, and environment to improve quality, operations, and decision-making.
Optimize and enhance various resources such as workforce, labor, and energy by combining different forms of data collected from individuals, location, usage, and expertise.
Insurance
Organize the flow of data to the right departments or agents.
Enhance the agent's decision-making ability by giving him the right data at the right time.
Improve customer experience and SLA response times.
Helps in detecting fraudulent claims as well as activities.
Finance
Helps in planning personalized campaigns and offerings that boost customer sales, relationships, and ROI.
Identifies loopholes and helps in managing risk and compliance to reduce the risk of misconduct.
Helps in making informed decisions, cuts operational costs and optimize outcomes with deep content analysis and evidence-based reasoning.
Makes better recommendations for financial products by analyzing the present life events, market conditions, client's past decisions, and current offerings.
Health
Help medical specialists develop knowledge, speed up discovery and deliver more personalized patient care.
Help public health officials make better decisions about vaccine releases.
Support doctors in making more detailed diagnoses.
Helps in introducing pioneering products that provide value to customers in exceptional ways.
Marketing
Enables you to make proactive changes to ongoing campaigns to generate highly positive results.
Helps you in understanding individual customer behaviors to create the right combination of interactions that increase conversion and loyalty.
Proactively test and suggest rules rapidly to avoid campaign performance deferments or setbacks to enhance personalized experiences.
Supply chain
Identify potential challenges and take the right decisions that eliminate additional costs and impacts of supply problems.
Automate as well as streamline procurement processes to reduce risks and costs.
Deliver your orders on time with intelligent fulfillment by simplifying the order management process, inventory management, and by tracking the order status.
Facilitate your organization to speed up and improve day-to-day decisions and activities.
Human resources
Helpful in getting rid of HR-related intricacies and improves recruiter productivity.
Facilitates employees with personalized learning recommendations based on their role, interests, personality insights and career development plans.
Helps in decreasing costs and improving user satisfaction resulting in continuously enhancing HR operations.
Augments human skills and empowers HR to improve and accelerate people's impact on the business.
Build applications using cognitive services with us
We are gradually moving into the new era of app development, so in order to outperform your business competitors and have a thriving business you need to develop cognitive apps. These intelligent applications can interact with humans just like a human employee would do, understand natural language, identify hidden patterns and trends, learn from experiences and help you take evidence-based decisions.
At Softweb, we have a team of experts who are skilled in analyzing, organizing, accessing and providing cognitive consulting services for a wide range of unstructured data. You can hire our experts to build cognitive solutions powered by IBM Watson or Microsoft based on your business requirements.