Intense competition and fast-paced financial innovation have spurred banks and other financial institutions to perform better than ever. They need to constantly look for innovative ways to deliver the best possible user experience, keep costs as low as possible and provide cutting-edge security.
So how can banking, financial services and insurance (BFSI) companies outrun their competition in this increasingly saturated market? Well, the adoption of robotic process automation (RPA) seems to be the perfect choice. This technology is already helping BFSI companies like Axis Bank, Deutsche Bank and Mitsubishi UFJ Financial to step up their game. RPA enables them to enhance the consumer experience, reduce manual efforts, mitigate risks and provide better compliance. Moreover, the low-code approach of RPA along with its ability to leverage existing infrastructure makes it more suitable for financial institutions.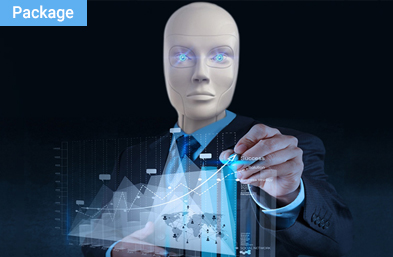 Robotic Process Automation Services
Businesses continuously look forward to improving operational efficiencies, increasing revenue and reducing operating costs.
Top benefits of using RPA in banking and financial services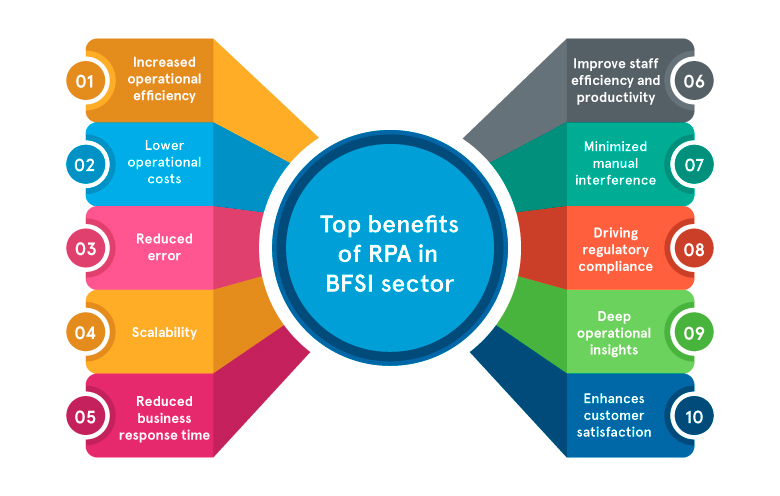 RPA streamlines key processes in banking, finance and insurance
From credit assessment to accounts payable and account reconciliation to fraud prevention, there are several processes to use RPA solutions in the BFSI industry. For now, we will focus on some of the most common use cases of RPA in the BFSI sector.
Customer onboarding and KYC
During customer onboarding, a number of documents need to be verified, many of which may not be in digital format. Using RPA, the data can be captured from the KYC documents using the optical character recognition technique (OCR). This data is then matched against the information filled in the customer form.
Once the automated matching takes place and there is no discrepancy, this data is automatically entered into the customer management portal. The use of RPA in customer onboarding can help bank employees to save their time and avoid errors that crop up due to manual entry.
Using RPA, Axis Bank has been able to reduce the turnaround time on savings account opening by about 90%.
– Rajiv Anand, Executive Director – Axis Bank
Account closure processing
Account closure is undoubtedly one of the most lengthy and time-consuming processes in the banking sector. The process starts with the identification of an account closure request in the banking application. Other key tasks include communication with customers, checking their outstanding loans, requesting for documents, canceling direct debits and standing orders, and transfer of funds. RPA is an effective tool to automate these activities.
Moreover, once the closure process is completed RPA can also send an alert to the bank manager, update bank records and changes the status of the account closure request. Reduction in the service request processing time, improving productivity and ensuring better data maintenance are some of the key advantages of using RPA for account deletion.
The Bank of New York Mellon Corporation witnessed 88% improvement in transaction-processing times and account-closure validations using RPA
–BNY Mellon
Mortgage lending
Mortgage lending is an important service area for any financial institution. Being a process-driven area, it is an ideal candidate for RPA automation. With RPA and clearly defined rules, even the process exceptions can be handled effortlessly. Moreover, the technology can be used with the bank's existing loan originating systems thereby driving improvement without any infrastructure disruption.
Tasks like loan origination, document processing, quality assurance and control, financial comparisons, loan package review and quality control can be easily automated using RPA. This helps in faster loan approvals and improvement in overall customer satisfaction. This also helps to free up the resources so that they can focus on doing more high-value tasks.
Claim processing
Faster and accurate claim processing is a top priority for insurance companies. As we all know, it is quite a data and document-intensive task, which requires agents to collect and verify information from various bank websites and then validate it. This often results in delayed claim compensation annoying customers who are in desperate need.
RPA enables quick data gathering from various disparate sources whether it is in a paper-based or digital format. Huge amounts of claim data can be moved quickly to a centralized storage for validation. This reduces the overall claim processing time from days to hours. Moreover, the errors caused due to missing customer claims, or collecting and entering wrong information can also be avoided with RPA.
Using RPA, Zurich insurance now takes less than a week to pay claims compared to the industry average of 50 days.
– Ernst & Young
RPA implementation in the banking industry
Implementing RPA solution in businesses such as banking and insurance begins with the identification of the right processes. Banks need to shortlist their processes and then assess on the basis of issue type, feasibility and overall impact. They must build a strong use case mentioning the cost, efficiency and other benefits to gain with the use of RPA in the selected process. And most importantly, identify a partner that can help with the end-to-end implementation of RPA.
At Softweb Solutions, our RPA experts help BFSI companies to ensure successful RPA implementation. From planning, execution to post-implementation support, we host an array of RPA-related services. Contact us if you have any queries regarding RPA implementation in the BFSI sector or are planning to implement it.