Consumer Electronics Show (CES) – the world's largest tech event was held as a hybrid conference this year. With the surge of the Omicron variant, leading exhibitors such as T-Mobile, Microsoft, Meta, and Amazon had to pull out of this enormous in-person event.
Hence, the Consumer Technology Association (CTA) had to face the brunt of withdrawals. Then, how do they overcome this challenge? With technology, of course! Technology became a savior for the tech show, enabling organizers to host the entire event virtually.
CES 2022 demonstrated how the tech world responds to global trends with advanced technologies. There was an impressive array of new categories at the show, yet augmented reality (AR) and virtual reality (VR) were at the heart of it. As smart glasses are on the rise, the AR trend continues to see strides in different industries, especially in the retail sector. As per a Grandview Research study, augmented reality in retail, also known as augmented shopping, is forecasted to rise nearly 50% per year through 2027.
AR and VR market size worldwide from 2021 to 2024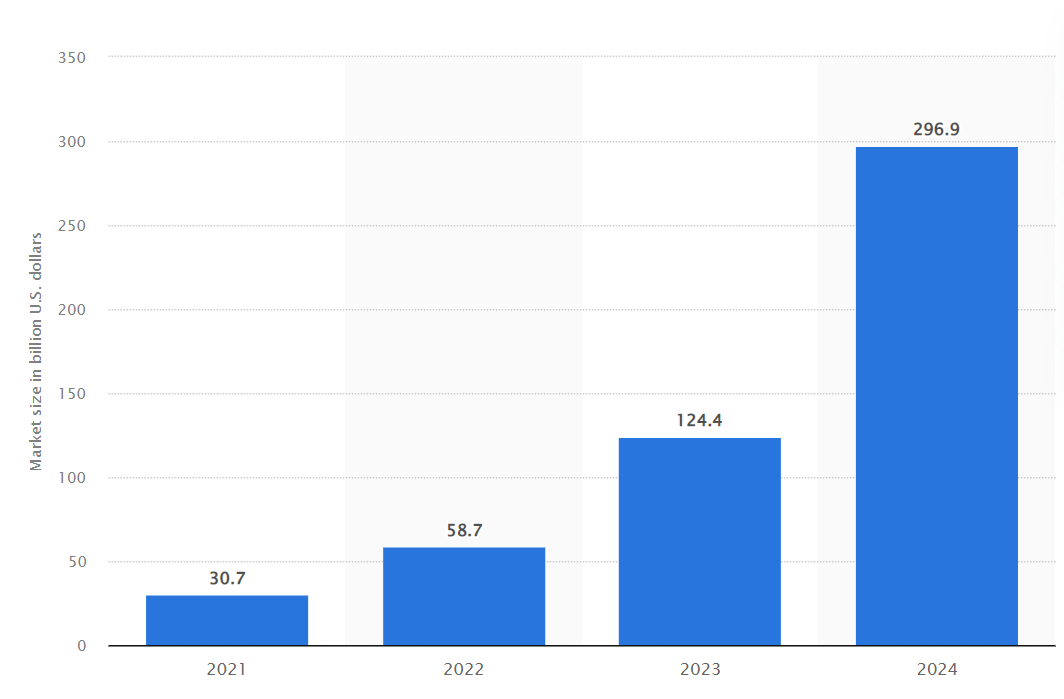 Source: Statista
Let's look at three of the biggest AR trends to watch from CES 2022
1. The revival of retailment
AR is becoming immensely valuable in the e-commerce world as it lets consumers interact with products digitally. At CES 2022, the leading beauty and fashion tech company Perfect Corp brought an AR-powered virtual try-on solution through a metaverse booth experience. In the 3D booth, visitors were allowed to view demos of virtual assets and explore Perfect Corp's tech solutions, including:
Beauty tech solutions: View virtual try-on demos for nails, makeup, hair, skincare, and more with an AR makeup app YouCam Tutorial.
Beauty and fashion NFTs: Provide an AR-enabled virtual try-on experience of beauty and fashion-related NFT items or other digital assets.
Fashion and accessories tech solutions: Experience virtual try-on of fashion accessories such as rings, watches, bracelets, earrings, and eyewear.
Metaverse-ready beauty tech solution: Democratize access to beauty and fashion-related digital assets within the metaverse to enable interactive, digital experiences.
At CES 2022, P&G Beauty also stepped into the metaverse with their launch of the BeautySPHERE. It allowed visitors to interact with its portfolio of products through a virtual environment. The L'Oreal Group also launched the latest beauty tech solutions for the haircare market at the tech show. AR applications are now finally catching up. We are living in an era of retailing, where physical, virtual, and emotional touchpoints are bolstered both by entertainment and by experience.
2. Metaverse metaversed
The metaverse is one of the biggest trends of the show arising from a mix of immersive technologies, including AR, VR and extended reality (XR). At this year's CES event, several companies introduced their metaverse-focused products to burgeon digital commerce and 3D avatar economies. There were different booths at CES 2022 showcasing potential metaverse applications, from retail to mobility.
"The metaverse is a revolutionary trend in the industry, and it seems to be evolving in the next 20 years. We talk about the metaverse today the same way we were talking about the internet in the 1990s," said Steve Koenig, Vice President for Research at the CTA.
Actronika launched real-life sensations to gaming or metaverse experiences. It provides a more realistic and immersive experience to users by making them sense raindrops, wind, a person's hug or an impact of a bullet. Shiftfall and Pebble Feel also came up with the concept of bodysuits that can make the virtual world feel real.
But what grabbed the attention at CES 2022 was Hyundai Motor Group's most futuristic concept of "metamobility," which combines robotics with the metaverse. Focused on the theme of 'Expanding human Reach,' the auto company invited attendees to test drive their automobiles as a digital avatar. It aims to enhance human life through mobility solutions and eliminate the physical constraints of movement in time and space.
Samsung also launched Samsung My House accessible through the Zepeto app, Asia's largest metaverse platform. The Second Life-like metaverse home enables visitors to create a customizable digital home. It lets them experience a range of Samsung products, from a bespoke vacuum cleaner to a clothes-sanitizing wardrobe in the virtual world. The My House world map invites people to endure the 'space decorating experience' via their 3D avatars. Many organizations have begun to develop AR applications for e-commerce.
3. The arrival of sci-fi vision
Augmented reality glasses are evolving at a breakneck speed worldwide. But it seems we are moving beyond AR glasses with the arrival of sci-fi vision in the world. Sci-fi vision refers to a tiny version of AR embedded in contact lenses. The AR contact lenses will provide a digital layer of intelligence on everything we see in the physical world. It will give you the information you want by projecting it directly onto the retina whenever you need it.
While this screenless AR display sounds like science fiction, the Silicon Valley startup Mojo Vision is working on AR contact lenses to make it a reality. At CES 2022, the company displayed its fully functional prototype on the world's first tiniest and most dynamic built-in display, AR contact lenses.
Mojo also declared its collaboration with a few leading fitness brands, including Adidas Running, Slopes, Wearable X and more. Through these partnerships, the company aims to provide real-time performance data to athletes, like the next turn in a ski slope of how far they have biked.
In the future, AR contact lenses could act as a tool to improve the vision of people having visual impairments. The augmented contact lenses have tremendous potential in the defense and medical fields. There are several potential applications of the smart contact lens. Time will tell us what the future for augmented contact lenses awaits.
AR takeaways from CES 2022
These three provisions mentioned in the blog were the biggest highlights in the augmented reality segment at CES 2022. Apart from this, other immersive innovations include TCL's second-gen AR glasses, Sony's PSVR2, Panasonic's AR windshields and more. The event conceptualizes the futuristic tech that may become normal after a few years, like the metaverse.