Industries are increasingly transitioning to a digital era of work. On the other hand, industries are experiencing a growing workforce skills gap. To get a sense of how important it is for enterprises to address the work skills gap, look at the following incredible statistics:
A Deloitte skills gap study shows that from 4.6 million new manufacturing jobs expected to be created by 2028, 2.4 million (almost 50%) could go unfilled.
According to Korn Ferry's 'Future of Work,' more than 85 million skilled jobs may go vacant by 2030.
The work skills gap across industries could cost the global economy $8.5 trillion over the next decade.
To put that last stat into context, it's around $850 billion per year or $1.62 million per minute. The skills gap at work is real and it affects most businesses every day. It is time for business leaders to act to close work skills gaps.
Why is it critical to address the work skills gap?
Cost. Human errors account for 23% of unplanned downtime. The average manufacturer faces 800 hours of downtime per year, meaning more than 15 hours per week. This can cost industrial manufacturers up to $50 billion per year, or $20,000 per minute.
Efficiency. Imagine if everyone in your organization could get expert help at any time to complete any task easily. Think if that expertise, whether live or via tutorial, is available on any device. And imagine if everyone's performance remains the same in alignment with your efficiency, quality and product integrity standards. For many companies, their standards are their brand. This is what their front-line employees are connecting to.
What can your company do to address the work skills gap?
Digital adoption. The adoption of digital technologies is transforming the world economy and global industry at an increasing rate. As a result, terms like Industry 4.0 and smart manufacturing are now commonplace. Virtual reality (VR) and augmented reality (AR) technologies play an important role in the ongoing industrial revolution. AR is on the rise, with 88% of mid-sized businesses utilizing augmented reality technology.
AR spending can exceed $48.6 billion by 2025 from $2.7 billion in 2021. – IDC
Undoubtedly, the work skills gap affects the company's efficiency, expenses, customer experience, product quality standards and several other factors. Augmented reality technology has revolutionized operations and changed the face of especially remote assistance forever. Augmented reality remote assistance technology is an industry game-changer. Businesses and technicians love it.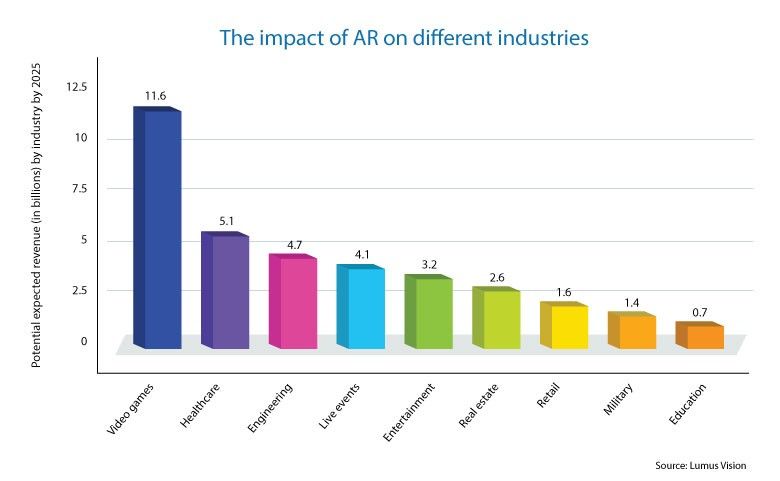 AR remote assistance app for enterprises is clearly in demand. Data suggests that the impact of AR extends beyond gaming. It now extends to different industries, as demonstrated by the following chart:
AR remote assistance is indeed a powerful solution. But what exactly is it?
If you want to learn about what is augmented reality remote assistance and the challenges users face without augmented reality based remote assistance, read things to consider before choosing AR remote solutions.
How does AR-based remote assistance app/software work normally?
The AR remote assistance app captures live video streaming using marker detection and sensor-based positional tracking with 6-DOF (degrees of freedom). The software inserts these video/image frames into the user's view of the physical environment. Markers are used to achieve robust and precise tracking. Other than markers, some commonly used AR tools for remote assistance applications are laser pointers, 3D shapes (arrows, boxes and circles), texts and hand drawings. The combination of AR remote assistance tools and video feeds facilitates collaboration and results in a robust augmented reality based remote assistance solution.
Business owners interested in developing an AR remote assistance app for the enterprise should contact our AR experts for an overview of how you can achieve your business objectives. Our AR app developers will also confirm whether ARKit or ARCore is the best fit for your use cases. For that, we evaluate your feature requirements as follows.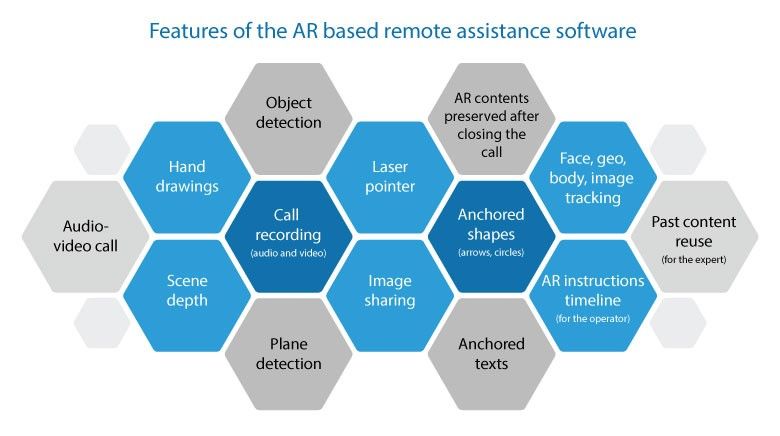 Learn about the top challenges industrial enterprises face today and how AR remote support can help industrial enterprises overcome the overarching challenges, by reading a blog on how AR remote assistance drives values in industrial enterprises.
Benefits of augmented reality based remote assistance apps
AR remote assistance software offers several benefits to different industries for a variety of use cases. Some of the augmented reality use cases are:
Training
Assembly
Customer service
Quality assurance
Design collaboration
Repair and maintenance
Process simulation and monitoring
In these AR use cases and more, augmented reality technology delivers the following benefits:
Faster problem solving: With real-time fault analysis, AR technology acts immediately. This boosts your productivity and ROI. It also enables your service technicians and customers to receive direct support from experts through an interactive environment.
Reduced costs: AR-based solutions reduce travel costs for service technicians and customers by replacing on-site visits with remote expert assistance.
Close knowledge gaps: With hands-on field training and precise guidance, AR's remote visual assistance closes knowledge gaps and brings junior technicians up to speed.
Minimized machine downtime: AR remote assistance app can remotely guide your customers through preventive maintenance processes. This increases machine life and decreases downtime.
Improved first-time fix rates: AR-powered solutions achieve better first-time fix rates. They can provide exceptional product fixing services to customers without adding resources or delaying. Overall, this increases customer satisfaction.
Accelerate knowledge transfer: AR remote assistance software enables senior experts to guide junior technicians remotely. Additionally, it accelerates knowledge transfer by recording key sessions for future training.
The present and the future of AR remote assistance
Remote assistance will never be the same with the increasing capabilities of AR technology and so the work skills gap will constantly keep shrinking. Augmented reality remote assistance is continuously evolving to directly impact core KPIs, improve efficiency, productivity, and customer satisfaction, and support business continuity and growth. Major industries leverage this technology for remote assistance with the growing digital adoption, AR technology capabilities and applications.
As the work skills gap continues to have an impact on our economy, business leaders across the globe should consider taking action to address skills gaps in their workforce. The payoff could be saving thousands of dollars, achieving high-performance results and gaining a competitive advantage. So, ensure your company's success and growth by bridging the work skills gap through AR remote assistance apps.