Construction companies, architecture firms and building materials providers aim to offer products and solutions that reflect their customers' lifestyle, while providing comfort and convenience.
To offer the best customer experience, building materials providers have started adopting digital approaches. Technologies like the Internet of Things (IoT), augmented reality (AR) and virtual reality (VR), have been shaping the future of several industries. The construction and building materials industry have also started leveraging these technologies in a broader aspect. Amongst these technologies, the adoption of AR has spiked in the past few years.
Total AR/VR spending worldwide is projected to amount to 18.8 billion U.S. dollars in 2020. – Statista
How AR is resolving challenges faced by building material providers
It's a widely known fact that construction sites are often chaotic and noisy. Moreover, every mistake or redo costs a lot of money, time and efforts. Hence, even a small mistake should be avoided.
2D plans and models were great, maybe a couple of decades back. Now, 3D plans are used to improve the understanding of the project and facilitate its execution. However, a traditional 3D model doesn't offer personalization to customers. It only provides a view of what the actual product might look like.
Understanding actual measurements, technical installations and furniture placements reduce the possibility of errors and simplifies the construction of complex geometries. Augmented reality applications provide an accurate view of what will be built and how the installations and furniture will look once they have been installed. These design concepts are often complex to understand through drawings or 3D models.
AR apps for building material suppliers
AR allows you to create a virtual environment that interacts with existing reality. Hence, by combining the virtual architectural designs with reality, i.e. a construction site or a residential/office space, you can offer an immersive experience to your customers. Let's understand how AR is useful for various building materials.

Pricing calculation errors related to multiple pricing models, managing discounts, etc.
Unreliable and unrealistic traditional processes lead to weeks of back-and-forth.
Lack of collaboration between the client and the production or engineering department.
Other challenges include a longer quote-to-order cycle, eroding profit margins and error-prone orders.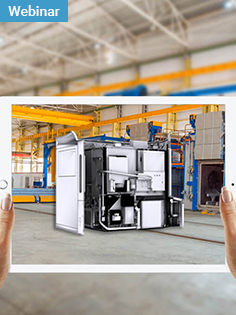 Streamline sales process with Augmented Reality (AR) product visualization
Webinar agenda
Why manufacturers should realize the importance of Augmented CPQ
Common challenges faced by manufacturers to close deals faster
Ways to streamline sales process using Augmented CPQ
For bath/kitchen cabinets/doors/windows fittings
Have your customers come across a situation where they were not happy with the outcome of the fittings like bathroom sink, window frame and kitchen cabinets because it doesn't match with other furniture? Even though your customer had selected the door frame that matches the brown colored door, often what is displayed in your printed catalog doesn't match their expectations.
AR catalog apps
AR-enabled catalog apps allow you to display your products in an immersive, more attractive and convincing manner as compared to any 2D catalogs. It helps your customers to visualize your products in their spaces in real-time and with real dimensions.
AR visualization apps
Your customers can interact with the products, position them in different parts of their spaces and assist them in space planning and design visualization. Augmented reality visualization for architectural models helps to capture all the possible details and realism that allows customers to perceive your products from every angle.
For ceramic tiles providers
Here's a confusing question for you: if 15 tiles of 12*12 are required to be fitted in the bathroom with size 5'*8', how many tiles will it take for the bedroom with size 12'*13'?
No need to take out your calculator. An AR app will do the work for you.
Calculating distances and accurate measurement in real spaces is tedious and often there are errors that demand more effort in redoing than the actual work. However, with AR apps, you can avoid such scenarios.
AR apps help you to offer interactive digital content with an immersive 360˚ view of how the room or space will look once the tiles are fitted. You can provide an array of options to your customers who can just place the AR app in front of the space and check what would look good. Apart from this, the app calculates the number of tiles required and presents you with the virtual look – giving you a glimpse of how the space will look once the tiles are fitted.
What you can offer with AR apps
By implementing AR for your business, you can gain a competitive advantage and approach your customers with an innovative and interactive display of your products. Just imagine how glad users will be when they can try the new sofa or a door in their spaces without any risk of paying for something that doesn't fit. From a plethora of choices, you allow your customers to test and position their favorite items in their house or building with one click on the app.
At Softweb Solutions, our skilled AR app development team understands the digital needs of the building materials market. To know more about our AR solutions, contact our experts.