Microsoft has propelled the world into the future of work, necessitating organizations to innovate else they will be left behind. Indian entrepreneurs now have access to the enterprise-focused mixed reality headsets via commercial authorized resellers. HoloLens 2 has transformed the mixed reality technology in India with its overlaying capabilities of 3D visualizations instructions and simulations in real-world environments to empower companies with movement and autonomy.
Released at the 2019 Mobile World Congress, the HoloLens 2 is the successor to the original HoloLens. HoloLens 2 is a game-changer as it offers an ecosystem built around it to go places. It has completely changed the way people think about processes in the industrial space. HoloLens 2 is an untethered headset that uses holographic images to deliver an immersive experience to its user. Although several organizations are scratching the surface with mixed reality use cases, nothing compares to such an immersive experience. This blog post features industry-specific use cases of HoloLens 2 and its primary benefits.
 "The augmented and virtual reality market is expected to reach $372.1 billion by the end of 2022 and swell to $542.8 billion by the end of 2025 according to new data from the IDC."
The key features of Microsoft HoloLens 2
HoloLens 2 represents a milestone for Microsoft. From cutting-edge hardware design to mixed reality-infused cloud services, HoloLens promotes collaborative work. The device unlocks superpowers for thousands of people who go to work every day. HoloLens has transformed how enterprises communicate and work to get tasks done. HoloLens 2 empowers users to break physical boundaries and work together in 3D visualizations to achieve more. Here are some of the outstanding features of HoloLens 2:
Hand Tracking – The effective hand tracking feature allows you to move holograms in natural ways. HoloLens 2 adapts to your hands, so holograms respond like objects.
Eye-Tracking – HoloLens 2 is capable to understand your eye movements – to understand your intent and adapt the holograms to your eyes in real-time.
6 Degrees of Freedom (DoF) tracking – 6DoF tracks your headset position and orientation and knows where you are looking.
Voice Control – Built-in voice commands allow you to quickly navigate and operate HoloLens 2 when your hands get occupied with a task.
Large Field of View – See two times the field of view, read a holographic website, interact precisely with holograms using HoloLens 2.
Spatial Mapping – Map your physical environment and add digital content to the objects or surfaces seamlessly.
Industrial applications of HoloLens 2
Industry
Core processes
Value proposition
Manufacturing

Guided assembly and training
Remote inspection and audits
Connected field service

90% Increase in efficiency
40% Reduction in travel
75% Reduction in training time

Engineering & construction

Clash detection
Self-guided learning
3D plan and model demonstrations

14% Decrease in construction costs
Accelerate the pace of design by lowering rework instances

Healthcare

Holographic patient consultation
Remote expert consultation
Training simulations

30% Decrease in ward visits
20 Minutes to train medical staff
Go beyond x-rays and MRI images in 3D at the point of care

Education

Augmented teaching
Experiential learning
Scaled learning and research

50% Better student scores
83% Decrease in training time
Enable hands-on lesson plans for complex topics using 3D concepts
Some good fit use cases addressed using Microsoft's HoloLens 2
Workplace productivity
HoloLens 2 is a self-contained, mixed reality (MR) tool that offers more processing power than the average laptop or system. It has the potential to compress your office tools into a pair of glasses that you can use anytime, anywhere. Get the ability to deliver custom solutions to the clients at a faster pace with immersive capabilities like mapping customers' existing data, extracting virtual replicas of products and making it available to multiple departments.
HoloLens 2 for workplace productivity creates space-age possibilities into practical, valuable tasks for enterprises. Outlook and Microsoft's Office productivity suite are already available, allowing you to begin your digital transformation journey using HoloLens 2.
Digital radiology
HoloLens is an optical see-through head-mounted display (HMD) that uses digital information to direct view an existing physical environment with applications in enhancing visualization. It is one of the most suitable devices for surgery, enabling visualization of virtual objects superimposed on the physical environment.
Remote education
Several educational scenarios mandate that students conduct experiments while learning practical skills.
Remote education with HoloLens 2 is an excellent solution because it applies theory-based learning to real-world problems and helps students improve their ability to work in groups and solve problems.
Microsoft HoloLens 2 is a critical piece of technology for meeting the new digital needs of students. While wearing the HoloLens headset, they can connect to their remote peers via platforms such as Dynamic Guides, Microsoft Teams, and Microsoft Stream. Team members can interact using verbal and written instructions when conducting experiments on working machinery and rigs.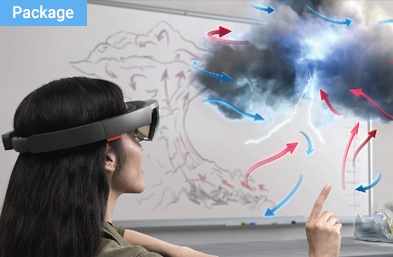 HoloLens Pilot Project
Our aim is to give enterprises clarity in terms of the deliverables and expectations when it comes to building a full-scale HoloLens specific application along with a precise estimate of the time required.
Why Microsoft HoloLens is the best option for Indian enterprises

Get the most out of HoloLens 2 with an experienced partner
An experienced Microsoft partner can deliver personalized support to drive your business forward. When you choose to work with an experienced partner, you can reap the benefits of working with a dedicated HoloLens team, which can help you reduce time to market. Here's what they can help you achieve:
Monetizing custom MR applications, scenarios and expertise
Launching new customer support offerings
Integrating MR with Microsoft Dynamics 365
Supporting Microsoft Mesh or other solutions
Deploying MR to additional departments and roles
Innovating at the leading edge
Redesigning business processes and enhancing decision-making with MR data
Enhancing clinical care
HoloLens 2 is one of the most user-friendly and intuitive business solutions on the market today, allowing you to compete in a fast-paced world. Are you looking for HoloLens 2 development services in India to improve your business productivity but don't know where to start? Get in touch with our Microsoft experts for a better understanding of HoloLens 2.