Brands that do not get the desired results from digital experience platforms (DXPs) do not use DXPs to their full potential often. According to W3Techs, among various DXPs such as Sitecore, Adobe Experience Manager, Contentstack and others, Sitecore DXP is the most popular in high-traffic sites.
Most businesses choose Sitecore DXP for its array of functionalities, diverse capabilities, flexibility and ability to deliver seamless digital experiences. However, a poor Sitecore implementation increases downtime, causes businesses to miss opportunities and slows business growth.
Most businesses choose Sitecore DXP for its array of functionalities, diverse capabilities, flexibility and ability to deliver seamless digital experiences. However, a poor Sitecore implementation increases downtime, causes businesses to miss opportunities and slows business growth.
While many Sitecore partners provide audits to diagnose your Sitecore performance issues, our Sitecore developers take a different approach at Softweb Solutions. Our Sitecore technical audit method provides a 360-degree assessment of your Sitecore implementation and site. Before we get into our Sitecore audit process, let's define a Sitecore audit and when you should perform it.
What exactly is a Sitecore audit?
A Sitecore audit is a thorough technical examination of your current Sitecore instance. In a Sitecore implementation audit, we investigate:
Sitecore infrastructure and code
Experience with Sitecore CMS and editor support
Sitecore environment, servers and website health check
Sitecore features like personalization, marketing automation, analytics, etc
Sitecore performance check through caching strategy, component performance and so on
However, how do you know whether you need a Sitecore audit or not?
Before moving to the answer, if you are planning to implement Sitecore CMS, consider reading the blog on future prospects of Sitecore CMS. Learn how Sitecore integration can empower you by streamlining content publishing across multiple channels. Further, know more about how Sitecore benefits companies and why it best fits your business enterprise.
When should you opt for a Sitecore technical audit?
The most common complaints about website performance are slowness, non-responsiveness and frequent outages. When these sites are run through Sitecore, businesses quickly declare that 'Sitecore is not performing.' However, the Sitecore product itself is rarely a problem. There could be several causes for such issues. The following are some DIY techniques:
For individual page load metrics, use PageSpeed Insights
PageSpeed Insights diagnoses site performance issues and provides a consolidated KPI for measuring improvements. PageSpeed Insights provides:
Objective assessment of how long it takes for a specific page to load over broadband and mobile networks
Accurate evaluation of a user's perceived page speed
HTML recommendations to place in the defect queue
If you follow PageSpeed Insights' recommendations, it can produce a visibly faster site without involving Sitecore.
Insights
Top 3 migration approaches you need to upgrade to Sitecore 10
Be it a website, mobile device, social media platform, email, wearables or IoT devices – today's customers expect to engage with brands on any channel, whenever they want. If that is not enough, they want brands to offer a personalized buying experience.
For infrastructure capacity metrics, use a load testing tool
A load testing network can provide information on:
Whether your current environment can support your normal daily traffic volume or not.
Whether your environment is suitable for a 'peak day' event such as a holiday sale, a marketing blitz, or an email campaign.
What types of errors does your environment produce when it reaches capacity?
How much traffic is required to activate any auto-scaling you have set up on cloud installations?
What URLs in the click path are causing issues (e.g., time to response, error rate, large numbers of downloads, overall payload size)?
Which URLs would benefit from additional mitigation measures?
A load testing tool ensures that your system can handle regular daily traffic and the increased load caused by site marketing.
Regular performance analysis of your site should be a part of your DevOps strategy. Marketing requirements will shift. The website will evolve. If you use such tools to diagnose your pages/sites but do not see any improvement in site performance, a Sitecore implementation audit is necessary.
If you are curious to know what a typical content management system is, common CMS features and where the content is heading, consider reading the blog on why you should migrate to Sitecore. The blog also describes top Sitecore features like the Sitecore Experience Database (xDB), Sitecore Experience Profile, Sitecore Experience Analytics and more.
Softweb Solutions' approach for Sitecore technical audit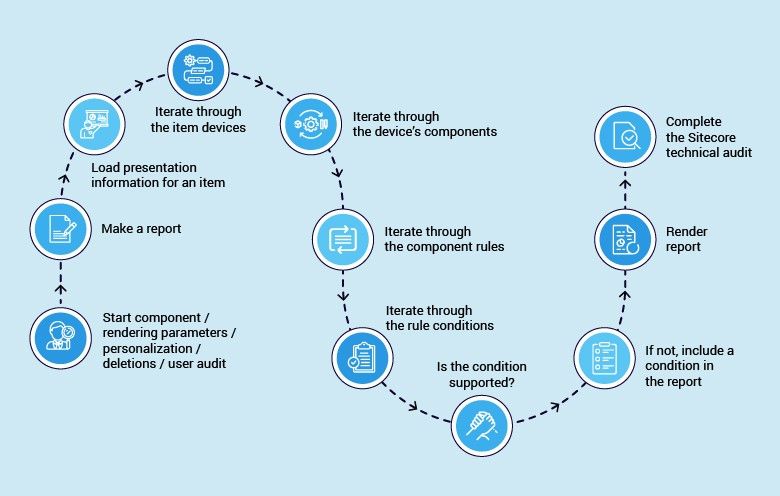 It is worth noting that during an audit, our Sitecore developers load and analyze every item.
The component audit report assists you in locating every page on which a specific component is used. You can view every parameter for each rendering on a page using the rendering parameters audit report. The personalization audit generates a report that lists every page with a personalized component on it and which components are personalized. The deletions audit describes all items in the Recycle Bin, including each item's full path, ID and date of deletion. The user audit creates information about all users, with the option to filter by role or administrator.
What are the benefits of a Sitecore audit?
Sitecore audits are a necessary step in the implementation process to keep you on the right path. If you are starting with a new Sitecore partner or need to get your project back on track, Sitecore audits are a great place to start. They will let your Sitecore Partner:
Have a good understanding of your current Sitecore implementation
Know whether they are fully prepared to support your specific Sitecore project and will not cut any corners
Give you fact-based advice on what needs to be done for your implementation
How would you realize whether you need a Sitecore partner or not? There is, of course, no roadmap for that. However, we have collected 7 signs that can help you to decide whether you need a Sitecore partner or not to help you generate greater ROI.
What happens after a Sitecore audit?
A Sitecore audit generates a detailed report on a company's actions to correct current work or gives suggestions for improvement on future projects.
Your Sitecore technical audit will provide everyone with a concise, third-party perspective on the overall state of your Sitecore implementation. It can also inform you where you can make improvements to optimize the environment of your business.
Contact us for a free consultation on how a Sitecore audit can benefit your company. We are here to help you leverage the full power of Sitecore and generate the maximum ROI for your company.