There is an old Wayne Gretzky's, the famous ice hockey star, quote that applies to every business, "I skate to where the puck is going to be, not to where it has been." It clearly illustrates everyone wants to do something but may not know how. This blog will enhance your understanding of the typical content management system (CMS), where the content is heading, and how upgrading to Sitecore can help. By the end of this blog, you will realize whether your organization should consider migrating from the existing CMS to Sitecore or not.
A typical content management system
Do you treat your content as a product? Every product goes through the lifecycle, so is the content. The content lifecycle spans content planning, creating, delivering and governing. Every content developer interacts with other professionals to support the organization's goals. That's why content is a shared asset within an organization and that's where the role of CMS comes in.
The following are common CMS features:
Content creation and collection: Allows users to create, collect and format content using templates, workflows and authoring tools.
Content storage and management: Stores content in a central repository consistently. A CMS supports managing versioning, archiving, user permissions, and integration with other systems.
Content publishing: Content goes live as per target personas, publication, platform, or channel requirements.
Collaborative nature is the best advantage of any CMS. CMSs like Drupal, Joomla, Magento, Wix, WordPress come with their set of features and benefits. Some are best suited for bloggers, while others may be ideal for fulfilling eCommerce site requirements. Specifics vary based on the business problems you are trying to solve or your needs. However, when it comes to getting the most out of different content types and from a growing number of channels, not all CMSs meet these expectations.
Sitecore plays a key role there. A powerful CMS is just the beginning of Sitecore. Further, it offers engaging experiences for your customers by giving you all the customer insights you need. By using Sitecore, you can optimize, personalize, and automate your content to deliver the right message to the right person at the right time.
Where the content is heading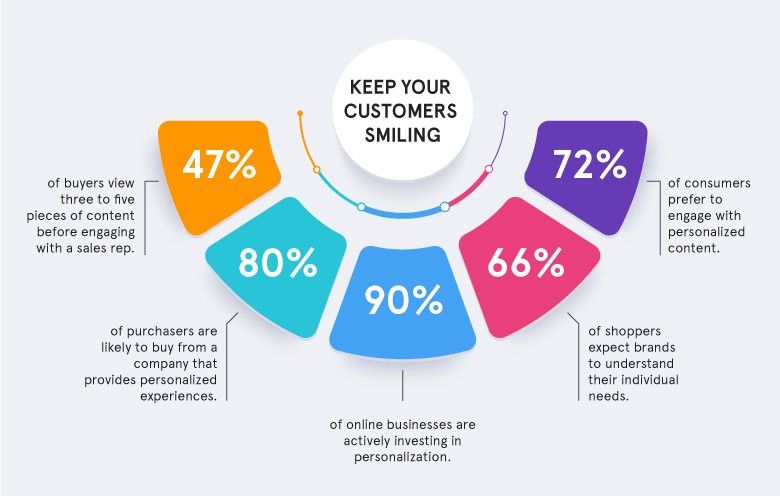 Let's face it, the biggest marketing shift towards delivering personalized customer experiences is happening, regardless of the B2C or B2B world. In this content-is-king era, the need for a strategic approach to content lifecycle becomes a competitive necessity in the digital marketplace.
You need a platform that not only allows you to store and manage your content but help you to connect through multiple extensions to enhance content creation and its distribution capabilities. Sitecore, a digital experience platform (DXP), provides the best-of-breed approach to creating personalized, seamless digital experiences. With this, let's understand what gives Sitecore a unique identity and how to know if it's the right choice for your organization. For that, let's review the top features and benefits of Sitecore.
Top Sitecore features
A powerful suite of Sitecore features makes it different from other CMS platforms. They are designed to help your business sell more and perform better. Here are its notable features.
Sitecore Experience Database (xDB)
The Sitecore xDB collects interaction data from all customer experience data channels. It gathers data from your CRM or any other system and connects it. Finally, you will be able to see a 360° view of every customer's journey from a single data repository.
Insights
Top 3 migration approaches you need to upgrade to Sitecore 10
Be it a website, mobile device, social media platform, email, wearables or IoT devices – today's customers expect to engage with brands on any channel, whenever they want. If that is not enough, they want brands to offer a personalized buying experience.
Personalized customer data
Personalized customer data is the powerhouse feature behind Sitecore. No more data silos. Sitecore grabs data from everywhere – from website visits, ERP, CRM, customer service, third-party apps to offline sources. Consequently, providing your team the insights they need to deepen engagement and increase returns.
Sitecore Experience Profile
As xDB collects customer interaction data, the Experience Profile creates a profile of each individual. The Experience Profile allows you to track the actions of contacts who have interacted with your company or your website. The contact is a container that stores information about customer behavior. The Experience Profile becomes richer with time. It smartly learns everything about your customers – from what they click on, what they buy to how much time they spend on your site. Overall, it empowers you to fine-tune your personalization efforts.
Sitecore Experience Analytics
Identify patterns and trends in experience data collected from your websites and potentially other external data sources using Experience Analytics. You can use experience data to analyze the performance, optimization, and level of commitment of your website visitors and contacts by comparing metrics such as page views, conversion rates and engagement value.
Sitecore xConnect
xConnect is the service layer that sits between the xDB and you as you need to read, write, or search experience data using the xConnect APIs. xConnect APIs allow your developers to sync and gather data between Sitecore and nearly any other system you may be using like Salesforce, Microsoft Dynamics 365, CRMs, POS, ERPs, PIMs and more.
Easy customer geolocation
Make your customers feel the power of personalization. Instead of asking customers to enter their zip code, use Sitecore's geolocation features to create GeoIP personalization rules that display nearby store locations based on their IP location.
Sitecore Print Experience Manager (PXM)
You can produce content at scale while maintaining your brand guidelines using Sitecore PXM. PXM works with the Sitecore Experience Platform (XP), enabling you to share virtually any content from your Sitecore environment and transform it into print-ready collateral with InDesign virtually.
Marketing automation
Have you imagined marketing can be as easy as pie? With Sitecore, it can be. You just need to set up automation campaigns and triggers in Sitecore's marketing control panel. Sitecore will automatically respond to customer actions with your desired behavior. You can ask Sitecore to funnel a customer into a drip campaign once they complete a lead form. Or, you can serve them with a tailored popup when they arrive on your site from a specific channel.
Sitecore Federated Experience Manager (FXM)
This is the best Sitecore application for those not ready to migrate their sites to Sitecore. With Sitecore FXM, you can bring some Sitecore capabilities to your non-Sitecore sites. So, you can give your customers a seamless experience across all your channels and ensure all that data is captured accurately for your marketing team as well.
In a nutshell, with Sitecore, you have the functionality for personalization, tracking and analytics, building marketing campaigns, content optimization and gaining a single view of individual customers. In all, Sitecore allows you to design, deliver, and optimize an end-to-end customer experience that includes acquisition, nurturing, conversion, retention and support. If not now, when? Sooner or later, you will realize the benefits of Sitecore and will migrate to Sitecore from your existing CMS.