Microsoft is releasing SharePoint online communication sites to Office 365 First Release customers and in the next few months, it will be available worldwide to all Office 365 users.
SharePoint communication sites – a brief introduction
SharePoint communication sites allow you to communicate with all the users across your organization in a dynamic, mobile-ready and beautiful way. They can be used for internal campaigns, product launches, weekly or monthly reports, upcoming events, knowledge sharing or any other scenarios where you want to address all the users across the organization. As a SharePoint consultant, I am really looking forward to utilizing all the features made available through SharePoint communication sites to Office 365 users.
SharePoint 2019 Pre-Migration Check
There are several reasons why you should migrate to SharePoint 2019. It has hybrid cloud search, all the sites are in one place, it allows rapid site development, there are many PowerShell scripts and so on.
Communication site templates
With communication sites, you can create a beautiful and dynamic site in seconds with just a few clicks. SharePoint communication site design comes with three predefined templates that you can choose according to your needs. When a user clicks on "Create site" from the SharePoint home page, he will see these three options:
The topic is used when you want to share information like news, events and any other content.
Showcase is used when we want to use photos or images to showcase a product, team or event.
Blank template allows you to create your own custom design.
However, you can modify the design while building your site after selecting any template.

In the future, a user will also have the facility to create his own templates and use them.
Now you can easily adjust page layouts and add web parts and pull the real-time data from other services like Yammer conversations, videos from Microsoft Stream, documents from SharePoint, Power BI reports, etc. This allows the user to access all the real-time data from across the Office 365 platform in just one location.
Tools for communication sites
Section layout
Communication site pages provide the capabilities of multi-column rich section layouts.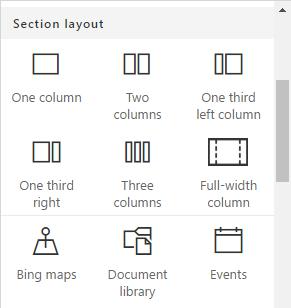 Web Parts
Web parts are an essential tool for any site. Web parts are used to bring content from across Office 365 into your pages. There are a few new web parts that have been introduced.
Hero – The Hero web part is a great way to bring visual attraction to your page. It is included by default in communication sites. You can use up to five items along with images, text and links.
People – This web part is used to display users and their profiles on your page.
Events – Events web part allows users to showcase upcoming events on your page. We can also display a map with locations.
Stream – The Stream web part displays a video on your page from your organization's Microsoft Stream video portal.
Developers can use the SharePoint Framework (SPFx) to create fast, modern, client-side user experiences and web parts that the user can add to their page.

Themes
Users can anytime select, preview and apply custom themes that are available to the organization.
Top navigation
Users can easily add/edit, arrange and modify menus and submenus of top navigation.
Site usage
There are different site usage reports like unique user trends, most active readers, and page views that are available through which you can monitor your site performance.
Likes, comments & views
Each news article and page can have their likes, comments and views section.
Reach your audience
Communication sites also look great on the web, on PC or Mac, on mobile browsers, and in the SharePoint app.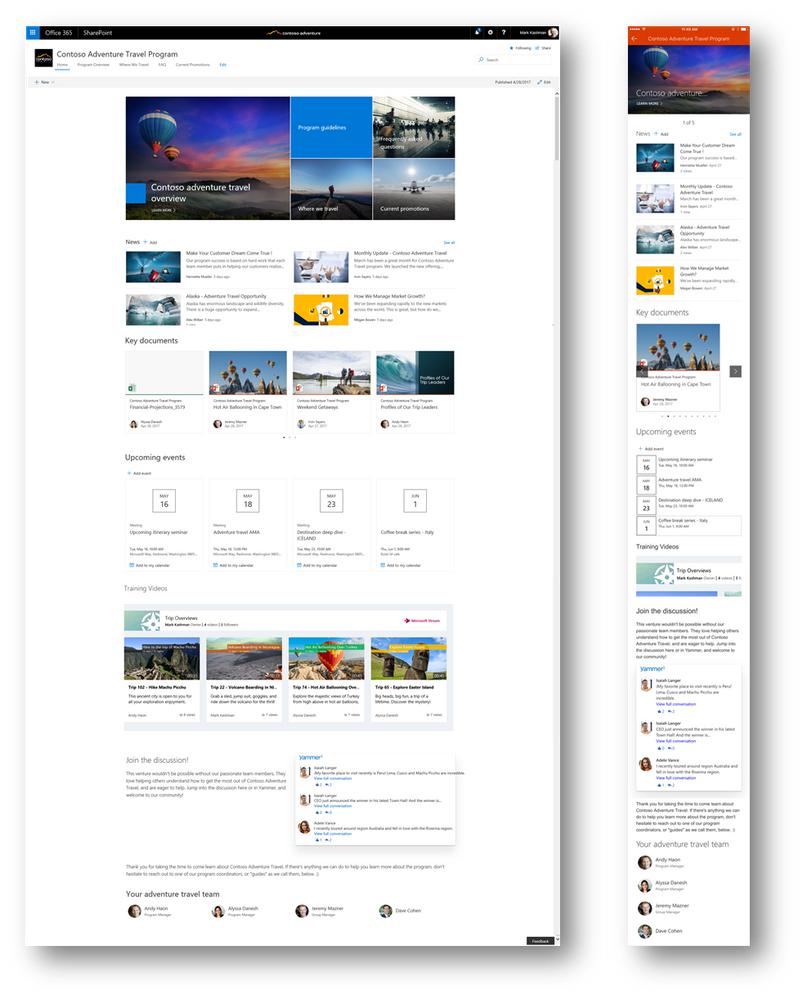 Share Communication Pages
Users can easily share communication sites and pages with others via email in the same way that we share a document using the inbuilt share button in the upper right corner of the page. It will not only share the link of the page, but it will also share the thumbnail, title, description and an optional message from the sender.
Sanket Pandya is a lead analyst at Softweb Solutions. He specializes in SharePoint Services, Office 365 and Microsoft technologies.
Image source: Office.com (Microsoft)