Advancements in interactive-immersive technologies have opened up new avenues in the realm of workplace training. Thousands of businesses all over the world are now turning to immersive solutions to transform their training capabilities. The most immersive versatile solution is mixed reality training development.
By blending the real and virtual worlds, MR creates an unparallel learning environment. It holds limitless potential to revolutionize the way modern enterprises and industries conduct training programs. From industrial training like hands-on learning to corporate training like soft skills, MR paves the path to the next-level learning experience.
MR along with HoloLens 2 and AR apps has started gaining momentum in the training industry recently. In this blog post, we will discuss how mixed reality can help industries to transform their training programs. But before diving into it, let us checkout what is mixed reality training.
What is mixed reality training?
Mixed reality-based training refers to the training programs that incorporate interactive digital objects into real-world environments. MR training utilizes both augmented reality (AR) and virtual reality (VR) immersive technologies. So, to better understand MR training, let us first look at the capabilities of AR and VR in learning.
Augmented Reality: AR presents an interactive, digital view of the real world to learners through a headset, phone or tablet. It allows learners to interact with computer-generated objects in the 3D space.
Virtual Reality: VR creates a stimulating environment or situation, enabling learners to experience realistic scenarios without real-life risks. It provides an entirely digital environment.
Immersive technologies offer a dynamic alternative to traditional learning by overlaying layers of graphic information on top of preexisting data. Mixed reality training is presented through AR/VR/MR apps and accessible on immersive headsets like HoloLens or HoloLens 2.
For instance, an augmented training app or mixed reality training app enables users to overlay a piece of industrial equipment to train people on that particular equipment. Such training apps utilize virtual assistance that can let trainers receive training at anytime and anywhere.
Benefits of Mixed Reality in training
Reduced training expenses
Advanced learning analytics
Converged learning experience
Reduced risks of injury or accidents
Increased training accessibility and mobility
Increased efficiency and memorable microlearning
Less time-consuming and conducive to learning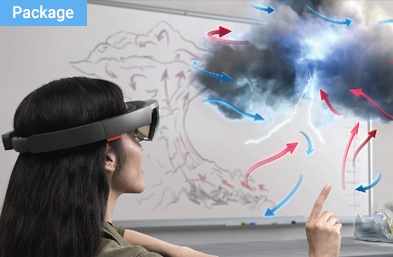 HoloLens Pilot Project
Our aim is to give enterprises clarity in terms of the deliverables and expectations when it comes to building a full-scale HoloLens specific application along with a precise estimate of the time required.
Three ways Mixed Reality can transform training
1. Replicate learning that cannot happen in real life
Mixed reality can provide an interactive learning experience. It can help you to replicate training programs that can not occur in real life. For instance, a company have to conduct training on repairing and maintenance of a conveyor belt system. But, to conduct the training, they has to shut down the system, which would cost them hundreds of dollars. So, they decided to adapt to mixed reality solutions to train employees on simulated conveyor belt systems with real-world experience.
2. A highly technical, remote training environment
An immersive solution like mixed reality can provide a highly technical, safe training environment. It also enables you to create a shared learning experience so learners can interact with one another. MR training is safer for industries that deal with life-threatening or dangerous situations. It is best suited for the medical or engineering field as it requires a high level of stimulation and a safe, clean environment. By developing a tech-driven, remote learning program, you can train your workers without the need for any onsite trainer.
3. Cater a real-time, experimental learning experience
Mixed reality focuses more on hands-on practice instead of a theoretical approach. It enables you to share speculative learning experiences with your learners. With MR training, learners do not even require to move to any specific location to get trained with working equipment. Immersive solutions deliver point-of-need learning in real-time. With HoloLens training app, you can implement on-the-job training faster with more precision and accuracy.
Industry-specific use cases of Mixed Reality training
Manufacturing training: Train workers on safe operating and repairing of heavy equipment on the production line. Read this article to know how mixed reality solution gives an upper hand to automotive manufacturers.
HR training: Train employees to learn proper etiquette and give a virtual tour of an organization to new hires. MR can help to impart effective and interactive onboarding training.
Safety training: Demonstrate effective safety procedures to workers without putting their lives at stake. For instance, building evacuation.
Sports training: Train athletes to understand the physics of their chosen sports game. MR can help professionals and hobbyists to properly learn all the techniques associated with a certain game.
Healthcare training: Train healthcare workers and medical practitioners to prepare for emergency procedures like surgery, blood drawing, etc.
Welcome to the future of MR training!
Mixed reality can augment traditional training management programs and bring them to life by superimposing digital elements in the real world. If you have made your mind to create your immersive training program, then get in touch with our experts. Our Microsoft certified professionals will give you a decisive push forward to create a virtual learning environment.