The shortage of skilled operational personnel for high-tech processes in the energy and utilities industry is a headache in most parts of the world. Aviation struggles with 50-year old maintenance training procedures. Providing detailed training for handling complex medical devices is a challenge for healthcare. Big product size, costly physical demos, accommodate product's inside look – are pain points in displaying sales demos across different industries. Regardless of the sectors, if these things speak anything, companies have a massive scope in improving training, sales demo and on-demand field service support. And what if Microsoft's single heads-up display is the solution for all – Microsoft HoloLens.
HoloLens is Microsoft's take on augmented reality (AR). HoloLens app is a substitute for operator manuals, training procedures and handheld devices with better user experience and hands-free operation capabilities. HoloLens app development essentially eliminates your effort-intensive, time-consuming, error-prone processes like training, sales demo and on-field service support into a pair of glasses that anybody can use from anywhere, anytime.
Automotive giants Hyundai and Mercedes, for example, employ this tool to improve customer satisfaction drastically. They offer the same information interactively with an augmented reality app instead of brochures which often have shiny pictures but confusing instructions. It also allows buyers to get answers quickly and easily about the vehicle's operation, from basic to everyday maintenance. By adopting HoloLens, these titans are seamlessly maintaining customer loyalty better than their counterparts.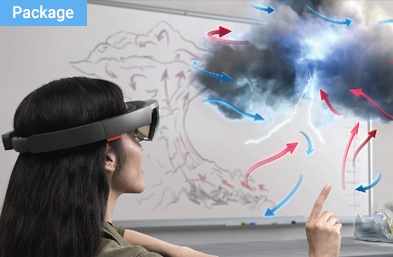 HoloLens Pilot Project
Our aim is to give enterprises clarity in terms of the deliverables and expectations when it comes to building a full-scale HoloLens specific application along with a precise estimate of the time required.
Indeed, HoloLens is a game-changer. It can completely revolutionize the way companies operate. What we have seen so far is just an example of the utilization of HoloLens by automotive companies in their sales operations. If you are curious to know how the post-HoloLens training, sales demo and on-field service support looks, you have hit the right blog.
The largest portion of digital investments done by oil exploration and drilling companies are targeting the Internet of Things (IoT), mobility, Big Data analytics, and emerging technologies such as artificial intelligence, robotics, wearables, as well as virtual and augmented reality.
HoloLens sales training app
Whether it's about onboarding a new employee, heavy equipment, quality assessment, or employee safety – up-to-date training is the beating heart of business productivity for most companies. Without further ado, let's dive into the post-HoloLens training world.
Let's take an example of a hospital environment. Providing detailed training for complex medical devices, avoiding setup errors, and visualizing multiple medical parameters and understanding them during an emergency – are common challenges for any hospital. HoloLens can solve those problems. Hospital staff members can use HoloLens to understand the working of complex medical devices or surgical procedures 100 times, anytime. Hospitals can avoid setup errors with 3D projected instructions and quickly access medical information through interactive digital tutorials in high-stress situations.
Speaking of the use of HoloLens in healthcare, ever tried to imagine a remote surgery when maybe an expert's presence is needed there? HoloLens lets any resident see an operation from a surgical specialist's viewpoint. Imagine that someone in South Sudan needs to handle the emergency case through surgery. He doesn't need to travel or wait to learn it. HoloLens allows him to have a walk- through of the surgical procedure and help him build his confidence. Not only that, but the surgeon in South Sudan can also get training on how to deal with a worst-case scenario.
Further, HoloLens can also pull up the images you want and zoom out as much as you need. This helps to explore the images right in front of you, in the size and the clarity you expect. By implementing HoloLens in any industry or organization's training you will realize a breakthrough.
HoloLens and sales demo
Suppose you are a production line engineering consultant. And you have invented a production line method, 'AssemblyFlex'. You are selling an assembly line allowing your clients to manufacture customized products. While presenting sales demos of AssemblyFlex to your prospects, the biggest challenges are big product size, costly physical demos, and assembly line's inside look from the prospect's viewpoint. Let's see how HoloLens can solve all these problems.
Say you are approaching a textile machinery manufacturer. Using a malleable holographic version of the warping machine, their employees will view the process from every angle. You can showcase the use of different warpers for rigid yarn, elastic yarn, cotton yarn. And in sales demos, you can also run virtual models to show the effect of varying humidity and temperature levels on yarn quality without having to mock up an entire process. During a demo, your sales team can further present the effects of those different yarns on manufacturing clothes through power looms. In all, an end-to-end automation of the production line using the assembly line, from yarn making to grey cloth production, can be presented through HoloLens. The power of HoloLens is much more than this whether you apply it in automotive, chemicals, glass, paper, syringe, agriculture or food production industry.
HoloLens is the best fit for sales demo because it:
Allows you to give products a virtual spin without having to expend prototype costs.
Helps you to visualize product designs with various permutations and combinations.
Permits you to show how a product performs in the worst-case scenario or different situations.
HoloLens field service training app
So, how HoloLens can change on-field service support? Before exploring how an augmented reality field service application can help companies set up a more efficient maintenance program, let's have a quick look at challenges that field service engineers face often:
Lack of real-time communication and inability to get remote instruction.
Inability to view product catalog for the relevant parts while working on the job.
Difficulty in locating the correct spare part to carry out maintenance.
Getting training of any equipment remotely and run simulations.
Accessing past maintenance records.
With HoloLens, any service engineer can receive step-by-step instructions through remote subject matter experts (SMEs) via a video call. Thus, companies can deploy field crews efficiently since the need for a physical presence of SMEs is reduced and can give guidance from any location. With HoloLens, the maintenance world is in your headset. HoloLens helps field technicians to reach the exact spare part that needs to be replaced.
With maintenance records that can move around within a headset with service engineers, the post-HoloLens on-field service support might need no maintenance records in hand but coffee. Maybe an engineer can go through the past maintenance records while having coffee.
At last, let us talk about our success story. Our client BM&M used HoloLens to discuss the challenges of the chip screener installation on their client's site. Not only that, the dimensional accuracy of the hologram allowed the customer to 'see' the amount of room he was going to have to work with and how the chip screener will look after installation. To know more about, how BM&M used the HoloLens to install a chip screener at their customer's site contact us. We are happy to show that.
Conclusively, if you want to use HoloLens as an out-of-the-box piece of headset for training, sales demo, or on-field service support, and run these in business-friendly ways, get in touch with our HoloLens experts for further conversation and a demo.