Automotive manufacturers have always stayed at the forefront in leveraging modern technological advancements. Now, mixed reality (MR) along with HoloLens 2 device has gained great traction in the automobile industry. Whether it is for automakers to visualize the complex design or for training new technicians or for supporting the service professionals and creating a more detailed aerodynamics model, or for better customer experiences, mixed reality is the key.
Besides, in terms of automobile assembly, companies have started to depend more on technology compared to manual intervention. And mixed reality solutions give engineers more innovative and technical power to design and create modern cars which are more than barely a tin can on four wheels. Thanks to HoloLens app solutions, as they give access to an extensive palette of brand-new tools that can largely improve car making on the whole.
In this blog, we will discuss the challenges traditional automakers face and how mixed reality solution helps automobile manufacturers to reduce production errors, increase driving efficiencies and decrease production time, resulting in building powerful cars.
Common challenges in automotive operations
Inadequate decision support for engineering designs – Automobile technicians face issues in vehicles' operational design as it requires continuous innovation and improvement. When automakers work with physical mockups, it adds to the total cost and waste of a project.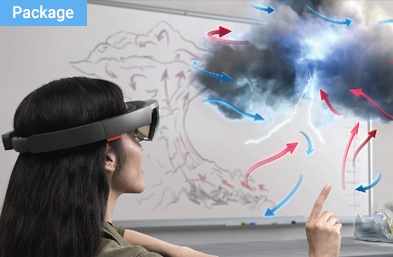 HoloLens Pilot Project
Our aim is to give enterprises clarity in terms of the deliverables and expectations when it comes to building a full-scale HoloLens specific application along with a precise estimate of the time required.
Manual calibration and setup of assembly processes – Many processes are still performed manually by a human operator during complex automotive assembly. Even a minor operational inconsistency can result in an incomplete or missed process, causing rework or warranty issues.
Poor aerodynamics guidance inside the process plant or shop-floor – Some automakers use the traditional clay modeling method to finalize the aerodynamic design of vehicles. Ineffective aerodynamic model guidance in the process plant or shop floor fails to provide a reduction in wind drag and poor fuel efficiency.
Shortage of skill training and coaching – Automobile manufacturing companies also face issues in meeting high precision and part assembling standards. This is why they need a very high level of service expertise and skilled employees for assembly, operation, maintenance and field servicing.
Use cases for mixed reality in the automotive industry
Enhance the initial design phase of a car – Mixed reality can play a major role in the design phase of a car. It aids manufacturers by providing them a perfect picture of how the vehicle may look and perform on the road. By using the HoloLens app, manufacturers can explore and modify the design or the parts in the primary stages themselves. This helps to cut the costs and the time necessary for the launch of a car.
Automate automobile manufacturing stages – MR offers craftsmen and line assemblers important information via HUD on their machines that show the accuracy of contact with spare parts after installation. The workers can tally the assembly on which they are working with information on the screen that displays the data on options to apply to that station, thereby improving speed as well as the quality of the assembly.
Automobile prototype discussion in the virtual world – The introduction of mixed reality for the automotive industry has provided automobile designers with a virtual laboratory, where issues about ergonomics, crash tests, or user experience features can be resolved before the final project modification. Employees can also see how their product interacts in various environments, settings and situations which shows various preferences of the drivers as well as passengers with the HoloLens application.
Employees using MR for virtual training – The HoloLens app gives a new dimension entirely to modern mechanisms, from engines to electronic components and electrical equipment. Mixed reality applications enables employees to learn about designing, construction and assembling principles using interactive, automatic step-by-step training models instead of physical clay models.
The final say
Undoubtedly, the mixed reality experience that HoloLens 2 offers has paved its way into the automotive industry. There are enormous benefits of adopting MR solutions for automotive operations right from the vehicle design phase through production and sales. A lot of big automobile companies have already developed HoloLens applications to create virtual versions of vehicles and visualize how they would interact in different scenarios. If you are looking for an advanced MR solution for your automobile business, then our experts are all set to address your needs.