SAP applications help organizations with various benefits such as providing an application platform, data management, analytics, and more. However, maintaining an on-premises SAP ecosystem is challenging for organizations across industries. SAP infrastructure and hardware needs huge investment and still, if the SAP infrastructure is traditionally deployed then the users face many common challenges such as:
Complex system integrations
Slower SAP system
SAP application vulnerabilities
Inefficient monitoring methods
Apart from that, SAP has announced that the in-house version of S/4HANA will receive support until 2030 and it will discontinue supporting the rest of the earlier non-cloud versions after 2025. Therefore, it is the right time for organizations to build SAP solutions on Azure Cloud – hybrid cloud or multi-cloud.
This upgrade obviously brings some challenges, but migrating SAP applications to Microsoft Azure will update the software automatically and maintain complete security. Therefore, the plus point is that there would be no hassle of maintaining an in-house system, which is a huge cost-saving.
Forrester estimated the public cloud market to grow to $236 billion by 2020.
Some of the benefits of SAP systems deployment on Microsoft Azure are
Greater scalability and flexibility
Microsoft Azure is an integrated platform that operates as a fully public or a hybrid cloud solution. It offers a comprehensive infrastructure-as-a-service, platform-as-a-service and software-as-a-service capabilities for SAP systems. Apart from that, SAP solutions on Azure Cloud facilitate rapid development and provide a testing environment with the ability to stop the environment anytime.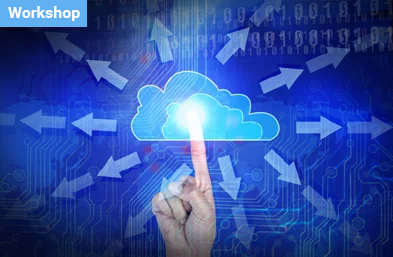 Cloud strategy and assessment workshop
The adoption of cloud-based infrastructure by enterprises is increasing greatly. However, a lot of enterprises are still reluctant to adopt a cloud strategy due to lack of skills or knowledge.
Improved business agility and speed
Unlike other public cloud providers, Azure provides access to a wide range of business-critical capabilities to boost ROI. Moving SAP applications to the cloud with Microsoft Azure offers Office 365, SharePoint, Azure IoT, Skype, Delve API, and more, which improves operational efficiency, enhances customer engagement and breaks down the information silos of organizations.
However, the cherry on the cake is Azure data analytics for SAP software. Businesses can apply advanced analytics (Azure ML) on SAP data and use Microsoft Power BI to visualize those customer analytics and data in real-time. This will help organizations to extract deeper business insights from analytics and make smarter decisions.
Enable real-time file sharing
SAP offers a variety of powerful business applications; however, its in-house systems are not capable of empowering the mobile workforce. Thus, optimizing SAP applications in the cloud with Microsoft Azure helps to effectively collaborate irrespective of their geographical location and make real-time file sharing possible on any device, from anywhere.
Ensure regulatory compliance
Microsoft is known for its promise for data privacy and protection in the industry. Microsoft Azure has an end-to-end built-in secured and reliable cloud infrastructure that helps regulation-intensive organizations to easily identify and address security threats for greater adherence to data compliance.
The final say
Eventually, enterprises will have to move SAP solutions on to Azure Cloud to increase ROI and meet the increasing demands of their businesses. If you are looking to migrate SAP applications to Microsoft Azure Cloud, then talk to our experts for a seamless transition without data loss and minimal downtime.