At the Microsoft Build 2016 conference held in San Francisco, the tech giant announced a number of new features which are sure to catch the fancy of developers and users alike. The company launched a new technology called the Bot Framework along with the Windows 10 Anniversary Update and some new Office 365 features among a number of other things.
Bot Framework:
The key highlight of this year's Build developer conference is the introduction of Microsoft's Bot Framework that can be used for creating advanced and intelligent bots. As these bots will be capable of interacting in the natural way, they can be used as perfect replacements for app or web interfaces. Developers can even use this framework to create chatbots that can easily be incorporated into services like Skype, web, email and Telegram among others.
Microsoft also demoed its CaptionBot, an image-captioning engine which forms a part of the company's Cognitive Services. It is capable of understanding images and describes them in a natural language.
Windows 10 Anniversary Update:
Less than a year after releasing Windows 10, Microsoft has announced certain updates which will be available to users this summer. According to the company, there are already more than 270 million active Windows 10 devices across the globe, which is a great start to its plan of having a billion systems up and running in the next few years.
The Windows 10 Anniversary Update boasts of the following features: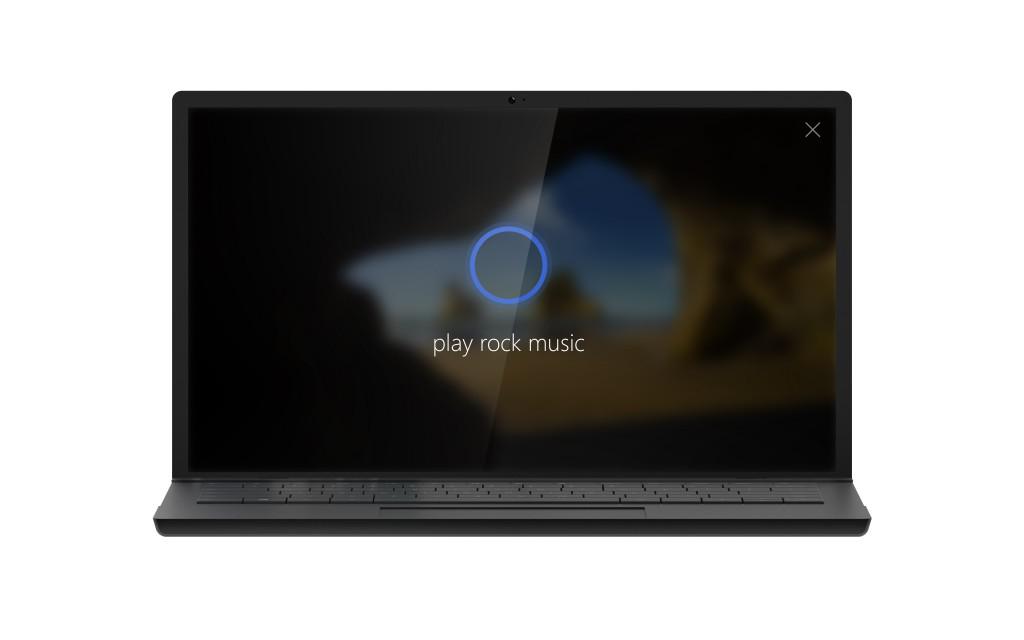 Source: Microsoft.com
The new and improved Cortana can work seamlessly even when the PC is locked. It also allows users to complete a range of notification-based tasks across devices.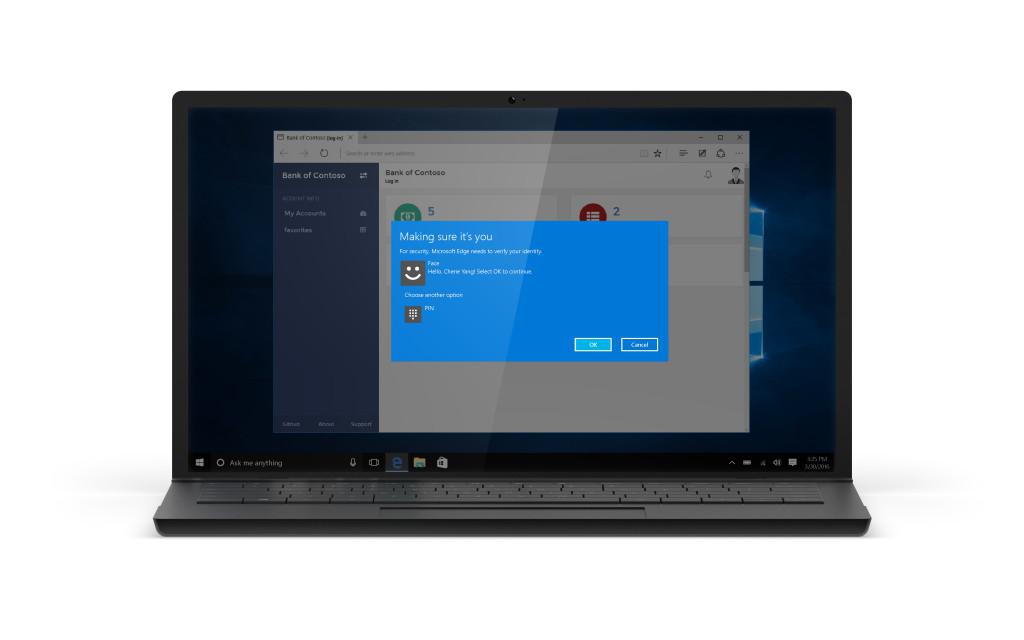 Source: Microsoft.com
Windows Hello brings enterprise-grade security to your PC with biometrics authentication. It is already compatible with devices and systems that feature fingerprint readers. This attribute has also been extended to Microsoft Edge, making the browser capable of supporting biometrics on compatible websites.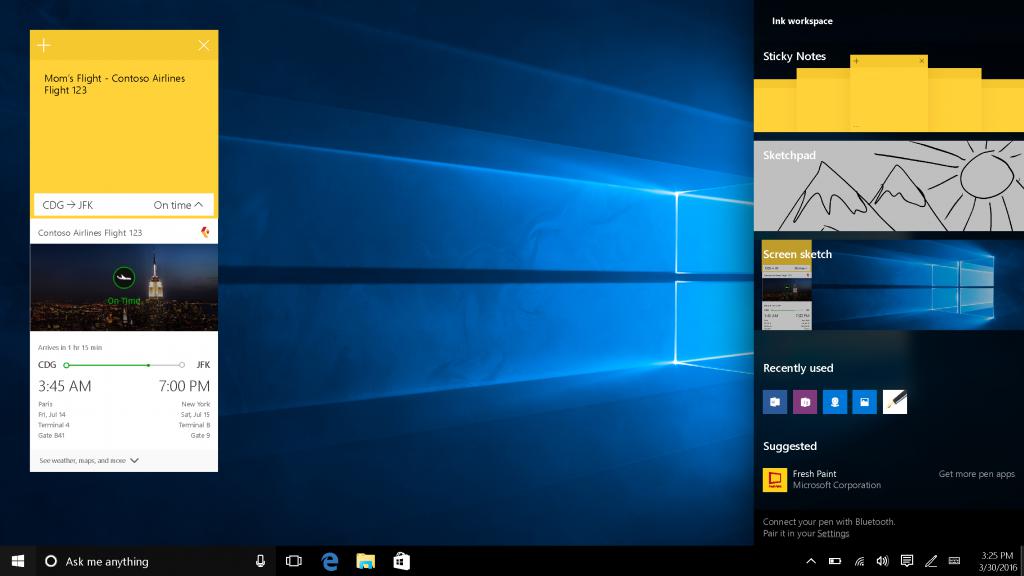 Source: Microsoft.com
This technology allows users to create sticky notes, jot down points or draw on their Windows 10 devices to convert their notes or doodles into digital content. Windows Ink has already been integrated into applications such as Microsoft Edge, Office and Maps. Microsoft also announced that Wacom, a digital pen hardware-producing company, will be manufacturing a pen that will be compatible with Windows Ink.
Universal Windows Apps (UWA):
A range of new Universal Windows Apps are on their way to the Windows Store. Owing to this feature, developers will only have to create a single application which will be universally compatible with devices such as PCs, smartphones, tablets and even wearables.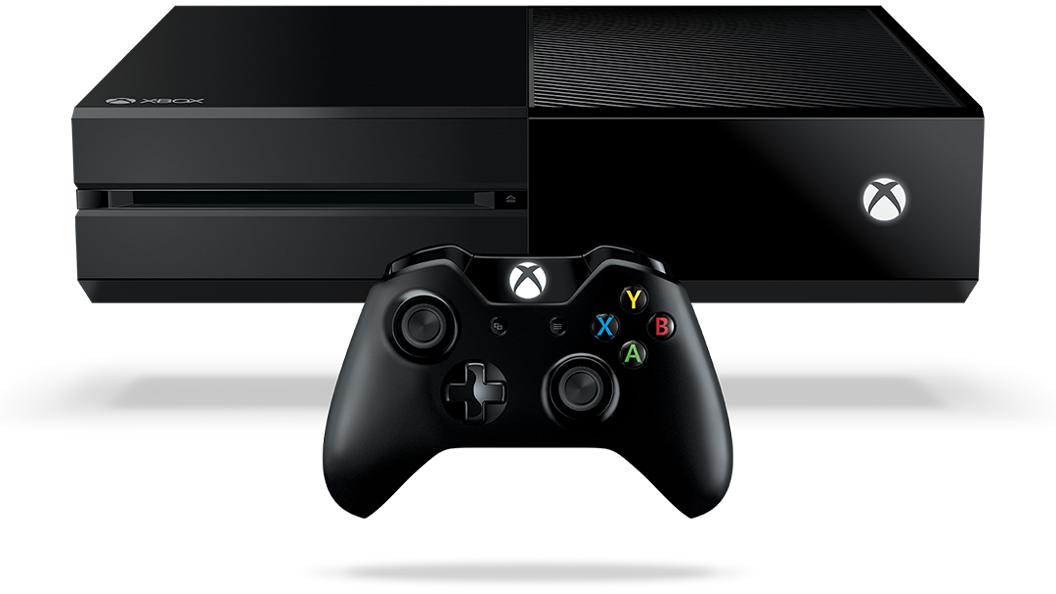 Source: Microsoft.com
The upcoming update turns every Xbox One console into a developer kit, enabling all gamers to develop games for it. Cross-platform support has been added to services like Steam, making it possible for Xbox gamers to chat with people using a Windows 10 PC. Additionally, players can even stream games meant for this console on to PC systems based on the latest version of Windows 10.
Additional Features for Developers:
Web developers will be delighted to hear that they will be able to run native bash on Windows with the new update. An all new desktop app converter for Project Centennial has been introduced for Win32 and .NET developers, enabling them to convert their legacy applications to the Universal Windows Platform and host them on the Windows Store. Moreover, .NET developers can use Xamarin to share their code across various platforms. Bash Shell, a command line of Linux, is also on its way to Windows 10.
Microsoft HoloLens: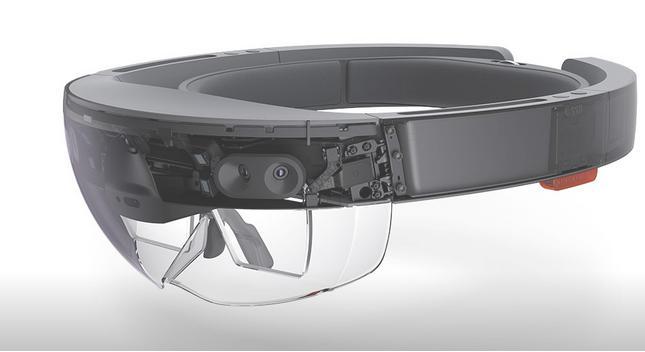 Source: Microsoft.com
Another major announcement from Microsoft is that it has started shipping the developer edition of HoloLens. This flagship device facilitates native holographic computing without requiring external cameras, markers, phones, PC connections or wires.
Microsoft Azure:
Microsoft proudly announced that its Azure Internet of Things suite is a big success and attracts over 120,000 new customers on a monthly basis. The service, which is being used in scientific as well as commercial arenas, processes more than 2 trillion IoT messages per week.
Xamarin:
The core tools of the Xamarin application have been made available on the free Visual Studio Community edition, while the standalone community edition hosts Xamarin Studio for OS X. The latter is also available for MSDN subscribers. These editions offer access to Xamarin Studio IDE, however, developers will have to sign up for the Visual Studio Enterprise subscription for advanced attributes such as Xamarin Profiler Preview, Xamarin Inspector Preview and Embedded Assemblies to name a few.
Power BI Embedded:
Developers can incorporate Power BI as well as interactive dashboards into their applications using the Power BI Embedded. They can select visualizations from the existing catalog and even tweak them according to their preferences.
Office 365:
Developers can expect an improved experience while working on this tool as Microsoft has announced certain enhancements, especially for them. Graph APIs have been added to facilitate advanced integration in various third-party apps with the assistance of Microsoft Graph. It is now possible for developers to incorporate functions within the Office 365 apps, thanks to the new integration points and even get content from third-party apps into the suite.
While Microsoft had a lot of announcements to make about a number of its services at the Build 2016, the company's Windows Phone platform was left out completely. Has Microsoft given up on its very own mobile operating system or will it have a full-fledged event to announce the new developments in the area? Well, only time will tell, so let's just wait and watch.