In the Mobile World Congress event held in Barcelona, Spain on February 24, 2019, Microsoft officially announced the second generation mixed reality headset – HoloLens 2. This upgraded Microsoft HoloLens will probably be available in early 2019.
HoloLens 2 is a business-focused product that can offer enterprise users with a more immersive and upgraded experience; however, there are limited pre-orders to enterprise customers who want to make use of this headset for an improved workplace. The enterprise edition is initially available for $3500 in countries – US, China, Canada, Australia, New Zealand, UK, Ireland, France and Japan.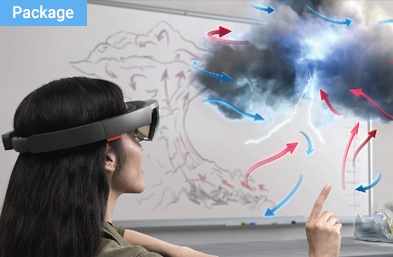 HoloLens Pilot Project
Our aim is to give enterprises clarity in terms of the deliverables and expectations when it comes to building a full-scale HoloLens specific application along with a precise estimate of the time required.
Some of the noteworthy features of HoloLens 2
The new redesigned HoloLens headset incorporates advanced sensors, the cloud, artificial intelligence, a high-definition RGB camera Apart from this; it is ergonomic, lighter in weight, more useful and user-friendly as compared to the first generation.
Compute & connectivity
Its holographic processing unit (HPU) resides on a Qualcomm Snapdragon 850 platform, which is a mix of a Qualcomm CPU and GPU. The hardware improvements in this headset are Bluetooth 5.0 connectivity, Wi-Fi 802.11ac 2×2, 8MP camera, a flip-up visor, 64-bit Universal Windows Platform (UWP) support in Unity 2019.1.
Immersive display
Microsoft has incorporated a custom-built MEMS (microelectromechanical system) display, with a miniscule electromechanical mirror, which bounces laser light around. The visual display system now has the field of view (FOV) doubled with highly realistic holograms, which has an industry-leading holographic density of 47 pixels per degree sight. This means that the display resolution has enhanced from 720p high-definition image to a 2K one for each eye offering amazing picture contrasts and brightness.
Spatial audio & sensors
The inbuilt Azure Kinect sensor, AI and semantic understanding allow users to touch, pick, rotate and move holograms (3D objects) in a natural manner and the holograms respond more like real objects. Even the embedded eye-tracking sensor makes interacting with holograms more immersive. Other embedded sensors such as accelerometer, gyroscope and magnetometer are also available in the device, which help in determining movement and orientation within an environment.
Aside from this, users can now log in to HoloLens 2 quickly and securely just by using their eyes with Windows Hello which is a facial-recognition and fingerprint-reading biometric authentication technology. This technology helps users to protect and access a device without the need of entering a password.
Another notable feature is the voice commands that work in a noisy industrial environment too due to the built-in smart microphones and natural language speech processing.
Seamless multi-user collaboration
The prime feature of HoloLens 2 is collaboration. Now multiple users can teleport into a virtual space and interact with instinctual holograms. Here the remarkable thing is that with Azure spatial anchors service supports HoloLens devices, ARKit-enabled iOS devices, and ARCore-enabled Android devices can have a collaborative mixed reality experiences. This means that users can now collaborate more efficiently in virtual spaces. Enterprises can now also build spatially aware, cloud-based and cross-platform applications that can make the most of mixed reality capabilities.
Enhanced mixed-reality experience
This untethered mixed reality headset effectively superimposes images as holograms on to a user's real-life field of vision, which improves work efficiency in different real business scenarios. Whether it is a surgeon consulting patients' medical records in real-time or technician working in the field, the information will overlay over their worksites and they can collaborate with one another seamlessly. Now it will be easier to build HoloLens applications by integrating Azure remote rendering to see high-quality 3D content in real-time.
With Dynamics 365 Remote Assist subscription ($125/month) and HoloLens, users can easily
Work together from anywhere
Bring important information into view
Walk through the site without actually being on the location
Resolve challenges in real-time
Moreover, Microsoft is priming new Dynamics 365 AI and mixed-reality-oriented services and applications for enabling remote-assistance, customized chatbots and more.
Conclusion
This is just an overview of HoloLens 2 features and hardware. Our team is exploring how enterprises can develop HoloLens applications and harness its potential for greater business efficiency. To know how you can leverage HoloLens for your business process, talk to our experts.