Customer relationship management (CRM) and enterprise resource planning (ERP) software are the two most important tools for any retail business. They may look similar in a few ways but both play a specific role in the success of a business. While ERP tools focus on business aspects and streamlining of processes across the store, CRM systems help by improving interactions with current and potential customers.
As businesses grow, these tools collect and generate enormous data regarding customers, employees and other business areas. Making sense out of this humungous data may be a bit overwhelming for employees. However, by adding artificial intelligence in CRM and ERP tools, this data and information can be handled in an easier manner.
IDC calculates that AI associated with CRM activities will boost global business revenue from the beginning of 2017 to the end of 2021 by $1.1 trillion.
How integrating AI with ERP system and CRM tool can help your business
Analyze the massive data that both these tools have collected over the years
Collect customer data from other touchpoints and combine it with CRM data
Automate routine responsibilities like accounting and payroll
Identify the correlation between current sales trends and a specific business operation
Improve customer service through AI-powered chatbots and virtual assistants
Analyze usage patterns and purchasing behavior to plan the marketing and sales strategy
Optimize pricing to take advantage of the market conditions
Pull data from ERP and CRM easily using chatbots
Analyze ERP data to identify the pitfalls in existing processes
Valuable insights for employee performance monitoring
IDC conducted a survey in order to find the economic impacts of AI on CRM. They asked respondents to list various use cases, where AI can help to make CRM systems better. The below graph shows the percentage of participants who said they are either using or planning to use the specified use case.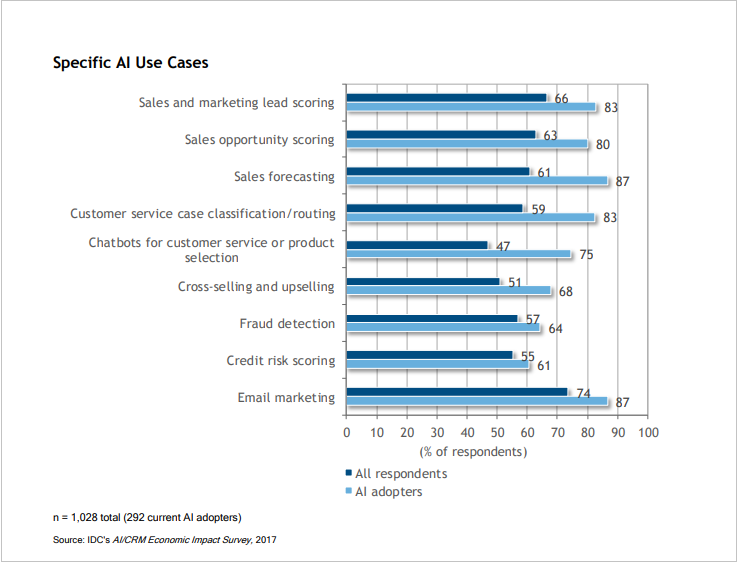 How CRM and ERP software companies are making the most of artificial intelligence
Several of the leading CRM and ERP software providers of have added artificial intelligence to their tools. They are offering several new features to business users with the help of added AI capabilities. Here are some of the major offerings:
Deeper understanding of customers
CRMs have a lot of information regarding customers but added AI-features help retailers to understand their customers in a more personalized way. These AI solutions take purchase history, socio-economic demographics, and a variety of other factors into considerations to analyze a customer profile. They can easily analyze millions of such profiles to provide better product recommendations, personalize search and improve the customer experience.
Salesforce has an AI tool named Einstein. It helps marketing and sales teams of a retail business to get a more unified and comprehensive view of customers' data.
Providing sales assistance
Sales teams work on a number of tasks every day that include researching, finding and contacting leads, replying to emails and more. AI can provide valuable assistance to salespersons thereby saving time for other important tasks, such as converting leads, cross-selling, up-selling and more.
SugarCRM has an AI-powered tool named Hint that helps salespersons in finding leads and other contact-related information. The tool also collects news from various data sources relevant to the leads and their organization, so that salespersons can target them in a better way. Likewise, Zoho has a conversational AI for the sales team named Zia. This tool is capable of analyzing email sentiments and can even predict the closure of a deal. This information helps salespersons to prioritize their tasks, connect with prospects on time and sell smartly than ever before.
Making customer service smarter
Prompt and quick customer service is the backbone of any retail business. With the increasing use of social media, customers do not complain personally to service agents anymore, but discuss their problems on other platforms as well. Therefore, just by referring to a customer's history available on a CRM tool is not enough. AI-driven CRM can collect data from various channels and combine them with existing CRM data. This will help to understand the situation in a better manner and provide solutions accordingly.
Microsoft Dynamics, with its advanced analytics and multichannel service intelligence capabilities, helps customer service agents to deal with customers issues in an efficient manner.
How to make your CRM and ERP applications ready to implement AI
The major challenge in the retail business today is to make ERP and CRM ready for AI implementation. Whether your business is using AI-enabled ERP system and CRM tools like NetSuite and Salesforce or some custom CRM and ERP solution with third-party AI tools, there are two major requirements you need to fulfill in both the conditions before implementing AI-capabilities. The first prerequisite is to get meaningful and actionable data to feed into AI algorithms and, second is to have a clear goal of what your business wants to achieve by integrating artificial intelligence in CRM and ERP software.
CRM and ERP systems must be able to collect the right data regarding your customers, employees, sales and other elements of your retail business. Always make sure that the data you collect is consistent. Apart from this, you also need to have statistical data that helps you to analyze current market trends relevant to your business. Having 360-degree information will help AI tools to predict trends and opportunities in a much more accurate way than before.
After you have captured data from all the right sources, the next step is to clean the data and make it ready to feed the appetite of AI algorithms. The other major step involves defining the right metrics that match your business goals and then setting up appropriate actions accordingly. In this way, your organization will be ready to start using AI capabilities of your CRM and ERP software.
Final say
Without a doubt, AI-powered ERP and CRM solutions help retail businesses to generate more leads, increase revenue, reduce operational costs, improve customer service and foster employee satisfaction. The potential of this combination is immense, but there are certain steps to follow in order to enjoy these benefits. If you are interested to add and improve AI features of your CRM and ERP systems, then talk to our experts. We also help organizations in making their business tools ready to leverage the power of artificial intelligence.