Every industry faces operational challenges on an everyday basis, whether it is due to machine downtime or equipment failure. However, the latest advents in technology like artificial intelligence; IoT, etc. help industries to tackle such challenges efficiently. After witnessing this, the oil and gas industry has finally started the integration of these technologies in its operations.
There are various applications of artificial intelligence for different industries. Out of which, the main applications of AI for the oil and gas industry are machine learning (ML) and data science. ML helps to transform the discovery and development of oil and gas by enabling companies to collect massive information in real-time and extract useful insights out of large data sets.
When you implement AI in the oil and gas industry, it is definite to show some significant results. AI can unlock efficiencies never thought of before by providing innovative ways of exploration, development, production, etc. Because AI has an immense potential to augment processes, it allows you to work with a lesser workforce and frees them for more resourceful activities.
Let's take a look at how AI is solving various challenges of the oil and gas industry:
1. Fault detection and quality improvement
The oil and gas industry faces a lot of challenges in recognizing inappropriate threading in pipelines and faults in mechanisms that are error-prone. The defects that are not detected in the upstream, are later realized in the production line. This leads to bigger losses and damage and incurs a heavy cost to a company.
But when you adopt AI and deploy a computer-vision-based system, it becomes easy to check the quality of production. It also provides detailed information about defects in analytics. The adoption and integration of AI-powered defect detection solutions are economical and they save you a lot of money, which makes it worthwhile in comparison to the existing process.
2. Data analysis
Big oil and gas companies have their plants in several locations globally and it is important to manage all their plants efficiently. With the implementation of AI, they get access to data from all their locations in one place. This helps them to monitor and manage all their plants remotely. Sometimes, the data records might be incomplete, so it becomes important to digitize and assess them before utilizing them. With the help of AI tools, oil and gas companies can digitize their records and automate data analysis. This helps to identify issues like faults in equipment or defect in the pipeline.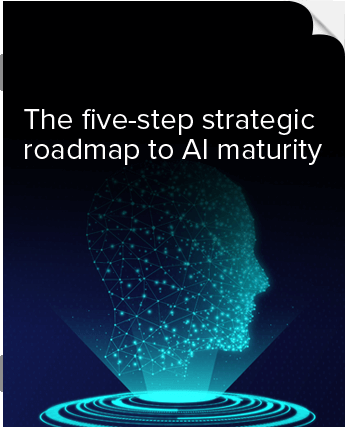 Insights
AI Maturity Framework for Organization
Artificial intelligence is considered to be the most significant technological advancement of this generation. And to thrive in this digital era, organizations need to become AI-driven and more digital. Moreover, it is imperative to realize the value that an AI maturity framework brings for companies.
3. Production optimization
The oil and gas industry requires the application of AI in its various divisions. The industry needs to optimize its production due to varying oil pricing. It is also important to improve and extend the life of an oil well. Several factors need to be taken care of like flow rates, pressure, etc. The application of AI and ML algorithms helps to collect data from various installed sensors and other devices, and generates real-time updates as well as helps to maintain the most favorable operation settings.
4. Reservoir management
The reservoir is the central part of the production of oil and gas. This makes it imperative to make advanced arrangements for its maintenance and optimization. When you incorporate AI in your processes, you can collect and utilize data from the reservoir equipment and other devices installed to capture data of the surrounding facilities. You can augment the operation of reservoirs by feeding this data to the AI systems. This may include:
Information on geology
Reservoir engineering
Production techniques
5. Ensure safety and security standards
The environment of oil and gas plants is highly dangerous which makes it prone to injuries for the employees working in it. At times, employees are exposed to varying temperatures and fumes of toxic chemicals in oil and gas plants. So, they must be taught several techniques of moving away in case of any unforeseen situation. Noncompliance with safety standards may not only lead to injuries but also heavy penalties might be even imposed on the company.
The incorporation of an AI-powered computer-vision solution monitors the job site and ensures that all the safety procedures are followed by everyone on the site. With the pre-programmed algorithm fed to the camera, it will capture all the information and analyze it. It will also send alerts in case of any deviation and help you stay proactive for the safety and security of your employees as well as the oil and gas plant.
6. Reduce production and maintenance cost
After extraction, oil and gas are stored in a central repository. From there it is dispersed through pipelines. Different temperatures and weather conditions lead to degradation and corrosion of oil and gas components which can lead to faded threading and debilitate the condition of the pipeline.
This is one of the major concerns of the industry. Thus, the oil and gas industry needs to take care of these issues proactively to avoid disastrous situations.
The integration of AI solutions can help the industry to prevent any such incidents from taking place. Technologies like AI and IoT can detect early signs of any such damage by analyzing the data recorded for various parameters. Various algorithms are fed into AI solutions that use knowledge graphs and predictive intelligence to predict the possibility of corrosion and send alerts to supervisors to address the issue before it takes place.
Companies can also plan their maintenance activities and avoid any downtime occurring due to equipment failure.
7. Make better decisions with analytics
Different processes generate a massive amount of data in the oil and gas business. But in the absence of a proper system for analyzing data, it goes unutilized. Data engineers can analyze it manually, but this is a tedious process due to the large volume of data and it incurs heavy costs as well.
AI applications powered with Big Data draw insights out of the big pool of operational data. AI collects data in different sections and unveils patterns or discrepancies and makes predictions from a huge amount of data.
AI algorithms can extract real-time analytics by analyzing various data sets and generate suggestions as per your business needs. With the help of these deep insights, you can get a better perspective of your overall operations and business processes. This can help you to improve the efficiency of your operations, make better strategic decisions, minimize risks and reduce costs.
Conclusion
Considering the advantages and impact of AI and ML, oil and gas companies are now integrating these technologies in their multiple segments. Early adopters are going to gain a competitive advantage over others. AI solutions can help oil and gas businesses to properly utilize their historical data. Sensor-rich oil fields are providing big-data engines a massive amount of data to analyze and deliver real-time alerts.
The integration of AI in the oil and gas industry keeps field workers connected and keeps a continuous check on their activities. The integration of AI, ML and IoT is transforming the oil field by keeping it connected. To know more about how the integration of artificial intelligence will benefit the functioning of your oil and gas plant, get in touch with our experts.