In 2016, the global oil demand was estimated to be 96.3 million barrels per day, which is expected to reach 97.5 million barrels per day in 2017. – International Energy Agency (IEA)
To meet the demand, upstream oil and gas companies are investing in digital technologies.
A recent study by Accenture says that 91% companies believe that digital technologies are adding value to their business by reducing costs, making decision-making faster and better, and by increasing workforce productivity.
The largest portion of digital investments done by oil exploration and drilling companies are targeting the Internet of Things (IoT), mobility, Big Data analytics, and emerging technologies such as artificial intelligence, robotics, wearables, as well as virtual and augmented reality.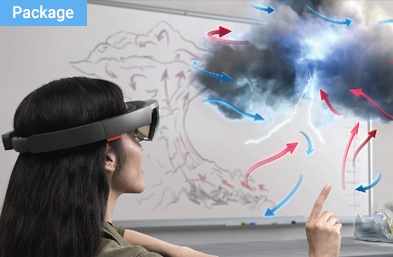 HoloLens Pilot Project
Our aim is to give enterprises clarity in terms of the deliverables and expectations when it comes to building a full-scale HoloLens specific application along with a precise estimate of the time required.
Talking about VR and AR, Microsoft HoloLens – a mixed reality headset can be of great use for oil companies that are engaged in oil exploration and production. HoloLens can be used by oil exploration and drilling companies to make their operations easier by allowing them to remotely monitor the sites.
In this blog, we will discuss four use cases proving the power of the Hololens App for oil & gas industry to change the way oil drilling and exploration companies work today.
1. Interacting with oil drilling and exploration equipment
The oil exploration and drilling process consumes a lot of time and effort, and in order to optimize the process, all the workers associated with the process should be completely aware of the equipment that is employed in the process. Training new employees on how the drilling and exploration equipment work can be a challenging task for companies. With the help of Microsoft HoloLens, companies can easily gain more insights about all the equipment by interacting with their parts. Workers can use HoloLens to rotate the holographic projections of equipment such as drilling rigs and analyze its components such as mud pump, swivel, and crown block. Providing training, even at a remote location, in the absence of real equipment, becomes possible with the ability to rotate and revolve around the holographic projections of the objects.
2. Analyze core samples of drilling platforms with geographic information system
Using HoloLens, companies can gain GIS data from the core sample and analyze it closely for more information. It will allow the analysts to remotely capture, store, analyze, manage, manipulate, and also present geographic and spatial data. As stated by modern oil geologists, they are now capable of examining the surface rocks and the terrain on the basis of satellite images. HoloLens can make this even better, by allowing them to segregate and observe each layer of the core sample to know the properties of soil, groundwater, and rocks in the region. Companies can get a clear idea about how deep the oil deposits are and can start the extraction accordingly.
3. Product configurator for equipment manufacturers
Currently, product configurators are based on images that do not allow the end user to explore the product in detail from different angles. Even when the product is customized according to the user's requirement, the product preview is limited to a single view. To mend this gap between expectations and reality, drilling and exploration equipment manufacturers can use HoloLens to make their product configurators. HoloLens will give the user a holographic preview of each product, which will not only resemble a real product but will also allow the user to visualize the look and get the feel of the real product before making the purchase.
4. Placing holographic projections on a specific surface
Companies can utilize HoloLens to create a convincing mixed reality experience. HoloLens applications can merge the real world with the virtual world and can make holograms appear as real objects. End users can drag and drop holograms and place them on real surfaces. Using TapToPlace script, applications can allow users to view a miniature version of a huge drilling equipment to get a better understanding of how it functions. At any point, users can scale up or scale down the size of the holographic projection using voice commands.
These are some of the many ways HoloLens can be used by companies in the oil drilling and exploration sector. HoloLens apps can more naturally align with user expectations by supporting real-world behaviors and interactions. To get customized use cases of HoloLens for your business, get in touch with our business analysts.