This year, FIFA World Cup isn't just about the game. Okay, well, it is all about the game – the energy, the excitement and the merriment. Thousands of football fans gather at the stadium to witness their favorite team playing and cheering for their favorite players.
FIFA 2022 not only promises lots of fun, but it also offers technical advancements that make the game even better to enjoy and play. While several industries are on the path of adopting digital transformation, FIFA is winning the race. With technologies like the Internet of Things (IoT), augmented reality (AR), virtual reality (VR), computer vision and many more, FIFA 2022 is bringing some big tech players on the field. Let's check out how it is changing the gaming paradigm.
Connected ball technology – Al Rihla ball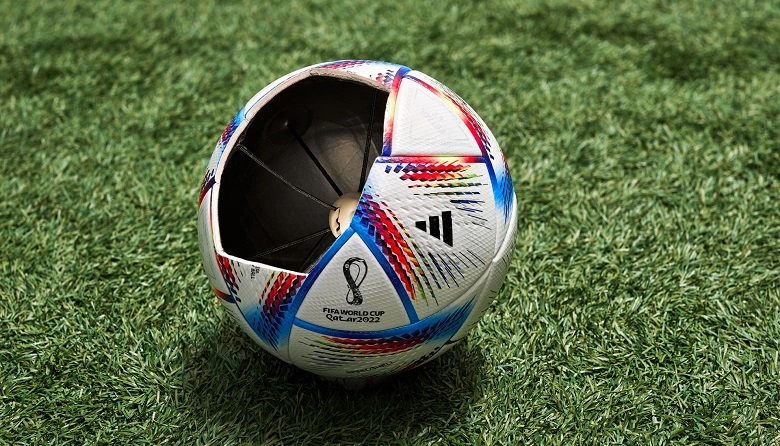 Source: https://www.soccerbible.com/performance/football-equipment/2022/07/adidas-2022-world-cup-ball-to-be-first-to-feature-connected-ball-technology/
Al Rihla means 'the journey' in Arabic. The official match ball used in FIFA 2022 is, just like its name suggests, rich in culture and context. However, that's not the only fascinating thing about Al Rihla. An interesting fact about this connected ball is that it provides precise ball data. This data is made available to Video Match Officials in real-time. It is the first-of-its-kind ball printed with water-based inks and glues.
As per FIFA, this ball travels faster in flight than any other in the tournament's history, supporting high-speed and high-quality games.
How does the connected ball technology work?
Al Rihla comes with the Adidas Suspension System, which includes a 500 Hz inertial measurement unit (IMU) motion sensor. This allows the ball to send data 500 times per second. This data further assists Video Assistant Referees (VAR) in decision-making. Moreover, it also enhances the semi-automated offside technology which we will discuss further.
This stunning and sustainable ball has been rigorously tested multiple times by several professionals and different football clubs. The verdict: no perceived change in performance. It helps in passing information about offside situations as well as assisting in detecting unclear touches. Thereby, Al Rihla improves the quality and speed of the VAR decision-making process.
This IoT-enabled solution certainly is a game changer, pun intended!
Semi-automated offside technology
This technology uses 12 dedicated tracking cameras that are mounted under the roof of the stadium. They track the ball and calculate the exact position of an individual player with up to 296 data points, 50 times per second. The 29 collected data points include all limbs and extremities that are pertinent for making offside calls.
You can see the working of this technology in the video showcasing a goal hit by Vini Jr.
Why and how was Vini Jr.'s goal ruled out for offside?
The offside rule is arguably the most complex aspect of football that plays a vital role in shaping the game. To make it clear for the referees to take the correct decision, FIFA introduced Al Rihla and semi-automated offside technology.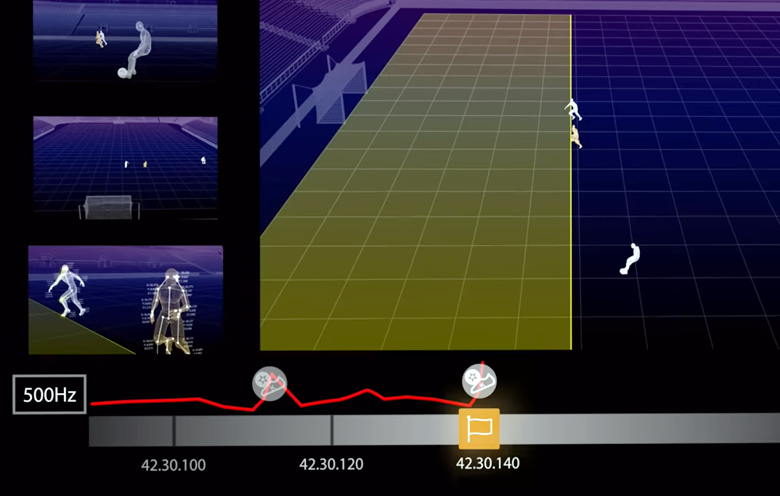 Source: https://www.fifa.com/
In one of the interesting matches between Brazil and Switzerland, Vini Jr. seemed to have scored an opening goal for Brazil. Before the counterattack, this Brazilian player was restricted by Richarlison. However, he managed to overcome the hurdle and hit a goal, only to be dismissed after a prolonged delay.
Considering inputs from semi-automated offside technology and VAR check, the referee decided to drag the game back to a stalemate.
Unfortunately for Brazil, they couldn't get a kick out of it!
FIFA Player App
With millions of people watching (in the stadium and live at home), the pressure feels real for the players. They need to analyze their actions to improve their performance. FIFA Player App is specially built for players to share insights on their on-field performance. FIFA has developed the mobile application based on inputs from professional players and FIFPRO, the global representative of professional footballers.
Metrics offered by FIFA Player App:
Football data metrics: The data is captured by a team of highly trained FIFA football performance analysts and is combined with tracking data. All metrics are captured against the FIFA Football Language definitions. For example, data analytics allows us to understand whether a player's distribution action broke opposition lines and the pressure they applied to an opponent who had the ball.
Physical performance metrics: The data is collected from a highly accurate in-stadium tracking system consisting of multiple cameras that are located around the pitch. It enables players to gain maximum player coverage. Metrics include – distance covered at various speeds, maximum speed, data displayed on positional heat maps, etc.
Football intelligence metrics: This is created by the FIFA Football Performance Analysis & Insights team. This incorporates algorithms and machine learning models that operate live to integrate event and tracking data. It includes – the phase of the play, line-breaking events and more.
All the data collected by the given metrics is then synchronized with match footage and still photographs and, other information and media. It is then shared with each player shortly after the final whistle.
The FIFA Player App is enabling players to bring their A-game to the field!
Advanced stadium cooling technology
If you're feeling hot, it's because you're in Qatar, witnessing the excitement at FIFA 2022. Qatar is a humid country with extreme heat, and to ensure that football fans who are visiting the place can view their favorite match peacefully, the stadiums have been powered with advanced cooling technology.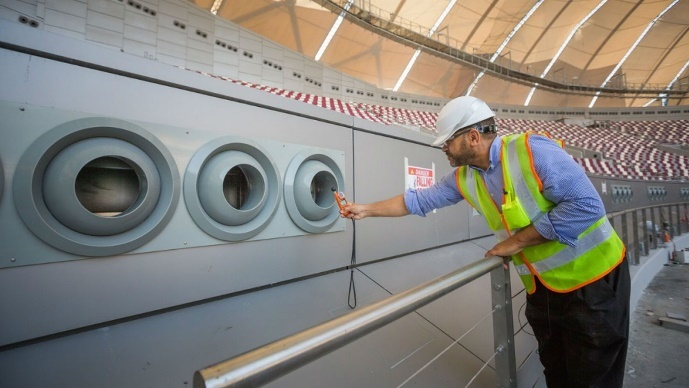 Source: https://gineersnow.com/industries/hvac-r/stadium-cooling-innovative-technology-coming-qatar-world-cup
How does digital twin technology work at the Qatar stadiums?
A digital twin is a virtual representation of a real-world machine, device, process, or system. It helps users to visualize real-time data to understand what is happening and how it can be improved. It uses simulation, machine learning and data analytics to improve decision-making.
The stadiums have solar-powered cooling systems that condition and push air through the vents. This air flows on the pitch as well as in the seating area. A digital twin solution is installed inside the stadium network to collect real-time, live data from approximately 40,000 IoT devices. The cooling system is powered by the Johnson Controls OpenBlue digital platform and Microsoft Azure.
The solution allows the cooling system to get real-time insights into the situation at every stadium enabling the building management system (BMS) with efficient lighting, but it is also enabling the cooling system.
The digital twin is the expert at cooling off the fans!
Facial recognition
FIFA 2022 started with a blast on November 20. The world cup will feature 64 matches across eight stadiums. The number of fans going to the stadium to enjoy watching their favorite team play is huge. The opening match itself saw a crowd of 67,372 people. Hence, it is imperative to carry out thorough surveillance for better security. Therefore, there are 15,000 cameras equipped with facial-recognition technology installed at the stadiums.
All the attendees are asked to fill out an official form, a digital identification app from the Qatari government. They must also upload a photo of their face and scan their passport. With facial recognition, the officials will be alerted in case of false entries, or if there are any unidentifiable items on the premises. This will help them with:
Enhanced security
Prevent terrorism
Avoid violence
Eliminate nuisance
All eyes are on this massive event. Literally!
Detecting social media abuse with artificial intelligence (AI)
Previously, approximately 400,000 social media posts circulated on the internet during the semi-finals and finals of the UEFA Euro 2020 and 2021 Africa Cup of Nations men's tournaments. Not all were praises or memes. Many posts were harsh and abusive.
According to FIFA, more than 50% of participating players across the UEFA Euro 2020 and 2021 Africa Cup of Nations men's tournaments were abused on social media.
To prevent such offensive activities, FIFA has implemented AI to detect hate speech on social media, report the message, identify the accounts and potentially report the account's activity to the social media company and law enforcement authorities. Natural language process (NLP) technology enables authorities to scan and recognize hundreds and thousands of social media posts in real-time.
FIFA, along with FIFRA, decided to implement this AI technology to address the growing levels of targeted hate speech on social media.
Immersive football experience in the metaverse
FIFA joined hands with online gaming giant, Roblox, to give the fans an immersive experience. This partnership offers the Roblox community free-to-play access to an interactive game called FIFA World.
FIFA World is a virtual environment that celebrates the power of football and the rich history of its pinnacle events. – FIFA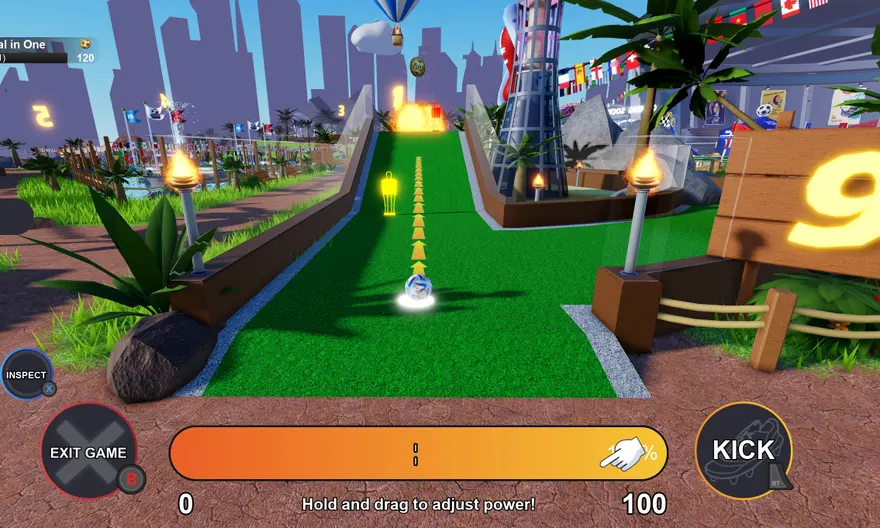 Source: https://www.theguardian.com/football/2022/oct/20/lost-in-robloxs-fifa-world-everything-wrong-with-the-metaverse-in-one-place
What does this ground-breaking partnership ensure?
This online gaming platform is powered by metaverse technologies like augmented reality (AR) and virtual reality (VR). It consists of various challenges and virtual items that a player can play and buy for their online avatar.
FIFA World allows football fans to:
Hang out in social spaces
Earn rewards
Collect exclusive virtual items
Don't just watch, play!
FIFA 2022 is the winner
The opening ceremony for FIFA 2022 began on 22 November. Since then, there are many players, teams and fans winning over the Internet and people's heart. From Japanese fans cleaning out the stadium after the game, to sporting 'No Discrimination' armbands as LGBTQIA+ armbands were banned – FIFA 2022 has its memorable moments so far.
Along with such wholesome instances, FIFA 2022 is also the winner for adopting advanced technologies to transform how we see the physical gaming industry. The stage, the pitch and the seating arena – are all powered by digital transformation, adding the excitement of fans and players.
Let the game begin!