In today's manufacturing world, things are moving at a breakneck pace. Hence, manufacturers should adopt advanced technologies to connect, optimize and upskill their frontline workers. Also, manufacturing workers must learn to be more agile and efficient along with looking for faster ways of working. But the question is how? The answer is simple: By the amalgamation of Dynamics 365 (D365) Guides and Microsoft HoloLens 2.
At present, Microsoft D365 Guides is hitting the road into the manufacturing space. Using this mixed reality (MR) app, you can empower all your manufacturing workers from the factory floor to the sales floor. It will enable you to enhance workers' productivity, adapt quickly to the changing times and solve problems in real-time, all while on the go.
In this blog post, we will walk you through notable use cases of Dynamics 365 Guides. Now, before diving into the D365 Guides, let us discuss some of the common frontline workers training challenges in manufacturing.
The current challenges faced by frontline workers in manufacturing
Difficult to understand complex task steps from a paper-based manual
Monotonous and time-consuming training for each batch of operators
Unable to perform complicated tasks on machines without the help of a trainer
Lack of security as any worker can access guides of any process
Use cases of Dynamics 365 Guides in the manufacturing industry
1. Self-guided training
As per the research conducted by a German Psychologist – Hermann Ebbinghaus, humans tend to forget 80% of what they learn within thirty days of their learning. With old training methods, like paper-based manuals and SOPs, workers have a higher chance of forgetting what they have learned. Dynamics 365 Guides delivers a truly virtual learning experience to the industrial workforce, increasing the chances of comprehending and remembering what they have learned.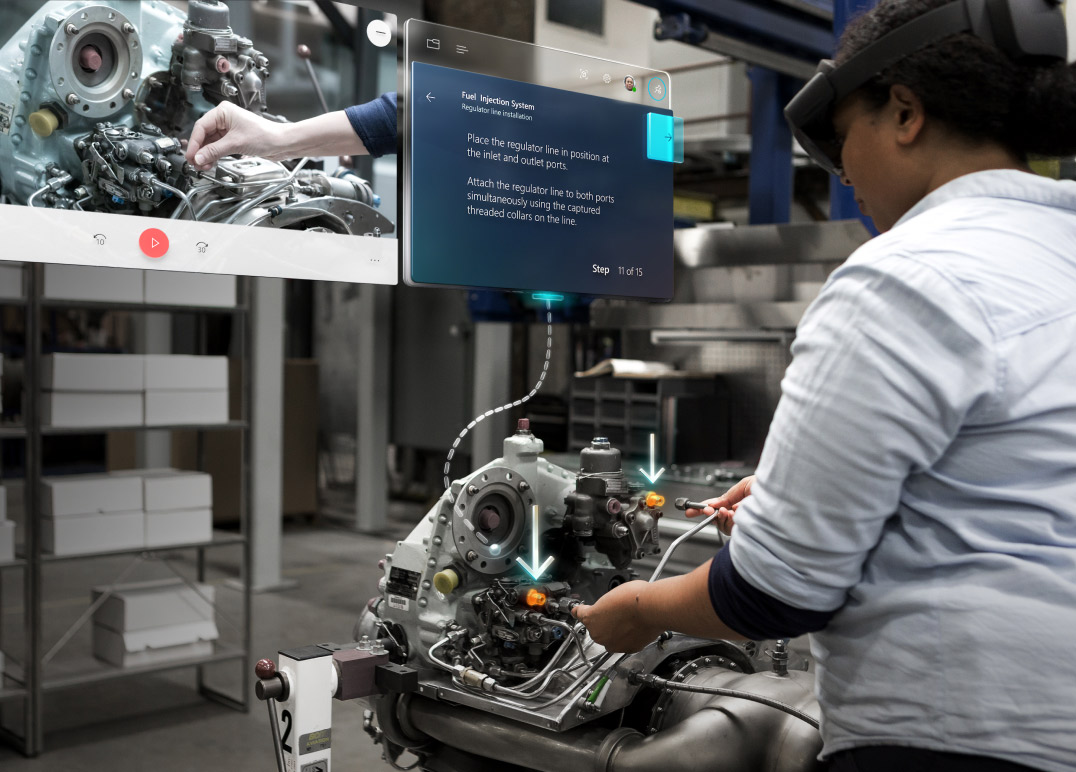 Source: Microsoft
A digital process guide provides step-by-step instruction cards to manufacturing workers, enabling them to efficiently learn processes like equipment assembling and disassembling. D365 Guides offers self-guided training experience to the workers in the following ways:
Shows immersive instructions that move with workers as they move around the machine
Points to the tools or parts of equipment to guide them exactly where and how to operate or assemble it
Guides them visually through processes without them having to rely on trainers or other workers
2. Hands-free installation
It is obvious that when a factory worker is working on a machine, both of his/her hands are busy assembling or repairing the equipment. Thus, referring to or reading thousands of close-written pages of instructions while working on the equipment causes inconvenience. Then enters Dynamics 365 Guides. The app allows shop floor employees to navigate instructions with just a glance since it provides visual instructions in the form of:
3D holograms like arrows, pointers, etc.
Instructional videos
Schematics and PDFs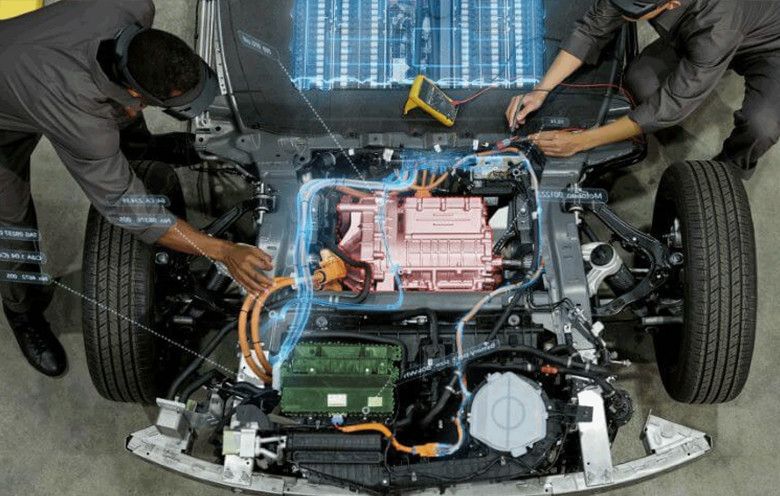 Source: Microsoft
Furthermore, D365 Guides direct workers to look where arrows, pointers, or hand gestures appear, showcasing where the next action is required. So, to deliver an interactive user experience, the MR app overlays 3D holograms and visualization in a real-world environment. It leaves your workers' hands free to do the work as only a glance at the screen is enough to let them move to the next step of equipment installation.
3. On-the-job guidance
In a factory setup, frontline workers, especially the newer ones, often require on-duty guidance from trained instructors or professionals. Dynamics 365 Guides provides impeccable three-dimensional step-by-step guidance so frontline workers can perform their job without relying on trainers and their availability. On-the-job training for frontline workers enables them in:
Closing the knowledge gap
Executing complex tasks effectively
Reducing errors
Enhancing ongoing processes
Standardizing skillsets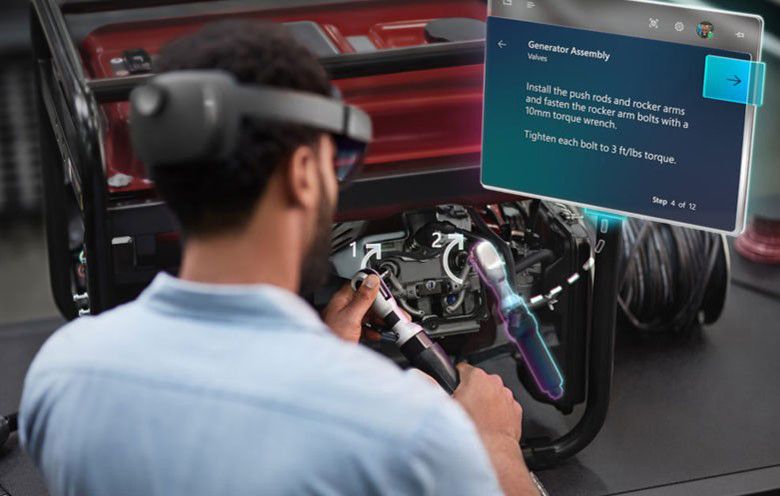 Source: Microsoft
D365 Guides give great confidence to the factory workers to work on a new task or handle hazardous material/procedures. By following step-by-step visual directions, industrial employees can reduce downtime, improve productivity and adopt practical learning. Ultimately, Dynamics 365 Guides implementation will help you to enhance your workers' safety and security.
4. Remote inspections and audit
Dynamics 365 Guides acts as "remote eyes" for the auditors or inspectors conducting technical inspections on the factory floor. The real-world overlay of 3D instructions and assets can help technical inspectors get ubiquitous support, resulting in faster execution and less traveling. With D365 Guides and HoloLens, you can carry out remote inspections and audits for the following purposes:
Safety and compliance
Training and mentorship
Testing manufacturing equipment
Quality assessment and assurance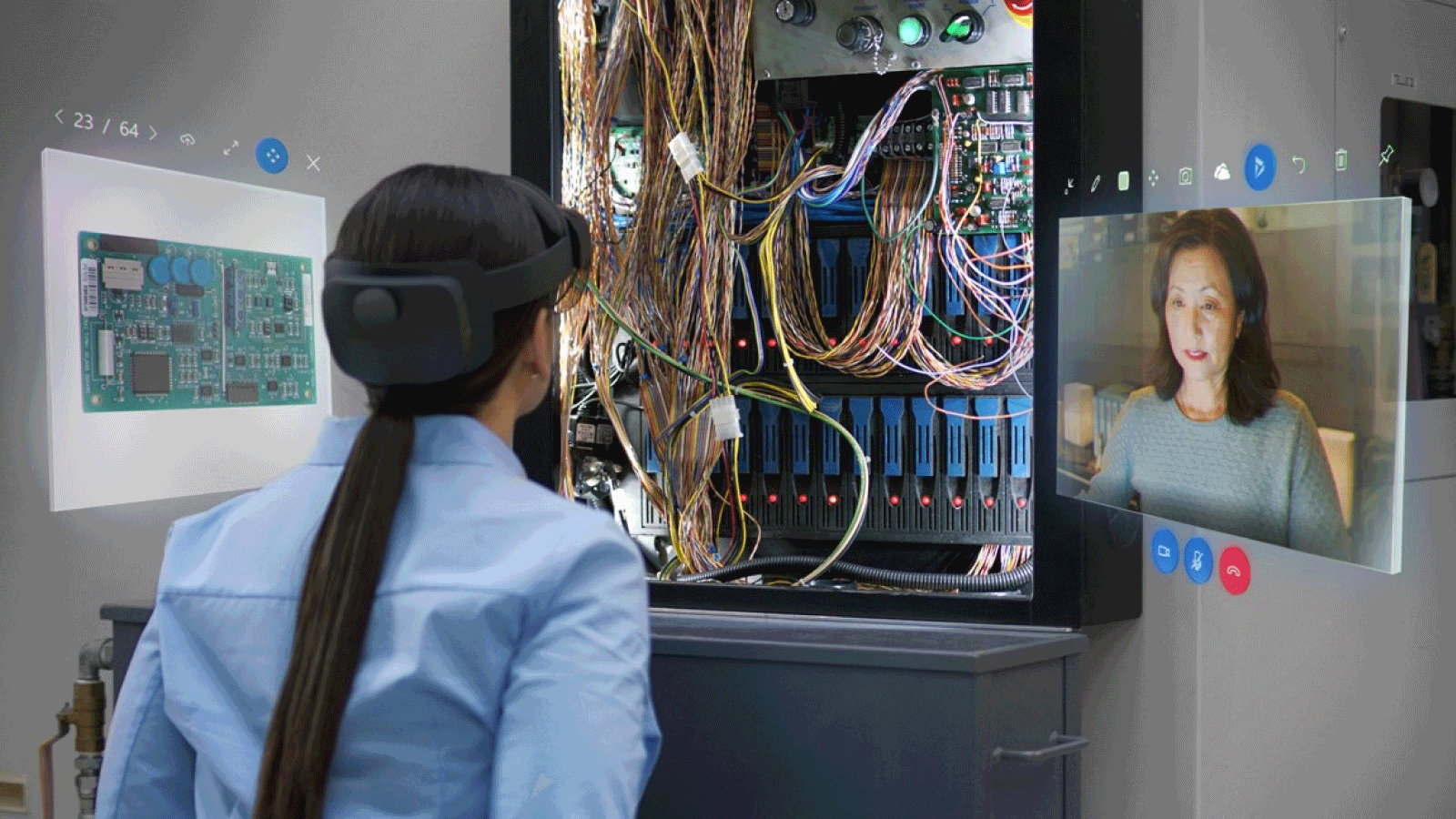 Source: Microsoft
As a result, comprehensive audits with real-time visibility will enable you to inspect and interact with machines in the physical space from a distance. With the help of HoloLens 2, your D365 Guides users can collaborate remotely with experts for inspection and audit work-related instructions. Additionally, inspection using this MP app can help you narrow down the knowledge gap between your front-line workers and skilled technicians.
Benefits of Dynamics 365 Guides
Accomplish complex tasks without needing a trainer
On-the-job immersive guidance reduces the time to perform tasks
Adapt to complex scenarios from training, assembly and service to repair
Solve problems in real-time with ease and proficiency
Get data-driven insights and visibility into worker's performance
Take the next step
Industrial enterprises are currently creating an environment where advanced technologies and experiential learning solutions such as D365 Guides can bridge the growing manufacturing skills gap. In fact, most manufacturing companies have already started utilizing HoloLens 2 and Dynamics 365 Guides to empower their frontline workers on the job. If you wish to improve your workers' productivity on the factory floor, get in touch with our experts. Our experienced experts will assist you in embracing and implementing D365 Guides to transform your existing processes and optimize worker operations.