Working remotely has become the need of every industry, especially ever since the pandemic has hit our lives. In the last couple of years, everyone has realized the need and importance of remote work. Along with working remotely, remote training has also become an important part of the job. The reason is simple – proper training provides the knowledge and ability required to tackle complex situations. Well-trained employees increase the efficiency and productivity of the organization.
However, providing training remotely is a difficult task. And when it comes to on-job training, it becomes crucial too. Microsoft Dynamics 365 Guides, a new mixed reality application from Microsoft, is designed to help people learn how to use various business applications. It provides step-by-step instructions to complete a task within the applications. This can be done in two ways: either through automatic recording of user activity or manual inputs from experts.
It provides holographic instructions to operators throughout an ongoing task. It helps them learn while they're at work and complete the task simultaneously. The app displays instruction cards and arrows pointed towards the exact place where the work is to be done. It includes images, videos, and 3D holographic models required to accomplish a task. And helps technicians to view what exactly needs to be done, leading to faster completion of the task.
With Dynamics 365 Guides capabilities your technicians can minimize errors and provide quick resolution of issues. The technicians can even make a call and connect with an expert located in a remote location for assistance if required. And since the expert can exactly see what the technician sees through their HoloLens, they can guide a technician to perform a task accordingly.
Now let's see how Microsoft Dynamics 365 Guides helps businesses
1. Interactive training and onboarding
Employee onboarding and training are two important processes that lay the groundwork of a great employee-employer association. You can use Microsoft Dynamics 365 Guides to onboard new employees and provide them all the necessary information easily.
It helps you to develop the training material in such an interactive manner that new employees can undertake training on their own. Such training module doesn't require any trainer; it saves time and helps you avoid scheduling troubles. Moreover, you can also customize the training modules as per the specific needs of a trainee/training.
Dynamics 365 Guides is a perfect way for employees to stay updated on changes to the company or their roles.
2. Handsfree operations
We usually use both hands to work efficiently. And when it comes to technicians, with their one hand occupied handling a manual, it becomes difficult to perform a task well. But with the integration of Dynamics 365 Guides with HoloLens 2, the technicians can easily navigate step-by-step holographic instructions through their HoloLens and use both hands to perform a task.
3. Process improvement
Using Dynamics 365 Guides, you can document and streamline business processes, making them more efficient and error-free.
4. Supporting field workers
Field workers can use this tool to get instructions for task completion or resolve problems. Even if they have not worked on a machine before, they can easily take up the task with the help of Dynamics 365 Guides. It would be like on-job training without a trainer.
5. Maximize operational efficiency using data
This solution provides companies with the ability to improve their operational efficiency. It uses the data to help employees' complete tasks more quickly and accurately. This solution is appropriate for frontline workers who lack access to a computer.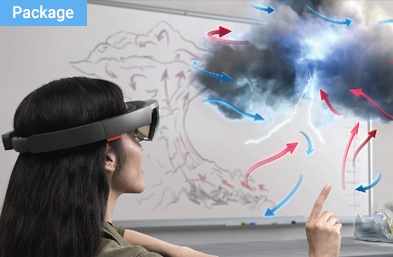 HoloLens Pilot Project
Our aim is to give enterprises clarity in terms of the deliverables and expectations when it comes to building a full-scale HoloLens specific application along with a precise estimate of the time required.
Benefits of using Microsoft Dynamics 365 Guides
Ensure security and minimize errors
D365 Guides ensure employee safety and service quality as all the required steps in a service/process are taken into consideration. Apart from this, it helps you to ensure compliance with unified workflows.
Enhance knowledge and capabilities
In Dynamics 365 Guides, you can create interactive work manuals using photos, videos and 3D models. Due to this, information is easily accessible to technicians to learn and work simultaneously.
Modify work in real-time
You can create a decision workflow through your instructions and help your employees adapt to every work situation. Also, if your technician finds better ways to perform a task, they can update the guide and connect with an expert for an online demonstration. After approval, the experts can make changes on their computer and update it with HoloLens.
A few ways in which you can use Microsoft Dynamics 365 Guides
Improve employee productivity
The availability of step-by-step instructions speeds up the learning process for your employees. It helps them to follow uniform processes everywhere and thus minimizes errors.
Collaborate remotely
With Guides, your team can perform audits and inspections remotely to avoid delays in attending to a service request and saves travel costs. As stated above, technicians can always connect with experts for any guidance and complete the job on time.
Update the team anytime and anywhere
In case you want to make an update to an existing guide due to a change in process, you can automatically send the updates throughout the organization in no time.
Apart from these, some other benefits of Microsoft Dynamics 365 Guides are
1. Easy to use
Microsoft Dynamics 365 guides are easy to use and can be leveraged by anyone, regardless of their experience level. They provide step-by-step instructions that help users to complete tasks efficiently.
2. Quickly updated
The guides constantly keep updating itself with the latest information from Microsoft. Due to this, you always have the latest information about how to perform any task.
3. Accessible anywhere
You can access Microsoft Dynamics 365 Guides anytime, anywhere. There is no need for an internet connection to access them. All you need is your device and Internet Explorer.
The final say
Dynamics 365 Guides provide the ability to create and manage interactive step-by-step guides to train employees on specific tasks or processes. One of the best things about this technology is its user-friendliness. The app is easy to learn and use, which makes it perfect for companies of all sizes and helps technicians just like a guide in person. Do you wish to leverage Dynamics 365 Guides to help your operators? To know more about the integration of this tool with your business, talk to our experts.