When Hackathon 2014 was announced, we decided to participate as it sounded extremely exciting for us. Our team, Team #SoftwebHackathon7, started exploring concepts and soon stumbled upon the idea of a dynamic image mapping tool. As a matter of fact, this has been in our regular discussions for quite a long time as once we came across a project requiring a mapping tool though the concept was a little different from the one we chose for Hackathon.
The fact is that there are many solutions available online to draw maps on images; however, there is almost no solution which makes the image truly interactive. We wanted to make it a reality. Surely, this should be a refreshing idea because it allows interactive images with tagging and sharing options.
What is the concept?
Dynamic image mapping tool can be used to create an online solution to draw maps on an image interactively. This will help users to define image map area and assign links, images, videos etc., easily. We created this tool in HTML5 because this is a widely used technology and is supported by all major browsers.
We wanted to let the user draw the tag on HTML5 Canvas and then share it online to other users via web link. The tool can be an excellent help in many areas of our lives as it shows an image with its fortified display capacity. Presentations can be truly interactive with this tool.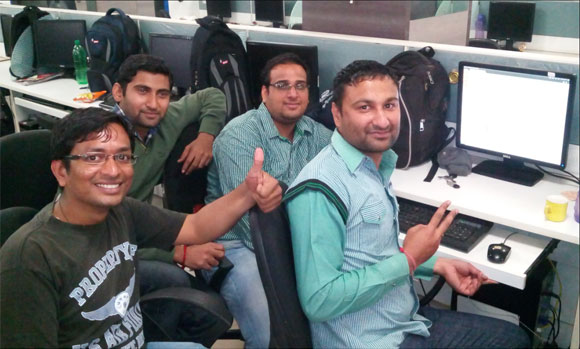 (L to R: Ghanshyam Tank, Ajesh Nair, Adarsh Nahar, Rohan Prajapati)
What are the enhancements (future development)?
Our future enhancements are focused on multilevel image mapping (maps can be zoomed and display more locations interactively on it) and enabling a 360 degree view of the image. This will be a great help in domains which require 3D effects/360 degree image view and map layers.

We plan to make it mobile compatible and as a Firefox add-on and Chrome Extension.
Who can use our app?
Show booking, theatre reservation, educational institutions, scientific institutions, commercial organizations, medical organizations, social platforms, and so on.
How inspiring the whole event was? Dance on the floor or the one minute games?!
The event became rather inspiring as we friends geared up for something innovative and useful! Each member carried out individual research to make it a perfect tool and worked towards achieving our final goal. We spent extra hours to shape up our concept and execute it as we planned.
In the meanwhile, we had enough fun which was very much a part of this awesome event called 'Softweb Hackathon 2014.' We had several games to be a part of and got a chance to dance on the floor promptly when there was an announcement asking us to do so. Yeah, the Team #SoftwebHackathon7 danced to the tunes of a few Bollywood numbers which brought us the prize titled "geeky dancers".