The health insurance industry, across the world, is going through a wave of digital transition, representing a new era of healthcare consumerism. Digital technologies keep on evolving and finding novel applications in the medical and health insurance sector, even now when the industry is grappling with the peril of the COVID-19.
While the insurance industry has already taken a plunge towards digitization, the pandemic has encouraged all health insurance service providers to mount on to an unparalleled digital transformation journey. However, in these trying times, most players are clueless about how to improve their health insurance coverage services during the pandemic. Digital transformation and the adoption of cutting-edge technologies can help such players to overcome the disruption and gain a competitive edge.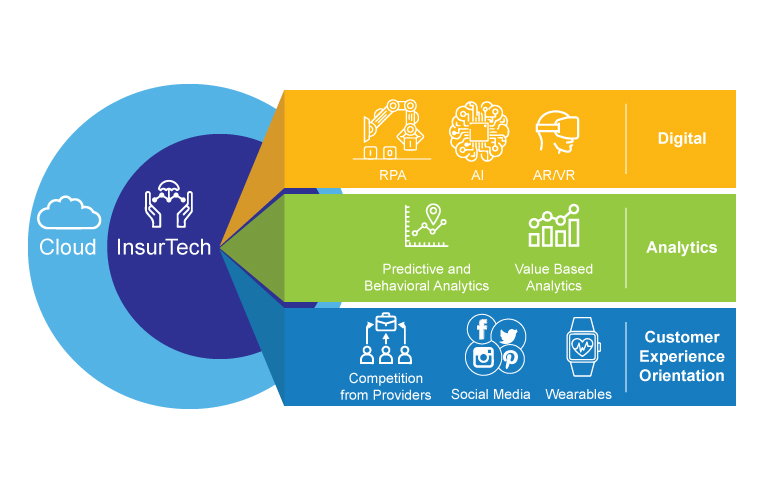 In this blog post, we have presented some of the most disrupting digital technologies that can substantially change the way health insurers connect with consumers, drive business growth and manage risks.
Six disruptive digital technologies for health insurance service providers
1. Chatbots and AI-based voice assistants to better serve customers
Artificial intelligence-based voice assistants and chatbots are more than a digital transformation trend in the health insurance sector. They are personalized customer engagement tools with a human touch that portrays the epitome of medical insurance innovation. They enable health insurers to offer personalized, ubiquitous services to customers and bring conversational dimensions to their digital journey. A few valuable contributions of these highly interactive AI-based customer interaction tools include:
Handling all the queries related to health insurance policies
Enabling insurers to scale customer service operations
Educating customers on better health plans/benefits
Offering a precise price guide to potential customers
Insights
Everything you need to know about chatbots powered by artificial intelligence
With the digital revolution, chatbots are moving ahead rapidly. Effective chatbots have demonstrated a deeper understanding of users and have allowed quick initiation of chatbots that result in quality user experience.
Real-life use case: With the aid of Alexa-enabled device – Amazon Echo, the Canadian multinational insurance company – Manulife helps their customers to check the remaining balances of their medical, dental and vision care accounts by asking a simple question like "Alexa, please ask Manulife Benefits, what do I have left with for glasses' repair?"
2. AR, VR and MR for interactive customer experience
Fifteen years ago, telling people about insurance policy collateral coming "alive" would have accrued plenty of blank stares. However, today augmented reality (AR), virtual reality (VR) and mixed reality (MR) have become cornerstones of the digital transformation that opens up a world of non-obtrusive virtual interaction, where possibilities come alive. These innovative technologies can not only help health insurers to bridge the physical-virtual chasm but also provide interactive customer experience while ensuring both consumer engagement and entertainment.
Let's see a few usage scenarios of AR, VR and MR in the insurance industry:
Remote guidance and training
Create new service niches
Improve advertising campaign
Explain insurance plans easily
Increase brand awareness
Accelerate insurance claims assessment
Real-life use case: PNB Metlife – an Indian insurance firm, leveraged AR to empower their customers to interact with a virtual insurance expert and enter a virtually simulated 3D environment via their smartphones.
Digital transformation is all about delivering better CX and increased ROI
Webinar agenda
Overview of digital transformation
Adopting the digital edge in redefining CX
Major challenges on the road to digital transformations
Developing digital transformation strategies
3. Mobility solutions to extend robust support
In today's connected world, we all have become far more mobile. As per a Statista's 2018 report, around 52% of web browsing in the world occurs on mobile devices. This leads the insurers to combine their health insurance services with mobility. It helps them to provide their consumers with convenient and easily accessible services via customer-facing insurance apps. Besides, highly mobile-ready solutions are more likely to benefit insurance companies, policyholders and potential consumers in many ways, including:
Making policy payments and changes
Getting anytime, anywhere online consultation
Submitting claims via mobile insurance apps
Checking the status of an insurance claim
Automating the process of claim settlement
Delivering prescription information to pharmacies in real-time
Real-life use case: Anthem – an American health insurance provider, developed an insurance mobile app named 'Anthem Anywhere' to allow its customers to find nearby healthcare centers, pharmacies, doctors, etc. covered under their insurance plans.
4. RPA to automate and streamline business processes
Robotic Process Automation (RPA) seems to be a natural fit for the health insurance sector as it follows an end-to-end intelligent automation approach. It frees up the workers from mundane tasks and allows them to focus on more critical tasks. Leveraging RPA, the health insurance service providers can streamline and automate various business processes seamlessly, including the health insurance claim management process, fraud detection, policy administration and servicing.
Let's look at the proof-of-value of RPA technology:  
60% reduction in error rates
70% rise in data processing speed
100% regulatory compliance maintenance
50% reduction in health insurance claim processing expenses
Insights
Understanding the use of RPA in top 5 operational areas of manufacturing
Manufacturing companies still struggle to keep back-office processes fast and simple, mainly due to less skilled labor, repetitive processes, old-fashioned supply chain and inventory systems, and frequently changing regulatory requirements.
Real-life use case: With the help of RPA, a U.S. health insurance company has automated several back-office processes such as member enrollment process, commercial claims testing audit and healthcare product built, leading them to improve their service quality by 99.97%, reduce manual efforts by almost 90% along with handling time as well as expenses by 40%.
5. Cloud computing to access big data seamlessly
The advanced cloud computing models like IaaS, SaaS and PaaS empower modern-day health insurers to operate more efficiently and rapidly by enabling them to manage their data in new ways and running powerful analytics against claim-based data. Migrating to the cloud can not only let insurers better understand their customers, but also let them have more control over the consumer data. This revolutionary technology offers several benefits to health insurers such as:
Store enormous amount of data
Speed up responses to customers
Maximize renewals by customers
Remote accessibility of data
Access historical as well as real-time data
Real-life use case: Oscar – a U.S. based technology-focused health insurance firm, built a cloud-first health insurance business to create a mobile app that enables customers to manage their health allowing them to quickly book an appointment, check histories and pay bills.
6. Other managed services for enhanced security
Managed IT services can provide the health insurers with the right mix of security, scalability, reliability and flexibility. As insurance companies deal with a large amount of customer's personal information, they need to enforce proactive IT security in compliance with HIPAA i.e. Health Insurance Portability and Accountability Act) to keep their data safe and secure. Apart from the cloud and mobility solutions mentioned above, health insurance companies can leverage various other managed services, such as:
Managed network and infrastructure
Managed firewall services
Managed hosting and storage
Managed centralized communications
Join the digital revolution
The health insurance industry is undergoing a seismic shift with more and more number of InsurTech companies entering the arena of digital transformation. Digital technologies have empowered many modern-day health insurers to transform the front-end of their business, boost growth and enhance customer relationships. If you are also thinking to implement advanced technologies to maintain a personal touch in a digital world, then you can get in touch with our technology experts.