Living in the era of big data, industries are turning towards the adoption of AI and ML technologies. But dealing with an ocean of ever-evolving data sets that is data management, storage and analytics have remained an unresolved issue for most organizations since the COVID-19 crisis has hit the business world with uncertainty.
However, during these unprecedented times, the need to extract in-depth insights from growing volumes of data is evolving exponentially. This causes cloud computing technologies like Azure Data Lake and unified analytics systems to continue experiencing an unparalleled demand to fulfil modern businesses' ML and data analytics requirements.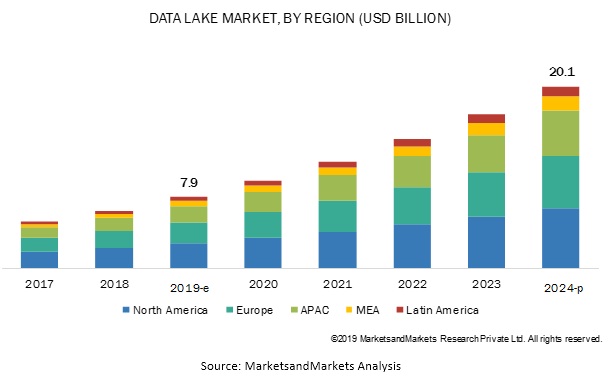 Microsoft's Azure, in particular, has also witnessed a huge demand for cloud services as the cloud plays a vital role in sustaining operations and helping us to live, learn and work in the new normal.
This blog post demystifies Microsoft's one such novel big data query analytics engine Azure Data Lake Analytics, providing you with a good understanding of where will it fit in your big data solution.
A deep dive into Azure Data Lake Analytics
Azure Data Lake comprises primarily of three components:
1. Azure Data Lake Analytics
2. Azure Data Lake Store
3. HDInsight
Azure Data Lake Analytics (ADLA) is an on-demand, HDFS compliant real-time data analytics service offered by Microsoft in the Azure cloud to simplify big data analytics, also known as 'Big Data-as-a-Service'. In other words, it is an Apache-based distributed analytical service, built on YARN (Hadoop's framework) that allows users to process unstructured, semi-structured and structured data without spending much time on provisioning data clusters.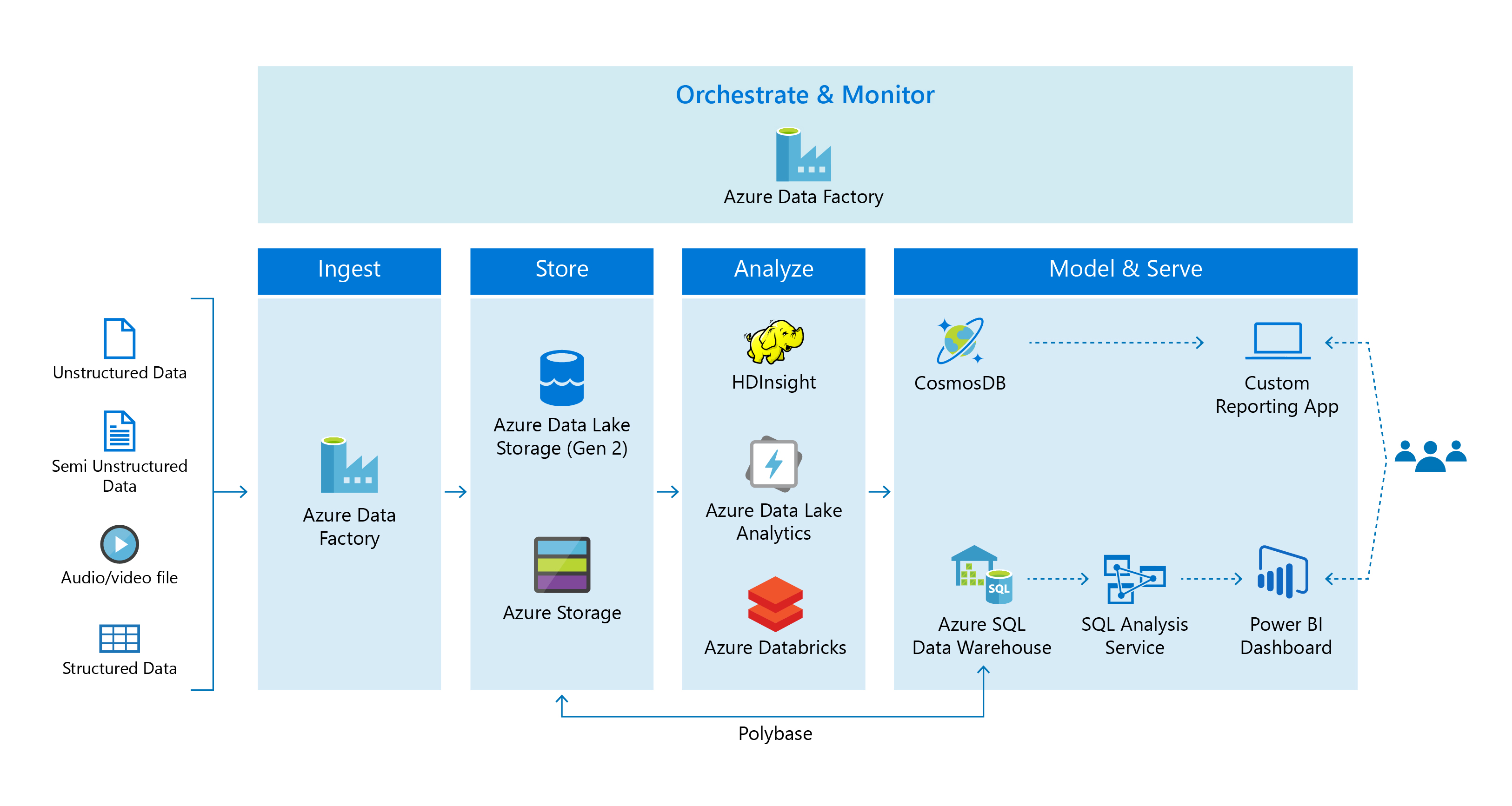 The Azure Analytics service can provide you with the ability to increase or decrease processing power as per job and enables you to run extensively parallel data on-demand. Additionally, the platform also supports a new big data processing and query language named U-SQL, apart from R, .NET and Python. However, the key component of this service is ADLAU (Azure Data Lake Analytics Unit) also known as AU, which defines the degree of parallelism.
Consequently, Azure Data Lake Analytics is the next generation of data services, which makes it possible for you to rest your worries of infrastructure or resources and focus solely on data query and job services. Hence, it is also known as a 'Job-as-a-Service' or 'Query-as-a-Service'.

Insights
How to accelerate data platform integration using IoT and artificial intelligence
Enterprises are moving to the cloud to increase business and IT agility. This helps them to work more effectively and substitute out-of-date data centers and applications. Artificial intelligence, analytics and the Internet of Things (IoT) are some of the major technologies that are driving this development. But this also includes infrastructure migration to the cloud.
What is Azure Data Lake Analytics used for?
Azure Data Lake Analytics is mainly used for distributed data processing for diverse workloads, including ML, querying, ETL, sentiment analysis, machine translation and likewise.
For instance, consider you are handling terabytes of data and you want to expedite the process of distributing data in the form of clusters. Now, you already have the information set for processing the data, so all you have to do is data segregation and then process the segregated data. That's it. But, do you know what the simplest way to do it is? Azure Data Lake Analytics. Yes, it is the best-in-class distributed data processing service available in the market with a high-abstraction of parallelism and distributed programming.
Apart from batch processing, what else can you do with Azure Data Analytics:
Sharpen the debug and development cycles
Set up a wealth of data for insertion into a Data Warehouse
Develop extensively parallel programs seamlessly
Process scraped web data for analysis and data science
Debug failures and optimize big data without a hitch
Process unstructured image data using image processing
Virtualize data of relational sources without moving the data
Why Azure Data Lake Analytics adoption is on the rise
Do you know what every organization wants to do with data? The answer to it is pretty simple; every enterprise primarily wants to do two things with the data – firstly to store the umpteen amount of data and secondly to query the stored data. But it is not as simple as it sounds.
With the explosion of an untold amount of data, the existing storage solutions, IT infrastructure and the hardware are falling short of shear capacity to store the data and process it on-demand. This is one of the reasons why digital platforms like Azure Data Lake Analytics are on the rise not only amongst large organizations but also among start-ups.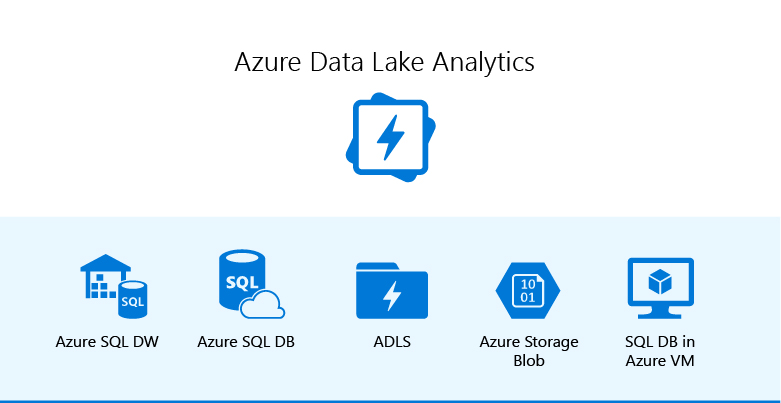 There are several reasons why many SMEs, startup businesses and even consumers have started embracing Azure Data Lake Analytics data service. And one of the reasons is to get rid of the headache of maintaining, installing, configuring and administering servers, infrastructure, clusters, or virtual machines (VM). Azure data analytics platform can seamlessly process the data regardless of the place of its storage in the Azure cloud.
What makes Azure Data Lake Analytics stand out from the rest
HDFS compatible
Limitless scalability
Massive throughput
Low latency rewrite access
Pay-per-job pricing model
Dynamic scaling
Enterprise-grade security
Only one language to learn i.e. U-SQL
Also, with Azure Data Lake Analytics in place, you will only have to pay per job instead of per hour, and merely owning the Azure Data Lake Analytics account will cost you nothing, which is quite exceptional in the big data space. Not only this, but you will not even be invoiced for the account unless you run a job.
Get to the next level of data analytics
With continuous innovation to address the evolving needs of relational database services, analytics and batch processing for workloads, Microsoft offers consumers' ability to make smarter business moves and execute well-organized operations ranging from real-time IoT streaming scenarios to business decision support systems. If you are looking for a robust data platform to manage and scale all your data as per your business' modern needs, then get in touch with Softweb's experts today.