What urges organizations to undergo a 180-degree change? The answer is the ever-changing market scenario that requires companies to remain resilient and updated. To drive better results, enterprises need to embrace business application modernization. However, many organizations still rely on ailing applications that are built on obsolete mainframes which were used ages ago. In these unprecedented times, it has become essential to accelerate digitalization to maintain a viable and virtual business presence for better collaboration. User-friendliness is another factor that legacy apps lack as user demands also vary with the market.
When we talk about changing needs, it doesn't always mean transforming the infrastructure to get the desired outcomes. Modernizing legacy applications also play a vital role in allowing companies to grow and stand out of the competition in the developing environment.
Challenges faced with legacy systems and how to solve them with enterprise application modernization
Most enterprises, even in today's time, have core applications that are architected primarily to work in legacy IT landscapes. When the systems don't align with the business goal, there arise several conundrums; and the cause is using apps based on legacy systems. These apps mostly operate on an on-premises dedicated environment causing the following application modernization challenges for companies:
Slowing down IT operations
Hindering productivity
Blocking innovation
Unable to handle a large volume of data
Increasing vulnerability to risks like cyber security threats
Driven both by escalating cyber threats and needed new functionality, 65% of enterprises will aggressively modernize legacy systems with extensive new technology platform investments through 2023.
IDC FutureScape for Worldwide CIO Agenda
There is a demand for a faster time to market, which leads companies to move beyond their legacy apps and accelerate digital transformation with application modernization and optimization. The need for this is not only to achieve operational excellence but to also gain the following advantages:
Increase employee productivity
Enterprise application modernization allows companies to leverage technologies that help their employees to work efficiently, offering faster throughput. This not only assists employees to gain higher productivity but also supports them to focus on business goals rather than attaining the challenges that legacy systems cause.
Improve customer experience
Most of the consumers are willing to pay higher than the market for a satisfactory customer experience. Hence, offering them quick and proficient services and products by modernizing legacy applications is the best option.
Process optimization
App modernization eliminates the use of monolithic architecture to allow businesses to scale and deploy applications in parts. This further leads to streamlined business processes that will help organizations to achieve their end goals.
Improved security
Often, legacy systems are prone to security attacks like malware, tracing, data tampering, data theft, etc. By rebuilding legacy applications, enterprises can protect their data from cyber threats.
Here's our blog: 6 key factors to consider before legacy applications modernization, for you to refer to before we list out the best practices.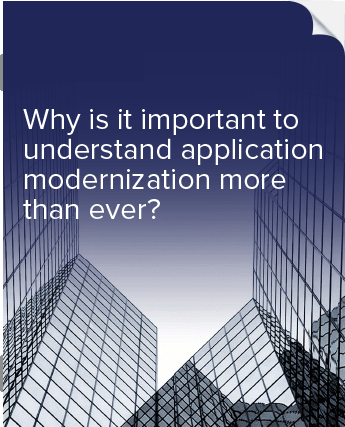 Insights
Why is it important to understand application modernization more than ever?
In this digital age, organizations need to be competitive more than ever to ensure business growth. Addressing performance issues of business apps should be the topmost priority of any small or big company. Business app users look for new features, resolutions for their concerns and updates that will help them with their tasks.
6 best practices to adopt for app modernization
The necessity of organizational shift by adopting digital transformation is what makes leveraging app modernization crucial. Let's look at some application modernization best practices to follow:
1. Adopt a microservices approach
While a monolithic architecture is a single unified unit, a microservices-based environment breaks an application down into a collection of smaller, independent units. Adopting microservices for app modernization allows you to carry out every application process as a separate service. Hence, services have their own logic and database. Having their own scope, independent services promise a scalable solution and higher agility.
2. Prioritize applications that need to be modernized
You need to identify all the applications that require to be modernized. After choosing them, you need to sort those applications based on your priorities and requirements. The next step is to understand the risks associated with the modernization of each application as well as the approach that would allow you to mitigate those risks. Evaluate the time as well as cost and weigh that with the value offered by app modernization. If it helps you to achieve better agility, scalability, reliability and performance, it is viable to go ahead with modernizing it.
3. Design an effective legacy modernization strategy
What approach are you looking to adopt to modernize your applications? There are several ways that you can choose from like rearchitecting, refactoring, rewriting, ripping and replacing, or rehosting. Based on the complexity of your legacy application, you need to define an application modernization strategy that best fits the needs of your business. You also need to consider factors like time, cost, scalability and technologies that you would like to leverage.
4. Provide full stack visibility
Modernized applications still require communication with legacy systems. Also, visibility of those applications across the entire system, i.e., edge to the core (on-premises) to the cloud is critical. This can be achieved with full stack visibility that allows you to monitor performance from the end-users' perspective back through to the datacentre. This, in return, helps you to stay ahead of potential problems and identify issues before they affect the end-user experience.
5. Become cloud-smart
App modernization doesn't mean moving applications to the cloud. You need to be smart when migrating your legacy apps from on-premises to cloud environments. There are certain aspects that you need to take care like a humongous amount of data, workflows, cloud-to-device and device-to-cloud communication. Hence, it is essential to be cloud-smart rather than cloud-first.
6. Track performance metrics
You require to design performance metrics that track the performance of applications right down to the code level. This also includes monitoring the entire infrastructure, from the cloud to databases to networks. This allows you to identify problems before they arise and areas that require improvement.
Conclusion
App modernization is undoubtedly a complex process, but it is definite to impact businesses positively in the long run. It not only saves time and costs but also allows you to become competent in offering best-in-class services to your customers. It helps you in achieving improved security, reliability and efficiency. Hence, business application modernization has become imperative. However, to strategize the application modernization approach, create a checklist and sort out the technology stack, you'll require service providers like us to guide and provide you with an end-to-end solution. To know more about how app modernization would be beneficial for your business, feel free to talk to our experts.