We live in an era where everything around us is getting digital. As the digital world evolves, so should your legacy applications. The tech-savvy consumers of today demand advanced and innovative services. This forces organizations to undergo a digital transformation of their legacy apps and systems. Hence, in your digital transformation strategies, it is essential for you to include a plan for modernizing legacy apps.
The legacy app modernization process requires to be more than just replacing or updating outdated technologies. Modernizing legacy applications include re-engineering, re-imagining, re-hosting and transforming of older apps into newer, modern apps. But before initiating the process of app modernization, you must consider a few important factors.
Let's take a look at the top six considerations before modernizing legacy applications
1. Integration and compliance
Before modernizing your legacy applications, you must look into two aspects – integration and compliance. With legacy apps, you may have to depend on third-party APIs such as user verification, geo-location and data transfer. Modernized legacy apps have built-in integration functionality. However, before modernizing legacy software, you need to ascertain that your apps will be compatible with third-party tools. You also need to ensure that your modern apps will not face any compliance issues. Hence, application modernization review is critical.
2. Expenditure review
Legacy app modernization is not an easy task. So, it becomes essential to perform an in-depth analysis of the expenditure. It will help you to ensure that your legacy app modernization process will be profitable for you in future or not. You will need to assess the costs of modernizing your legacy apps and perform the following cost analysis:
Maintenance cost analysis: Estimate infrastructure maintenance costs and calculate maintenance spending by Constructive Cost Model (COCOMO).
ROI analysis: Calculate the Return On Investment (ROI) to assess your company's current situation and make appropriate decisions.
Infrastructure cost analysis: Evaluate and calculate the IT infrastructure costs. It will help you to outline how much to spend on the infrastructure.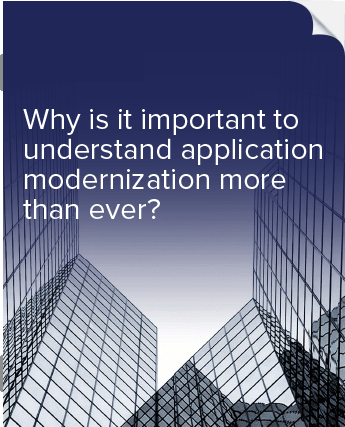 Insights
Why is it important to understand application modernization more than ever?
In this digital age, organizations need to be competitive more than ever to ensure business growth. Addressing performance issues of business apps should be the topmost priority of any small or big company. Business app users look for new features, resolutions for their concerns and updates that will help them with their tasks.
3. Risk factors
As a business, it is vital for you to consider the risk factors associated with application modernization process. In the case of modernizing multiple legacy apps together, you should assess the time required to modernize each app individually. Also, when you have countless lines of code, you should handle the code with extra care. Apart from these, you also need to take into consideration the operational risks that arise during modernization.
4. Existing budgetary resources
For successful app modernization, it is significant for you to have a well-thought-out fiscal plan in action. You need to question yourself – what are the budgetary constraints that you must consider before modernizing legacy applications? The bottom line is your budget must have sufficient funds to allocate for legacy app management and modernization.
5. Time optimization
Modernizing legacy apps require time and patience. The application modernization process varies for every organization, and so does the time required for modernization. But for any organization, it is crucial to have enough time to implement the modernization strategy. App modernization does not happen in a single moment. It is a journey, which takes time. There is no supposed timeline for it. So, you should take a considerable amount of time for legacy app modernization to reap the full benefits out of it.
6. Data management constraints
Since legacy apps encompass a tremendous amount of data, modernizing legacy apps is not an easy undertaking. You need to take a long, hard look at the underlying data first and then use it in an actionable way. To manage data in a better way, you should formulate tactical data governance rules. It will help you to eliminate data silos, making it easier for you to reorganize the data and optimize the storage space.
Benefits of legacy system modernization
IT agility
Better performance
Operational efficiency
Advanced security
Reduced IT expenses
Improved app usability
It's time to start modernizing!
In the current high-tech world, the modernization of legacy apps is no longer a choice; it is a necessity. So, the right time for modern businesses to undergo a digital transformation of legacy apps is now. If you want to accelerate your app modernization journey, then get in touch with us. Our experts can help you to switch from the old to the latest technologies. To know how to modernize legacy apps using Microsoft Azure.