Data-driven decisions powered by artificial intelligence are increasingly helping companies to stand out from the competition. AI apps for manufacturing have several very practical applications that drive lucrative business results. According to KPMG, automation could save companies 75% of operating budgets. The deployment of cutting-edge artificial intelligence technologies will cause massive disruption in the manufacturing sector, and has already helped automate core manufacturing processes.
The global artificial intelligence in manufacturing market size was $513.6 million in 2017, and is projected to reach $15,273.7 million in 2025, growing at a CAGR of 55.2%. – Allied Market Research
Artificial intelligence holds the key to transforming factories of the near future, making them smarter and more intelligent. Manufacturing companies are applying AI-powered analytics for multiple use cases, such as, cutting unplanned downtime, better product designing, increasing product quality, ensuring employee safety, and many more.
Let's see how few of the companies are applying AI in their manufacturing business operations.
Use cases
General Electric
GE launched Brilliant Manufacturing Suite to showcase to their customers their own vision of a Brilliant Factory. GE's turbines and power generators have been producing 30% of the world's total electricity. GE is now taking advantage of networked, grid-based generation of electricity while augmenting it with the flow of data. The company has started implementing power optimization and predictive maintenance functions powered by AI in their networked model.
They achieved a reduction in unplanned downtime by 5%, reducing operations and maintenance costs by 25%. AI-driven operational agility and predictability gave GE an option to pursue business model innovation by offering efficiency and productivity.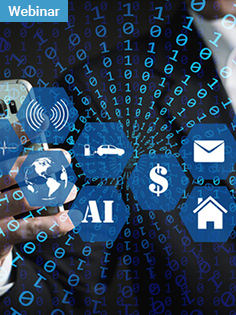 Discover what, why and how of Vision AI at the Edge
Webinar agenda
What is Vision AI at the Edge
Why vision AI at the edge is a game-changer
Applications of Vision AI at the Edge
Industrial use cases for accelerating AI at the Edge
Q & A
ABB
ABB is one of the top leaders in industrial motion, power grids, electrification products and industrial transport infrastructure. One of their biggest challenges was to predict plant emissions in advance and take proactive measures before violations occur.
Their Predictive Emission Monitoring System (PEMS) powered by AI uses an empirical model to predict emission concentrations based on processed data. They successfully implemented PEMS as part of a comprehensive Environmental Management Systems in one of the largest gas processing plants in the world. However, PEMS (inferential analyzer), cannot measure emissions directly. Hence, the system uses an empirical model to predict emission concentrations based on data like fuel flow, load, operating pressure, and ambient air temperature.
Result:


Source: https://new.abb.com
Kone
Kone, the Finnish elevator company, has implemented artificial intelligence and IoT in the most unique and fascinating manner. They have connected their elevators with sensors and applied AI to the data collected from the sensors to give them a voice and the ability to converse. The elevators can now chat with Kone's servers to share what they're up to, how well they're running, or if they're encountering any issues.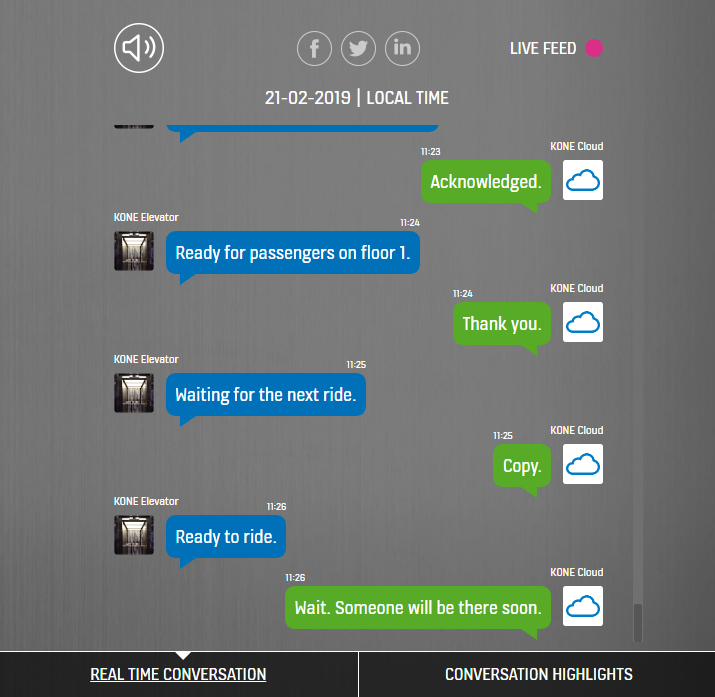 Source:http://machineconversations.kone.com
This conversation is then further analyzed to predict if there will be any maintenance required or will there be a machine failure occurring anytime soon.

Insights
Cognitive AI - Harness the power of intelligent technologies
Modern enterprises own a huge volume of structured and unstructured data like never before. This data is gathered from emails, manuals, documents, social media posts, videos, images, audio recordings, customer feedback, industry reports and more.
Rolls Royce
Rolls-Royce has implemented artificial intelligence to improve their airplane engines' reliability. With advanced analytics and AI, the company was able to autonomously gauge production glitches and take necessary actions.
Maintenance is another area where AI is proving indispensable for Rolls Royce. By leveraging AI for equipment health monitoring, they are able to predict when certain components may fail and get maintenance reminders well in advance to avoid unplanned downtime. AI is helping the company to achieve design, manufacturing and operational efficiencies.
Fostering efficiency in the manufacturing industry
Using predictions powered by AI, early corrective measures can be taken to increase the efficiency of the production line and get the maximum possible outcome. Accurate forecasts allow manufacturing companies to make informed data-driven business decisions, while giving insights into how companies should manage their resources efficiently.
Also read: Harnessing the power of AI beyond Factory 4.0
Besides all these advantages of AI, there are several other benefits that this technology can provide to manufacturing companies. This, however, does not imply that AI is only meant to cater to large companies. The key to implementing AI in any large, mid, or small organization is data. With advanced algorithms and analytics, the data ecosystem has become adaptable across the board, including small companies or startups.
You can contact our AI experts to discuss the challenges you face and to understand how AI can help address those challenges.