The electronics industry has a long-standing reputation for innovation. From advancements in computer hardware to smartphones taking over the world by storm, the industry has repeatedly proved itself to be at the forefront of tech adoption. These tech-powered improvements have not only paved the path for disruption in electronics but also turned out to be transformation catalysts for all other industries as well.
Now with the emergence of new breakthrough technologies like IoT and AI, the electronics industry is getting a reboot. Experts believe that it is on the cusp of yet another major revolution and AI is playing a huge role. Incorporating AI is becoming high on the agenda of companies of all sizes here. The technology is transforming businesses across both industrial as well as consumer electronics segment and the results are overwhelming.
Electronics industry embraces AI
Executives in the industry have recognized the importance of AI and are embracing it with open arms. The same was quite evident during the Consumer Electronics Show (CES) 2019 conducted in January. From translator devices to baby monitors and televisions to vests, a number of exciting AI-powered electronics devices were showcased at the event.
Samsung announced that artificial intelligence capabilities would be a part of every device it manufacturers by 2020.
However, companies are not just adding AI capabilities to their devices but using this futuristic technology in processors as well. AI-enabled electronics manufacturing is on the rise and industry leaders are definitely the front-runners here. Companies like Intel, Google, Apple, Samsung and many others have developed or are in the process of developing AI-powered processors and chips.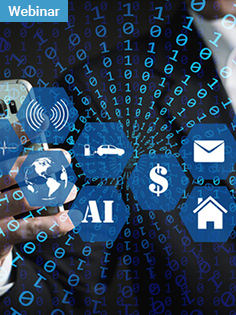 Discover what, why and how of Vision AI at the Edge
Webinar agenda
What is Vision AI at the Edge
Why vision AI at the edge is a game-changer
Applications of Vision AI at the Edge
Industrial use cases for accelerating AI at the Edge
Q & A
Areas where AI is proving useful for the electronics industry
The possibilities of using AI in electronics are endless and it will be interesting to see the various areas in which companies will incorporate AI in the near future. For now, we will be discussing the three areas where it has a major impact currently:
R&D
Leading electronics equipment manufacturers like Samsung, Mitsubishi, and Hitachi are using AI to carry out advanced research. These companies are making long-term investments in AI research to find commercial applications and to explore how this technology can help to improve their existing product range. The research focuses on machine vision, voice recognition, audio processing and other key areas related to AI. Through these R&D programs, organizations try to have a better understanding of the usage context, user behavior, their preference and needs.
Manufacturing
We have already discussed above, how companies are manufacturing transformative AI-powered electronics devices that benefit other industries. However, the use of AI is not just limited to this area of manufacturing. The industry is also using AI to reshape product development cycles, improve product design processes, reduce defects and deliver products faster to the market.
AI-enabled electronics manufacturing helps companies to create agile workflows for the rapid development of the next line of products. They combine and collect anonymized data from various sources like sensors attached to the products, customer usage patterns, current market scenario, audio and video files, technician comments, device manuals and more. This helps to generate key insights through which electronic companies are able to improve product quality, reduce costs and answer to market demands in a more efficient manner.

Insights
Cognitive AI - Harness the power of intelligent technologies
Modern enterprises own a huge volume of structured and unstructured data like never before. This data is gathered from emails, manuals, documents, social media posts, videos, images, audio recordings, customer feedback, industry reports and more.
Security
As electronic companies manufacture more smart and connected devices for industry, home and consumer use, they need to ensure the security of these devices as well. More connected devices mean more opportunity for cybercriminals. With AI, manufacturers are adding in-built security options for these connected devices and making them more secure than ever.
The ability of AI to study traffic patterns, baseline performance and user behavior as well as identify anomalies in real-time, make it beneficial for use in this critical area of business. Not only AI-powered security systems, baby monitors, webcams and facial recognition systems are improving security in general, the electronics industry is also using this technology to safeguard these devices against any infiltration, vulnerability and attack.
Putting AI to work in electronics
The growth of AI is quite evident in the electronics industry. Organizations that have not begun their journey yet should immediately start to put this technology to work for their benefit. It has immense potential to improve product, processes and services in this industry and several companies are using it as well. Let's see the two major ways electronic manufacturers are using AI.
Electronic device manufactures can use AI to create smarter devices and maximize their functionalities. For example, AI-powered TVs can help to automate on/off settings, volume, picture mode and several other key parameters to ensure that viewers can operate the TV easily. Moreover, by using techniques like face recognition and personalized recommendations, it also promises to make the viewing experience more personal.
According to IBM's research, 41% of electronics companies are launching or modifying new business models in the next two to three years. Data and AI enable this huge transition.
The other way is to use AI in electronics operations and rethink their business processes keeping the technology in mind. Companies can develop a comprehensive AI strategy to harness its potential in making their business models more predictive and adaptive to an ever-changing business environment as well as to expand their organization's knowledge. Having an AI-powered business strategy will help electronic manufacturers in creating a strong foundation for building innovative electronic devices for the future.
It is never too late to start
It is time for you to consider using AI-enabled electronics manufacturing and create a roadmap for it. If you have any confusion or questions around harnessing this technology, then contact our AI experts. We can accelerate your roadmap to AI and help you achieve your goals.