"It's frustrating and annoying, but I have to get on with things and get on with life. If I miss my medication, I will be in a terrible situation." – These are the words of Matthew, seven-year-old boy while narrating the intensity of his pain due to asthma. These are not only Matthew's words, but it's an expression of more than 350 million people worldwide diagnosed with asthma. When we realized daily 685 people die, we decided to look asthma differently. When we found up to 60% of patients fail to adhere to their prescribed medication, we asked why. Couldn't there be a solution to improve adherence to asthma medication?
While digging into the issue, we found more and more eye-opening statistics which led us to develop a smart inhaler solution that will not only improve asthma self-management but also provide a doctor with rich insights into a patient's inhaler dosage. The solution helps to reduce the chances of missing medication, mistakes in use and connect patients with their doctors.
So what does the solution do?
The solution facilitates the real-time reporting and monitoring of inhaler usage. The solution not only allows doctors to keep track on their patients' medication use but also reminds patients to manage their respiratory condition.
Features
Real-time reporting, monitoring, storing and analysis of inhaler use
A single dashboard view for medication usage patterns
Monitor history and circumstances of each use of an inhaler
Remind patients when to take their medication and gather data to help guide care
Find out what triggers your asthma with air quality monitoring and weather conditions
Locate a lost inhaler
Auto reminders to refill the inhaler and make predictions
Real-time monitoring and remote patient management
Basically, we just worked on the imperfections that a traditional inhaler has. The Smart Inhaler solution connects to Wi-Fi and sends data back to IoTConnect. Doctors and patients both can see loyalty to prescription schedule.
One of the main barriers to good asthma control is poor adherence, Neil Barnes, head of respiratory medicine at GSK.
Usually, when a doctor asks his patients whether they are taking their dosages or not, patients almost always say, 'yes, we are.' However, when it gets measured objectively by getting into their prescription records, it's been found that worldwide, more than 60% of patients have less than 50% adherence. The biggest barrier to achieve 100% adherence is the lack of readiness in patients to take the accountability of their medication.
In fact, Dr. Stanley Szefler, the Director of the Pediatric Asthma Research Program in the Breathing Institute of the Pediatric Pulmonary Section at Children's Hospital Colorado said, "we have very effective medications available and most asthma can be well controlled. However, controlling it involves a full collaboration between patients, parents and doctors."
Our solution's standard dashboard shows the medication usage patterns to doctors and patients, thus solving the problem mentioned above. Moreover, our product does remind patients when to take their next dosage and also provide an estimated change date of an inhaler based on remaining sprays. The goal is to empower patients to get the most out of their prescribed medications to control asthma and prevent adverse outcomes. Through this, doctors do not need to wait for patient visits to their clinic.
Further, it can be a great potential solution since across the globe, roughly 210 million asthma and COPD patients own a smartphone, tablet or smartwatch. Many of them are still untapped by digital health companies, according to The Global Digital Respiratory Solutions Market 2009-2023 report.
We employed MVP methodology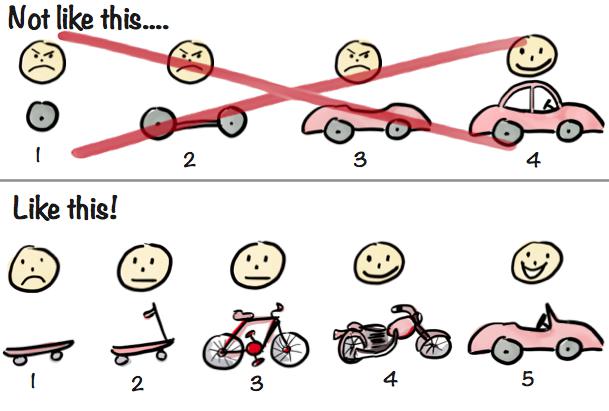 (Source: Henrik Kniberg) https://blog.crisp.se/2016/01/25/henrikkniberg/making-sense-of-mvp
Minimum viable product (MVP) is a development technique wherein a new product is developed with sufficient features so that target users can experience the product's core functionality. It's a build-measure-learn process, so we keep designing and developing new features and functionalities as we receive feedback from the product's initial users. We identified user pain points first and then determined the appropriate product functionality to address those needs over time.
In the future, we look to advance sensor technology which not only collects data about when a patient takes their medication but also allows clinicians to see the progress of their markers of disease and accordingly guide patients if they need to take additional medication. In other words, based on interplay between cellular and molecular mechanisms involved in the self-opening of small airways, clinicians should able to track the treatment of the disease precisely with our solution. The other future implication is to segregate the adherence level in three types: underuse, overuse and improper use. Tons of research papers suggest that patients do not inhale as strongly as they should. Even doctors also have no way to track whether patients are taking medications properly or not. In fact, of an estimated $25 billion spent for inhalers annually, $5–7 billion is wasted because of inhaler misuse. In the future, our product will allow doctors to give feedback to patients on how to use an asthma inhaler correctly, maybe by using patient education material in a document or video format.
Realizing that a doctor and a patient can stay connected to each other and communicate about how to adjust asthma treatment – handling asthma will definitely become much easier.
Concluding the blog with the thought: imagine if Matthew can do everything he likes without his asthma. Can Smart Inhaler help Matthew to live that life?