All these challenges faced by companies can be easily addressed by Salesforce Einstein integration with internal business systems. Besides, it is wise for businesses to foster the equipped AI capabilities that can lower the pain areas of their business. Einstein's intelligence automatically discovers relevant insights, predicts answers and proactively makes recommendations. If we talk about automating certain tasks, Einstein puts the best options in front of you.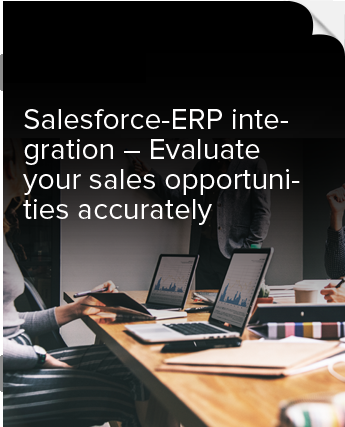 Insights
Salesforce-ERP integration - Evaluate your sales opportunities accurately
Vendors that respond faster gain more business opportunities. This is why companies must empower their sales reps with instant customer and prospect information access by integrating their ERP system with the Salesforce platform.
Sales by any company can be done in three different ways depending upon the work culture of a company. Let's have a quick go-through at these approaches:
Scripted approach: In this approach, the companies do not rely on data and follow a conventional, scripted approach to generate a lead. In other words, they try to shoot blind to get results without understanding the customer's particular challenge.
Adaptive approach: This type of approach allows the companies to adapt the workflow and sales pitch in accordance with the requirement and challenges of clients. With the help of modern technologies, this type of approach encourages the conversation between companies and their customers, which in turn helps the representatives of the company in designing the workflow for their products.
Predictive approach: This is the most advanced approach used by quite a few of the companies. This approach not only allows companies to adapt the workflow in accordance with the prospect but also helps in predicting which prospect can be converted into customers and what would be its point of interests.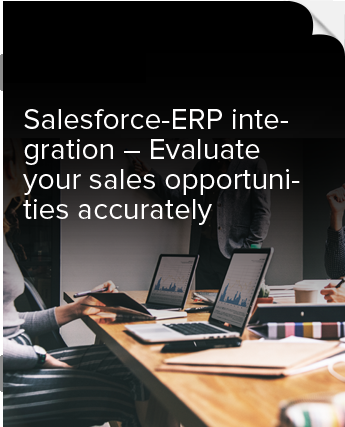 Get a Free Salesforce Audit
With a free Salesforce audit, we will help you to build a resilient business roadmap and navigate through it to tackle the challenges and meet your business goals. We can help you with the following services:
Review your current usage of Salesforce
Suggest suitable tools and the latest platform features
Gain visibility across your organization and intensify ROI
Determine and fix potential vulnerabilities in your security settings
What triggered the need of an AI-powered CRM
We all know that at what speed businesses are growing. To be in the game, one must ensure that its clients are happy and satisfied. However, it's easier said than done. There are many challenges that a business may face in order to keep its clientele and prospects happy. What are those challenges that are keeping companies at back-foot? Let's have a look on some of the obstacles faced by companies:
Disjoint sales process: Companies lacking a good CRM may find this challenge quite an obvious one. Different methods used by different sales people in different departments sitting at different locations may lead to an inconsistent sales process affecting the profit of the business.
Product management and marketing alignment: This is yet another challenge faced by the sales department of a company. Well, delivering the expected product to the customers is the prime agenda for any business today. However, the incompetency in the CRM may lead to deliver an undesired product to the customer.
Focus: The sales department today wastes a lot of time in solving unimportant issues. This distracts the sales personnel from focusing on the prime motto, i.e., generating sales.
In today's competitive world, the one who can't cope up with the speed of technology is left behind in the race of being a successful businessman. This is an alarm for customer service providers to be in the game.
Salesforce just made it look too easy
All these challenges faced by companies can be easily addressed with Salesforce Einstein as it is now equipped with AI capabilities that can lower the pain area in the business. Einstein's intelligence automatically discovers relevant insights, predicts answers and proactively makes recommendations. If we talk about automating certain tasks, Einstein puts the best options in front of you.
Let's take a walk through the features of Salesforce Einstein:
Resolve customer service case faster: With Einstein, a service provider company can easily classify new recommended cases on the basis of a user history and trends.
Deliver the right answers, with confidence: Salesforce Einstein helps you deliver accurate responses to the customer. This ensures that customers quickly get the answer they are looking for.
Recommended follow-ups: The sales department can get an automated reminder for tasks to follow-up with the customers who haven't yet responded to the emails.
Softweb Solutions- the perfect contender for integrating Einstein to your system
Having an experience of a decade in delivering CRM solutions to the large companies spread across different verticals, Softweb Solutions can help businesses transform their engagement tactics with their partners, prospects and even internal staff. Our expertise spans from the implications of Salesforce to the migration to this platform and even in development of custom apps for your business on Force.com. With the help of our experience and knowledge, we can help you explore the potential of Salesforce Einstein.
Softweb Solutions offers an integration service for Salesforce Einstein to make your existing Salesforce CRM intelligent. Our team has qualified developers who can easily make a smooth transition without affecting your existing data.
Here are the services we offer for Salesforce Einstein.
Sales Cloud Integration: Irrespective of the size of your business, we can integrate Sales Cloud Einstein to your traditional Salesforce CRM. With our integration, a business can discover better insights from data, predict the outcomes, recommend actions, and automate processes that can offer your sales representatives more time to build one-to-one relationship with the client.
Service Cloud Integration: Integration of this platform can allow you to offer the best customer service to your clients. Our team can help in unlocking the deep customer insights with the help of AI powered Service Cloud Einstein in real-time. This in turn helps you deliver a seamless customer service experience to your customers.
Is it easy to set up?
There might be a question tingling in your mind that since it is artificial intelligence we are talking about, would it be easy to set up? Well, being a Salesforce consultation company, Softweb Solutions can help businesses in integrating Einstein to Salesforce in a hassle-free manner. As far as Salesforce Einstein is concerned, it is created to make Salesforce CRM intelligent. With the tagline of AI for everyone, Einstein is really simple to integrate and operate.
So, what are you waiting for? If you need to upgrade your CRM with astonishing Einstein, all you need to do is just click here.