Retailers around the world are finding it necessary to extend their sales and distribution through multiple channels to remain competitive. Therefore, choosing the right digital platform holds a huge influence on processes, scalability, agility and customer experience. In all of these areas, the Salesforce Commerce Cloud has emerged as one of the top e-commerce platforms.
Here are a few questions to help you examine your e-commerce business:
Do you aim to drive growth across channels with your online retail store?
Do you face operational issues with your legacy environment?
Do you come across scalability issues with your e-commerce platforms?
Or, do you desire to update to a more modern solution to improve agility?
If you resonate with any of these challenges, Salesforce integration services can prove to be the ideal solution. In this blog post, we will discuss the nitty-gritty of Salesforce Commerce Cloud capabilities. Although there are multiple e-commerce solutions available, you need to know what makes the Salesforce Commerce Cloud stand out and why it's popularly recognized as the future of e-commerce.
What is Salesforce Commerce Cloud
Since 2005, Salesforce is a leading enterprise cloud platform that successfully delivers 99.99% uptime to companies based on its time-to-time expansions with several cloud services. Salesforce Commerce Cloud is a dedicated e-commerce platform designed to help online businesses develop their brand, discover hidden opportunities and effectively convert more customers. It's a perfect cloud-based platform for organizations that seek to employ B2C and B2B e-commerce tools to deliver seamless and intelligent buying experiences to their customers across multiple channels.
Key capabilities of Salesforce Commerce Cloud Platform:
Comprehensive digital commerce across mobile, social, web and store
Powerful order management: Buy, fulfill and service from anywhere
Predictive commerce with Einstein to personalize one-to-one shopping experiences
Extensive partner ecosystem with more than 200 certified powered integration
Salesforce Commerce Cloud comprises of two mainstream categories. Firstly, the Salesforce B2C Commerce that transforms end-user shopping experiences across all digital channels and provides an out-of-the-box mobile-first framework. And secondly, Salesforce B2B Commerce that helps to generate revenue faster and give B2B customers a streamlined, B2C-inspired user experience. Now, let's take a deeper look at its stack.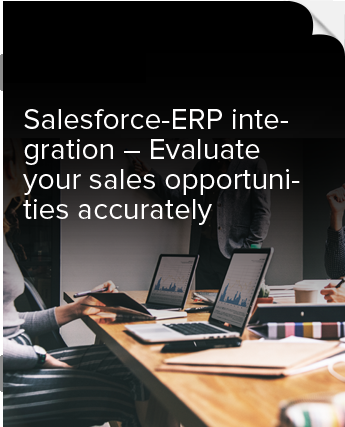 Insights
Salesforce-ERP integration - Evaluate your sales opportunities accurately
Vendors that respond faster gain more business opportunities. This is why companies must empower their sales reps with instant customer and prospect information access by integrating their ERP system with the Salesforce platform.
Understanding the Salesforce Commerce Cloud stack
Salesforce Commerce is an innovative cloud platform for multiple tenants. It consists a set of capabilities to drive the fundamental aspects such as growth, branded innovation, time-to-value, speed and unified shopping experiences.
Commerce Cloud stack begins with a completely customizable storefront environment in which shoppers engage with brands through points of interaction across the mobile, social, store, or distributed commerce. You can also experience an AI-powered commerce layer embedded into the stack to drive personalized shopping experiences. Continuous delivery of advanced features and functionalities, best practice tools and languages and open commerce APIs managed through the innovation layer. And finally, trusted security, enforcement, availability and scalability are delivered.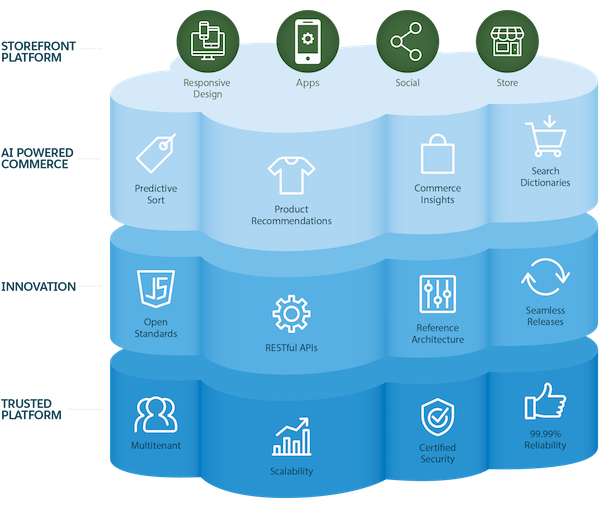 Source: https://www.salesforce.com
Integration of different business systems with Salesforce Commerce Cloud
Salesforce Commerce Cloud is the perfect solution for retailers to deliver the ultimate shopping experience. The essential thing is that it is incredibly easy to integrate with your current legacy as well as modern systems so that your B2C and B2B business can benefit from increased operational control and visibility like never before.
One of the crucial reasons for leveraging Salesforce Commerce Cloud is that it creates and nurtures the highest standards of transparency in the context of data monitoring. You can conveniently deploy pre-built connectors for integrating Salesforce Commerce Cloud with any systems, from brick-and-mortar stores, legacy systems, ERPs, or Point of Sales (POS) systems with a smooth transition process.
Furthermore, Salesforce Commerce Cloud can also be used to automate and customize essential data flows that would contribute to the removal of manual data entries such as customer data, product information, inventory and shipping or tracking data. Check out the numerous benefits of integrating Salesforce Commerce Cloud with different systems.
Integrating Salesforce Commerce Cloud with brick-and-mortar stores:
Opt for advanced logistics options like in-store pickup
Sync inventory details across different stores and Commerce Cloud
Consolidate order data and accounting transactions
Synchronize all stores across geographies
Build customer profiles using in-store ERP/POS data
Manage product data in real-time
Integrating Salesforce Commerce Cloud with your legacy systems:
Connect to your customers with an entirely new way
Centralized site management systems and automated tasks
Efficient cross-business-unit collaboration
A single, 360-degree view of customers across geographies
Deliver AI-personalized shopping experiences at every touchpoint
Experience incremental revenue with Salesforce Einstein's predictive intelligence
Integrating Salesforce Commerce Cloud with your ERP:
Integrate online order processing automatically
Make smart changes to pricing to better manage promotions
Display accurate inventory levels online to prevent overselling
Keep accurate customer data across your systems
Manage all your items in your ERP and sync with Commerce Cloud
For intelligent procurement and other advanced logistics strategies
Integrating Salesforce Commerce Cloud with your supply chain:
Increase data visibility into supplier relationships
Split orders products to multiple fulfillment locations
Dynamically route orders to the most efficient supplier
Receive and retrieve data from multiple suppliers efficiently
Drop shipping orders directly to suppliers
Reconcile shipping information, orders and payment terms
Integrating Salesforce Commerce Cloud with your Point-of-Sale (POS) systems:
Quickly capture customer information
Improve customer experience
Synchronize with multiple departments
Automate backend processes
Reliable financial risk management
Constant technical support
Simplify your e-commerce journey
By now, you must have understood that selecting a cloud solution is not only about evaluating the right technology, but also about strategically aligning the right business model with the right commerce model. That's exactly what Salesforce offers. Being one of the leading enterprise cloud commerce platforms, Salesforce Commerce Cloud holds trusted experience in deploying innovative, secure, scalable, intelligent and extensible commerce solutions. Leverage our Salesforce integration services to transform your commerce solution, close the e-commerce gap and drive incredible value.