The COVID-19 pandemic has changed the way of working forever. It has introduced the work-from-home, digitalized concept to the business world. And in our new work-from-anywhere world, there is an increasing trend towards utilizing innovative tools that can help people collaborate digitally and ubiquitously. That's why Salesforce platform has launched a new cloud-based mobile collaboration tool called Salesforce Anywhere App in June, last year.
This blog post will help you get acquainted with the app and shed a light on how you can leverage the most of your CRM using the Salesforce Anywhere mobile CRM app.
What is Salesforce Anywhere App
Salesforce Anywhere App is a real-time collaboration CRM tool introduced to help modern organizations to improve collaboration within their remote workforce in the new normal. It is designed to help companies market, service and collaborate over the internet. Salesforce Anywhere App will give you a whole new CRM experience across mobile and desktop. It really changes the way people experience Salesforce and interact with business apps.
"We made the app because we couldn't wait to use the app."
– Salesforce
The Salesforce Anywhere App brings the power of collaboration and real-time data insights into Salesforce workflows, sales, service and marketing. It will allow you and your employees to work from anywhere in the world. It can help your employees achieve more efficiency and productivity as the app brings chats, alerts, comments and videos directly into the CRM system.
If you are a sales rep or a manager trying to make sure your remote team is still operating efficiently in the new normal, then Salesforce Anywhere is the right toolset that you can adapt to the new way of working. To know more about the advantages of a Salesforce mobile app, Salesforce mobile app, read our blog – Five reasons why you should say 'YES' to Salesforce mobile app.
Benefits of adopting Salesforce Anywhere App
There are several benefits of adopting the modern-age Salesforce Anywhere App. Let us look at the four major reasons why the newly launched Salesforce mobile optimized app will act as a perfect companion in this new work-from-home era.
1. Discover AI-prompted actions
The actionable, timely AI-suggested insights can help you drive a successful business. Salesforce Anywhere App not only offers brand new real-time alerts functionality but also provides a list of AI-suggested actions to respond to a particular alert. So, whenever you receive an alert message, the app will surface data to you, which will enable you to take lightning-quick actions. And the responses prompted by the AI-powered Einstein analytics tool will help you to build next-step strategies from any device, from anywhere.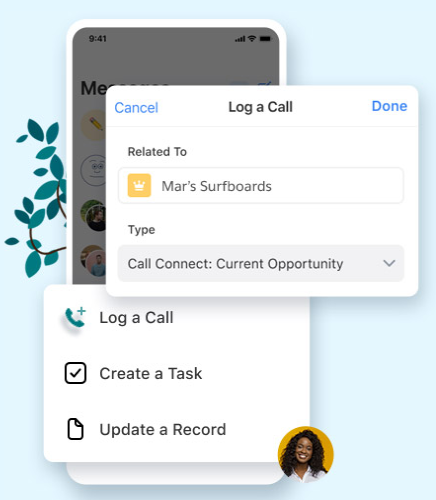 Source: https://www.salesforce.com
2. Easy access to real-time data
The Salesforce Anywhere App collects real-time data and puts all of an organization's data in one place into an advanced mobile only application. So, it can help you to surface data and pipeline updates in real-time. The newly launched Salesforce app will help you to unlock real-time service and sales data to make better, faster and smarter decisions. It even helps to keep all the customer data, important chat conversations with them, etc. stored in it and use it anywhere, anytime when needed.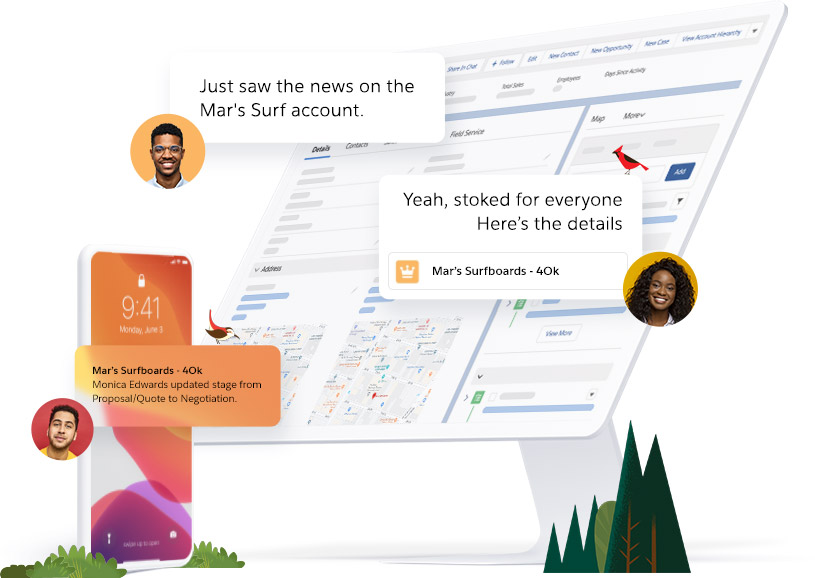 Source: https://www.salesforce.com
3. Stay up to speed
With the new real-time alerts and notification feature, Salesforce Anywhere App will help you to speed up your CRM tasks and sales processes. For instance, if you are a sales rep and looking for a tool that can give you an alert notification each time one of your deals has a status change, then this mobile app is designed just for you. Using this app, you can opt to get real-time alerts on any device, anywhere and at any time. It also offers you the option of personalized alerts, which sends an alert message right to your phone whenever a significant change occurs. This will always keep you in the loop.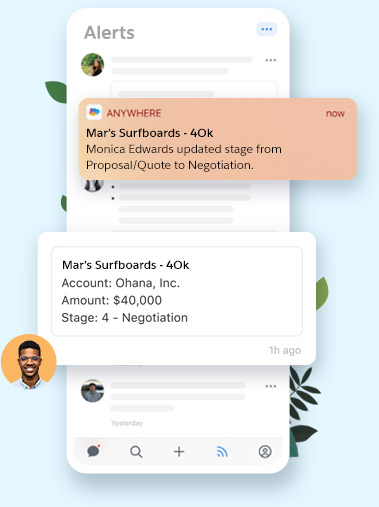 Source: https://www.salesforce.com
4. Personalize sales pitch
The mobile app will allow you to access the Salesforce database anytime, anywhere. This will enable you to gain access to all pertinent data and use it to personalize your sales pitch or presentation. So, instead of using a default sales pitch for each lead, you can personalize the sales pitch for every individual sales lead. This way, you can enhance the overall performance of your sales team and your company. With the help of a custom sales pitch, you can convert leads into sales quickly and professionally. The Salesforce Anywhere App will thus help you to flourish and thrive in the market.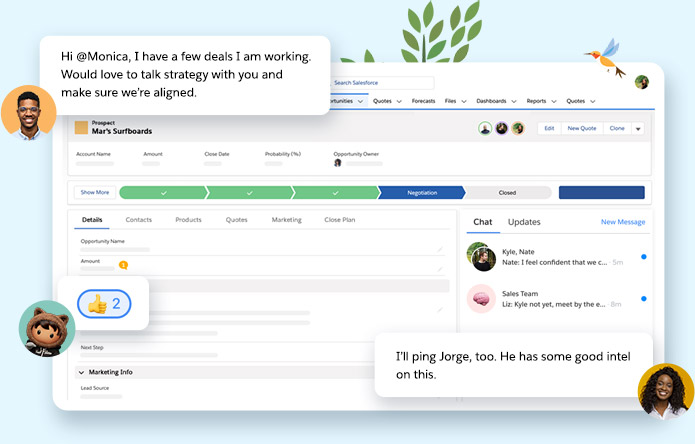 Source: https://www.salesforce.com
Step into the future of CRM
With the Salesforce Anywhere App, all your service and sales data will stay in one place i.e. in your mobile CRM which can be accessed when and where you need. Enable your sales team to communicate quickly, collaborate in context and take action to accelerate your business with an innovative Salesforce Anywhere App. If you want to leverage the Salesforce Anywhere App in an efficient manner or looking for Salesforce implementation services, then you can take the help of our Salesforce consultants.