If you're in sales, you know how crucial the customer relationship management (CRM) platform is to move dealings through the pipeline. You may have been utilizing CRM solutions like HubSpot, Zoho, Creatio, Apptivo and Salesforce.
Salesforce Classic felt outdated to some extent when compared with other CRM competitors. However, with the integration of Lightning Experience into the Salesforce mobile app, the attitudes of consumers have changed, favoring the world's number one CRM. With quite a lot of features of the Salesforce mobile app, you probably won't know how to take advantage of it to address your sales needs.
That's why the focus of this blog post is to share some competitive advantages of the Salesforce mobile app.
1. Einstein analytics
2. Customer 360
3. Hassle-free lead generation
4. High-performance output
5. Solid security
1. Own a personal data scientist
At least 50,000 GB of data is generated every second. Out of it, 70% of data is about customers. For most organizations, finding valuable insights from their data is challenging. Not only that, getting intelligent insights with explanations and recommendations is like imagining electricity in every house in the 1880s. That's why you need your personal data scientist. Thanks to Salesforce for creating Einstein analytics (Einstein), which is ready to take that lead.
What Einstein can do?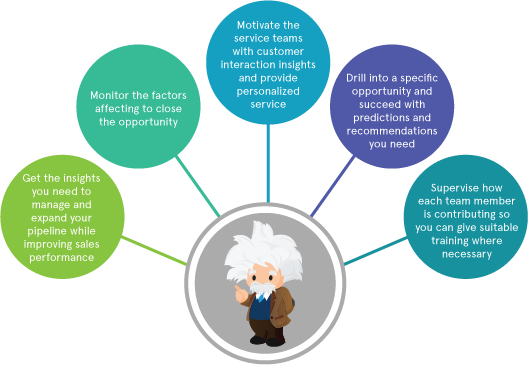 In general, Einstein gives you a complete view of your business, including resource management.
You can easily see all your significant KPIs using the dashboard. From the dashboard, look at your high-risk cases and check which ones need your immediate consideration. At that point, through Einstein, you can see all the factors affecting customer satisfaction and learn what you can do to boost it.
That's why we call Einstein a personal data scientist. You don't need to see how to wrangle the data. Einstein is no lesser than the magic wand. It just works to help you to be your best.
2. Gain a 360-degree view of customers
With the Salesforce mobile app, you can additionally get access to Customer 360 – a tool for enterprise-grade customer data management. It allows granular profiling and hyper-personalized customer engagement through various aspects of customer interaction, including sales, services and marketing. Customer 360 can also be integrated with your existing products and services like marketing cloud, commerce cloud, and service cloud. Thus, it offers a comprehensive view of the customer across all platforms and empowers profound customer engagement and personalized experiences.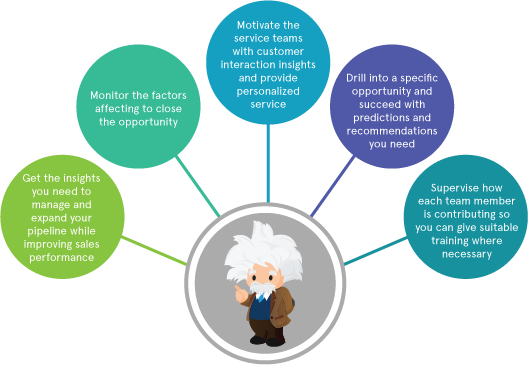 Get a Free Salesforce Audit
With a free Salesforce audit, we will help you to build a resilient business roadmap and navigate through it to tackle the challenges and meet your business goals. We can help you with the following services:
Review your current usage of Salesforce
Suggest suitable tools and the latest platform features
Gain visibility across your organization and intensify ROI
Determine and fix potential vulnerabilities in your security settings
There is a single unified data model called 'Common and Custom Objects.' It helps to maintain a standard format across all your Salesforce products – from sales cloud, community cloud, service cloud, health cloud, CPQ, Pardot, financial services to B2B marketing and lightning network. Moreover, that is how it also enables the smooth transition of data across these platforms and allows access to all data for Einstein and the Salesforce mobile app to work in a unified manner.
If you are looking for a professional Salesforce consultant, Softweb Solutions is right here.
3. Make lead generation simple
Using the Lightning platform, you can develop a lead in a hassle-free way and manage sales processes better. For example, the lightning mode activity timeline enables users to define what has been done for a particular lead and shows the specifics of every task, meeting or call. Another component called 'Path' helps in monitoring different stages involved in the business process, while the 'News' component offers on-time information on the leads. Altogether, it makes the process of lead generation as easy as pie.
Insights
Salesforce implementation guide and best practices
Being one of the leading CRM systems in the world, Salesforce assists enterprises to streamline their business operations on all fronts of customer relationships along with sales and marketing. From tracking their customer's activity to marketing automation,
4. Experience high-performance output
When it comes to a mobile app, high-performance output plays a decisive role. Considering that, Salesforce made its Lightning Web Components as the custom HTML elements that use core web components standards. This provides an entirely new experience in lightweight application creation with Salesforce. Native code (standard JavaScript and HTML) that runs natively in web browsers are used to build the Lightning Web Components. In this manner, it can deliver an exceptionally high-performance output. Moreover, the new lightning web components can coexist with the existing model of aura components. Since these components can communicate on a single page, both of them appear as lightning components to end-users.
5. No compromise with security
Salesforce Lighting offers upgraded security. LockerService, for example, is a function that isolates Lightning Components so they can communicate with each other. That helps in protecting the platform against malicious data.
For Salesforce Lightning, permissions work very distinctly, too. The platform doesn't allow users to increase their level of assurance, say from standard to high, in-session. For that, they should log out of the Lightning app and sign in again with a higher level of security authentication.

A bonus competitive advantage
6. Fantastic user experience, for developers
The Salesforce mobile app offers an excellent user interface. An accomplishment of drag-and-drop functionality without any code is like a cherry on the cake as it saves time and effort of a developer. In fact, an admin can easily arrange the page elements according to their preferences and liking without hiring a Salesforce developer. Nevertheless, to get the maximum benefits of Salesforce capacities, you can also hire Salesforce consultant.
Besides, Lighting helps in mitigating the requirement for Visualforce for each task. Usually, the codes produced during any sort of development need to be tested and implemented afterward. If there is an occurrence of missed bugs, the code should be sent back to the creator to correct the missing bugs and the process starts over again. However, in Salesforce Lightning, those kinds of monotonous procedures can be kept away.
Nevertheless, that does not mean that companies don't need Visualforce developers anymore. It is just that the Lightning platform provides a helping hand to the developers by allowing the admins to correct minor customization tasks. In a way, your developers can focus on larger Salesforce app development projects.
It is indeed an exciting time to employ Salesforce abilities to manage and grow your sales pipelines. Through this blog post, we have covered only five competitive advantages of a Salesforce mobile app. Nevertheless, to know more about how a Salesforce mobile app can help you to work faster, smarter and better, contact our Salesforce experts.