When we talk about automation, we focus more on industries like manufacturing and retail. However, being technologically advanced is not just limited to one market or industry. Digital transformation is making its presence in fields that we wouldn't have even thought of a decade ago. Factories and manufacturing plants have already adopted automation on a larger scale leveraging technologies like the Internet of Things (IoT), machine learning (ML) and artificial intelligence (AI). However, the finance industry is not too behind to leverage the same to stay ahead of the competition.
From processes like assembling car parts to small plastic components, automation has now made its presence in back-office operations too. One such technology that allows you to automate mundane tasks is robotic process automation (RPA).
According to IoT Agenda, RPA is the use of software with AI and ML capabilities to handle high-volume, repetitive tasks that typically needed humans to perform.
Handling time-consuming business processes can be a challenge. Especially for the finance industry, as they have to deal with a plethora of repetitive backend operations. For financial enterprises, automation means:
Making processes efficient
Saving the workforce for decision-making and other crucial tasks
Reducing the costs of operation
Minimizing manual errors
Today, the most innovative uses for RPA in finance processes are financial operations and accounting practices. From automated audits to a faster rate of completing accounts receivable and payable, RPA has several use cases depending on the unique requirements of the company.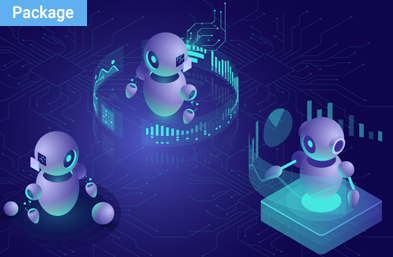 Robotic Process Automation Consultation
Robotic Process Automation (RPA) is the solution as it can be undoubtedly applied across multiple sectors to automate various processes and save tremendous time and efforts.
Digital transformation in the finance industry
Often, many tasks concerning finances and accounting are done manually. This is either because of a lack of appropriate solutions or fear of handing tasks to bots. However, especially after the COVID-19 pandemic, many organizations have turned to digitization, including automating routine tasks. Companies have now become aware of the right rule configurations to ensure that there is someone to double-check potential exceptions.
Understanding the increasing commercial value of automation has created abundant RPA use cases that can translate into the following benefits for financial firms:
Cost savings
Better productivity
Enhanced skillset of employees
Improved employee morale
Thus, RPA platforms can fuel digital transformation in financial services. Let's explore some of the aspects of RPA technologies and their use cases while considering the advantages that make RPA a worthy investment.
Traditional automation versus RPA
The Institute for Robotic Process Automation uses the analogy that traditional automation is like cruise control on a car and RPA is more like a self-driving car.
There's a hairline difference between traditional automation and robotic process automation. There are a few features that makes RPA distinct from traditional automation.
No software limitations
Both traditional automation and RPA systems aim to bring software systems to automate business processes. However, traditional relies primarily on programming and requires APIs and other integration methods. On the other hand, RPA means training software robots, or processes to mimic users' actions at the user interface level.
Adapting to modifications and changes
RPA allows bots to be customized to perform certain tasks as per organizational requirements like reading an e-mail, auto-replying to emails, filling forms, etc. Hence, RPA systems are scalable compared to traditional systems as these don't allow modifications. RPA allows companies to make changes and update to their automation processes according to their needs without any restrictions.
Cost-efficient
Though RPA implementation is arguably a bit costly in the initial phase, it saves a lot of time, money and labor costs in the long run. Leveraging traditional automation costs comparatively less. However, after the installation, because of the inability to make instant improvements, it proves to incur more effort and considerably becomes costlier to implement the required changes.
RPA to change the business paradigm for finance companies
RPA helps banks and financial firms to enhance overall customer experience by reducing manual efforts, offering better compliance and mitigating risks. Moreover, there is no additional infrastructure cost involved in adopting this low-code technology. Let's take a deeper look into the benefits that robotic process automation in finance offers:
Scalability: RPA allows companies to manage high volumes during peak business hours by adding more robots and responding to any situation in record time. Additionally, it also allows them to focus on crafting strategies to grow their business by freeing employees from mundane tasks.
Improved operational efficiency: Leveraging RPA for repetitive tasks can help banks and financial institutes to make their processes much faster, productive and efficient.
Risk and compliance reporting: Organizations can generate full audit trails for every process, allowing them to reduce business risk as well as maintain high process compliance.
Faster implementation: Robots work 24/7 to reduce manual errors and achieve high accuracy at a low cost. Also, it is very easy to implement and maintain automation workflows because of the low-coding requirements.
Business growth: RPA helps financial firms to use their legacy as well as new data to bridge the gap that exists between processes. This allows them to create faster and better reports for business growth.
Low budget: RPA does not require any significant modifications in infrastructure due to its UI automation capabilities. Hence, companies can spend less on hardware and maintenance costs by leveraging cloud-based RPA.
To know more about robotic process automation, you can refer to our blog: RPA's ultimate guide: Five mind-blowing questions of RPA implementation answered
Use cases of RPA in finance
Invoice processing
Manage structured and unstructured invoice data, no matter its layout or form. Connect to business-critical systems, workflows and data with pre-packaged connectors and APIs.
Accounts reconciliation
Rapidly offer management the insights needed to drive strategic decision-making with automated accounts payable solutions for cash management, capital management and business health.
Financial reporting
Provide decision-making authorities with accurate information by offering detailed and automated financial reporting. Manage approval workflows, streamline manual, repetitive tasks such as data collection, data reporting, onboarding, managing orders, calculating payroll amounts and more.
Revenue audits
Keep the business on track each day by having a clear view of cash flow and precise information on data regarding revenue audits. Get detailed reports in real-time and share them with colleagues within the organization or with other stakeholders.
Risk assessment
Give your audit professionals rest by implementing rules-based risk assessment. Set alerts for potential risk violations or fraudulent transactions to protect the company's financial vitals.
Give your mundane tasks in the capable hands of bots
If you want your employees to get rid of the headaches that mundane and repetitive tasks give, adopt robotic process automation. By leveraging RPA, you allow your employees to focus on more crucial operations that need to be tended by a human. From individual tasks to full process automation, finance robotics has evolved to offer accurate results.
RPA isn't a one-time install and forget technology. In fact, it requires constant updating and analysis for better process optimization. By minding the gaps and identifying the use cases that you want to address you can achieve business excellence. Although, hiring RPA experts like us is advisable for faster implementation.
To know more about robotic process automation, you can reach out to our adept team of RPA consultants.