Situation one:
Your competitors are processing orders faster than you.
Situation two:
The apps launched by your competitors have latest functionalities and features that drives more user engagement.
In both these scenarios, you will be wondering about what different approaches are your competitors taking that are making them stand out of the competition. The culprit is your legacy system.
Your apps and software might work just fine, doing what they are supposed to do. However, they lack flexibility and agility needed in today's digital arena. Modern customers have modern demands which are often dynamic in nature. Hence, your legacy systems would not be able to fulfil those requirements. All you need is application modernization that will fuel your digital transformation journey.
What application modernization is and why it is important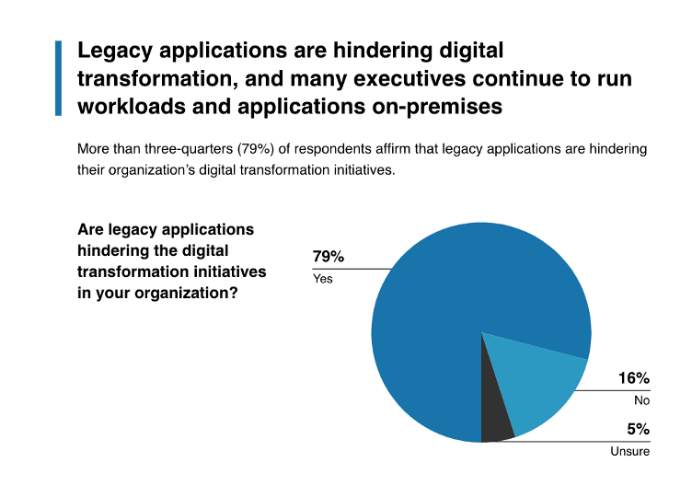 Source: https://go.2ndwatch.com/AppModStudy
In a survey by 2nd Watch, more than three-quarters (79%) of respondents confirmed that legacy applications are hindering their organization's digital transformation initiatives. Companies in the legacy conundrum often face challenges like incompatibility with advanced technologies, lack of adequate information and prone to security breaches. All these hurdles result in increasing infrastructure and maintenance costs.
Legacy application modernization is the solution
App modernization is an approach that allows companies to update their legacy systems with latest technology stack. It enables organizations to align with their business goals. Apart from offering operational excellency, the solution ensures 30-50% lower maintenance costs. Moreover, according to the survey, businesses can also lower around 74% costs for hardware and software as well as costs incurred in hiring developers.
Rearchitecting legacy apps helps companies to leverage benefits likes scalability and agility offered by innovative technologies. The solution is cost-effective that improves collaboration and productivity. Some of the key drivers that lead businesses to legacy modernization are:
Increased maintenance cost: Maintaining traditional software architecture and IT infrastructure costs a lot. As it is based on old and obsolete systems, the maintenance and support cost increases significantly. Organizations spend nearly 70-80% of their IT expenditures on maintaining their complex legacy systems.
Frequent software crashes: Companies start experiencing more bugs, resulting in recurrent software issues. It also deflates the processing power and speed. This in turn hampers the overall performance.
Increase in hardware dependency: Relying on hardware for data storage and processing affects flexibility and interoperability.
Modern problems require modern solutions
To address the challenges mentioned above, you need an app modernization strategy in place. Start with defining the use case. This includes understanding what part of your IT ecosystem needs modernizing. Prioritize the requirements accordingly and look for the technology stack that can best assist you with your goal.
There are several approaches that enable you to overcome the legacy conundrum. Let us understand few of the aspects in details.
Modernizing data through app modernization
Siloed data is incompatible with other data sets. You often end up with incomplete and incompetent data which no longer can be used for further analysis. Data silos also result in organizational silos, which in turn affects the collaboration between different teams.
With data modernization, you can transfer outdated or siloed data to modern cloud-based databases, including structured and unstructured data. It helps you to enhance data security on cloud, multi-cloud and hybrid IT environments.
Migrating to a new architecture
Legacy architecture makes it difficult for you to support breakthrough features such as API-based integrations, third-party products, etc. It also makes it challenging to add new features and customization according to customers' demands.
21% of surveyed IT leaders said they are fully confident in the ability of their organization's current infrastructure to support growing application workload requirements.
– Forrester Research
The app modernization process allows you to migrate to a new and more advanced architecture using state-of-the-art solutions. You can provide your consumers with a high-performing application based on modern architecture. This process can also ensure reduction in hosting and infrastructure maintenance costs.
Shifting from monolith to microservices
With single blocks of software like desktop apps, distributed architectures such as tier-2, tier-3 and so on, monolithic architecture has been the most used for software development. The key challenge with using monolith is the lack of scaling the solutions. While adding new features or making changes in the coding, the major drawback is increased system downtime.
With microservices, you can split your application into a set of smaller and interconnected services with microservices. Such an approach is beneficial for complex as it simplifies the process for continuous development and deployment. The key advantage of using microservices is that it allows you to work on one module without hampering others during the process. This solution ensures reduced downtime and maximum operational capacity.
Rehosting to the cloud
The top reasons why you should consider to rehost your applications to the cloud include:
Aging servers
Potentially unreliable firewall appliances
Lack of optimum operational capacity
While rehosting to the cloud, you must consider aspects like humongous amount of data, workflows, C2D and D2C communication. You can leverage any of the strategies listed in the Gartner's 5Rs:
Refactor
Rehost
Revise
Rebuild
Replace
If you are not sure about adopting the cloud approach, you can also opt for hybrid cloud infrastructure.
Read more about app modernization approaches in details.
Transformational shift towards hybrid cloud architecture
The survey we discussed above also suggested that 80% of respondents continue to run at least one-quarter of their business workloads and applications on-premises. Organizations tend to have infrastructure completely on-premises or partly on the cloud. However, to ensure flexibility and agility go for hybrid, it is the most suitable option. Hybrid cloud means combining your private cloud with one or more public cloud for hosting, storing, etc.
Hybrid cloud adoption allows you to easily migrate on-premises data and application workloads. It enables you to lower your app modernization costs and time-to-market. You should consider moving to hybrid cloud architecture to improve risk and compliance management and increase infrastructure efficiency.
To move to hybrid environment, you need to consider two key factors:
Public cloud or clouds you use currently
Hybrid cloud goals
Once you have the set goals in mind, you can start with planning things start planning things necessary to migrate to public and things you want to keep private. Consider the speed of workload migration to determine the tools and platforms that are compatible with your requirements. Finally, once you have implemented the shift, think about scaling opportunities to leverage the optimum capacity of hybrid cloud ecosystem.
Here are six best practices for app modernization that you can look for.
What solutions can cloud providers offer
It sounds easy to do so, however, it is often challenging to align your requirements with your objectives. Hence, hiring a technology service provider with an experience and expertise in application modernizing services is the right thing to do.
Being one of the leading application modernization service providers, we understand the importance of security, which is the biggest worry of most organization. Along with that we focus on scalability and best-in-class technology stack. From assessment to platform re-design and architecture and cloud migration, our legacy transformation services offer several abilities helping you with modernizing your traditional systems.
The survey by 2nd Watch also suggested that 91% of respondents agree or strongly agree that the application modernization plays a critical role in their organization's adaptability to rapidly changing business conditions.
If your organization is among the 91% and looking for robust app modernization solution, contact us and we will be glad to discuss your requirements.