Data is the heart of the financial service sector; and in the current times, we are producing more data than ever before. However, such astonishing mountains of data are of no use until financial professionals leverage them for advanced analytics. So, this is where the business intelligence (BI) tools come into play. Thanks to Microsoft for introducing Power BI!
Power BI is an effective BI tool for financial analysts to help them streamline and track their business activities. Amid digitization and the diverse tech transitions, the need for new operational models has driven finance firms to leverage Power BI services.
If you are thinking about how Power BI can help you streamline financial operations, this blog post is for you. It will walk you through the role and uses of Power BI in the finance industry.
Why should financial analysts consider Power BI?
The BFSI sector has always been data-driven, which involves macroeconomic statistics, financial statements, balance sheets and other financial data. So, it becomes difficult for the finance department to curate, analyze and share large accounting data sets. However, to gain a better understanding of data, financial professionals are on the watch for advanced data analytics tools like Power BI. It is a user-friendly BI tool for meticulous data analysis.
Power BI allows financial professionals to do more than just data analytics. It enables them to monitor and track finance-related key performance indicators (KPIs), metrics and charts. In addition to this, there are other reasons to consider Power BI for business analytics in the finance industry: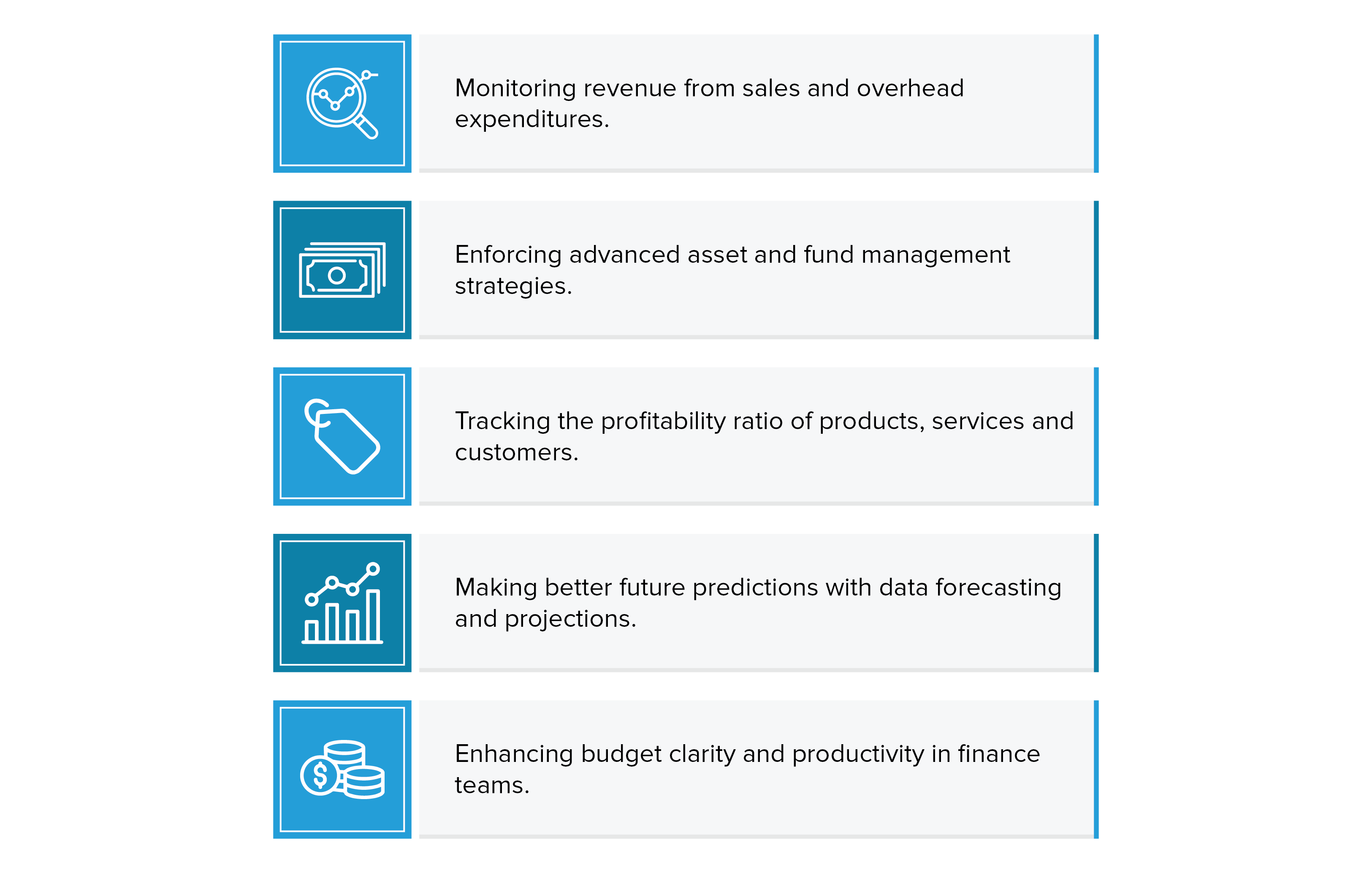 How to use Power BI in finance?
You might be wondering how financial organizations can measure their performance or identify where the problem lies. The answer is simple – Power BI. It is an ideal solution for financial organizations as it helps them gain perspective on noteworthy trends and metrics. However, the uses of Power BI in the finance sector are countless and diverse. Let us see some critical applications of Microsoft Power BI for financial analysis.
1. Consolidate business data with Power Query
It is not easy to orchestrate and bring together a large amount of data from multiple sources. Aggregating data from various sources such as on-premises servers, excel sheets, data warehouses and cloud apps can impose certain limits regarding complexity, volume, or nature of data. However, in the data-driven financial industry, Power BI offers businesses the opportunity to merge different data sets and consolidate files with Power Query without any limitations.
2. Generate visual/graphical reports
Power BI enables financial professionals to produce interactive visual reports, maps, tables and charts with the help of its Power View feature. It lets them generate attractive visuals from the existing financial data. So, it can provide you with compelling data reporting, exploration and presentation experience. Power View allows you to perform insightful ad-hoc reporting in a more appealing and presentable manner. Ultimately, it will help you to make informed, strategic business decisions.
3. Spot the changing data trends and patterns
As the amount of data grows, the need for analyzing and spotting the changing data trends and patterns also increases. Hence, it becomes essential for financial professionals to have a smart BI tool like Power BI. Power BI dashboard has an in-built time intelligence feature to notice critical data trends and spot discreet patterns. Furthermore, it can help you discover changes in data patterns over time such as profit and loss statements, sales revenue, business expenses, etc.
4. Visual scenarios with what-if parameters
The financial service sector needs critical answers or insights from business data to represent it in visualizations. Hence, the Power BI analytics tool comes with an innovative 'what if' parameter or analysis technique. It enables you to make vital decisions based on data forecasting or projections. Thus, it allows you to look historically or forward and analyze how things would have been in a different scenario.
Benefits of Power BI for financial analytics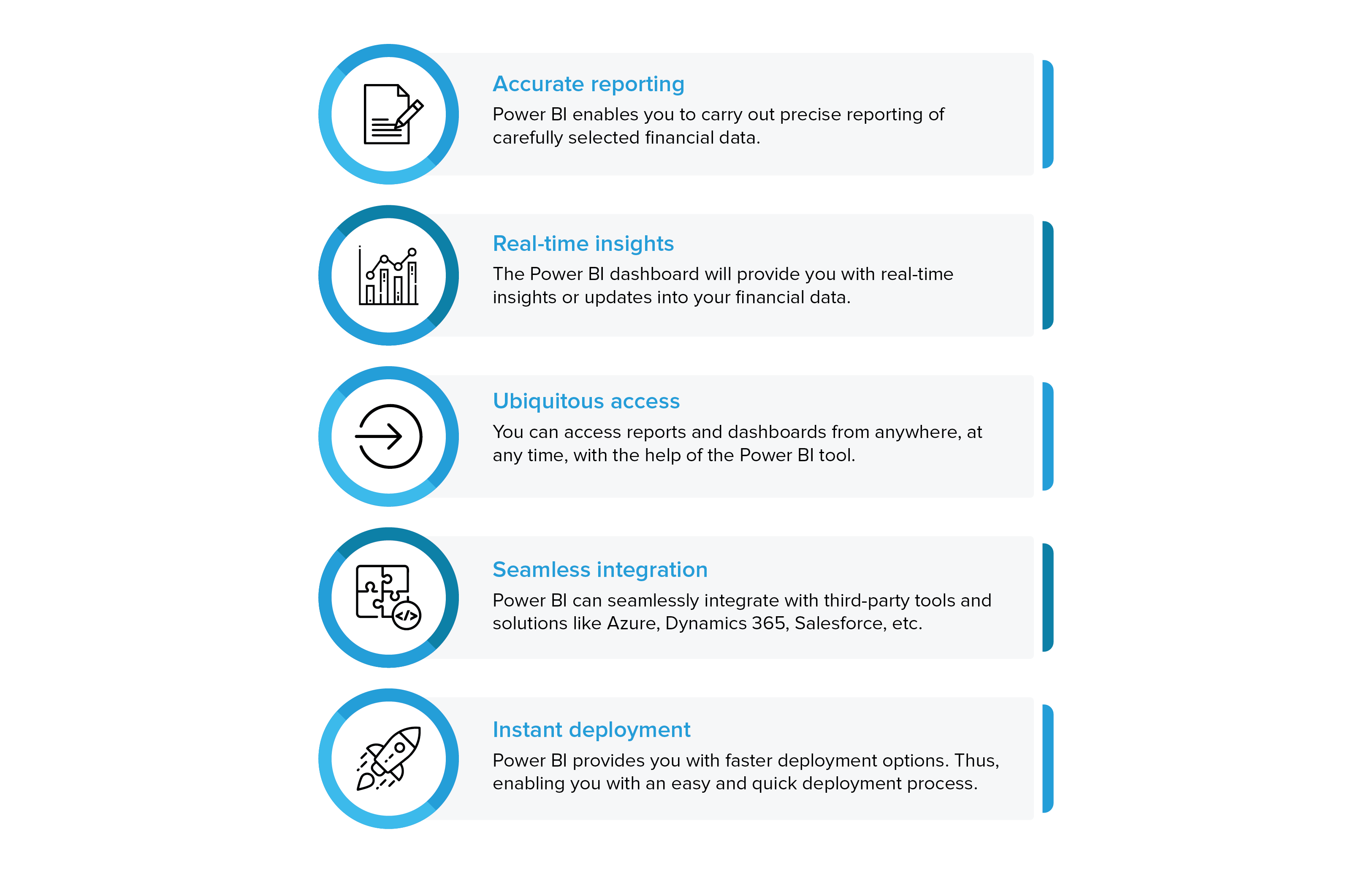 Endless possibilities with Power BI!
The rapid growth of Power BI for financial analytics can offer organizations more control over their financial operations and gain an edge in the market. If you are thinking of implementing Power BI to streamline your financial operations, reach out to our experts. They will help you gain a deeper and better understanding of your services and customer responses. You can also refer to our blog the reasons you should choose the tool for business analytics to learn more about Power BI.