Let's start the blog with an overview of how trending technologies is changing the pharmaceutical industry:
| | |
| --- | --- |
| Genetic programming and evolutionary algorithms | Identify molecules that are synthesizable, stable and refined for multiple criteria. |
| Cloud services | Data processing from virtual compound screening and scaling up or down to address the computational demands. |
| ML and recurrent neural networks | Predict patient outcomes from electronic health records. |
| Virtual and decentralized clinical trails | Enhance the quality and efficacy of clinical trials, enlarge the scale and reach, and decrease patient's burden. |
| IoT | Reengineer a supply chain, enable mass customization and real-time information exchange between buyers and manufacturers. |
| Predictive maintenance systems | Anticipate the possible breakdown of machines and equipment. |
| Salesforce CRM | Improve collaboration between pharmaceutical customer representatives and doctors. |
| Deep learning techniques | Systematize adverse event reports from different sources and channels. |
With the opportunities presented by digital transformation, artificial intelligence, machine learning, big data and analytics, pharmaceutical companies are undergoing a significant shift. Post COVID19, there is a greater demand for Power BI in the pharmaceutical industry to capitalize on these opportunities and seamlessly deliver business-critical insights to executives. It provides an agile enterprise business intelligence architecture. You can transform your hidden business data into rich visuals and interactive dashboards using Power BI consulting services.
Pharmaceutical companies' biggest hurdles in growth are pharma sales analysis, demand forecasting and enhanced customer service levels. Data is key there. Through their day-to-day operations, pharmaceutical companies generate massive amounts of data, so are the reports. However, the data or reports are not always put to the correct use. Some companies look at those reports with a traditional straw that doesn't drive a 'call to action' for business growth. While, some put their efforts hard to understand those data or reports and make them actionable.
Successful pharmaceutical companies go beyond standard operational and statutory reports and implement more powerful analytics and AI-driven solutions. These solutions provide key performance indicators and actionable insights for efficient decision-making. The more actionable your reporting, the better equipped your team will be to enable the right engagement. That ultimately will drive results for your organization.
How Power BI can turn your data into smart decisions
To do a thorough pharma sales analysis, you need insights from your apps, portals, websites, ERP, or CRM apps. The power BI dashboard for pharma represents combined data from different sources. The dashboard displays analytics onto a single dashboard and improves visibility to other teams within your company.
Power BI helps in pharmaceutical analytics through following three ways:
Interactive reports
Power BI interactive reports can help you monitor real-time data from multiple sources and combine it into one pharmaceutical dashboard with the ability to drill down into the report to identify issues as needed. Using interactive reports, you can get:
Reports on lot production
Analysis of quality control data
A clinical study reporting with recommendations
Financials per batch produced for each product
Market evaluations with budgeting, spend analysis, expected and actual results
KPI reporting
With Power BI in the pharmaceutical industry, companies can acquire intelligence in real-time and can track KPIs such as
Batch losses and cycle times
Overall equipment effectiveness
A product line's quality standards
Customer engagement and experience
Process efficiency
Inventory levels
Real-time analytics
Agile pharmaceutical companies tend to get real-time analytics of overall operations. Knowing how work progresses and inventory turnover enables production supervisors to manage batch production processes quicker. It empowers them in making quick corrections and proactive handling of situations before they become risks. In all, such real-time reporting provides visibility to the manager and operator with red, yellow and green signals on batch processing.
If you still want to know more reasons why Power BI for pharma companies, here are some more: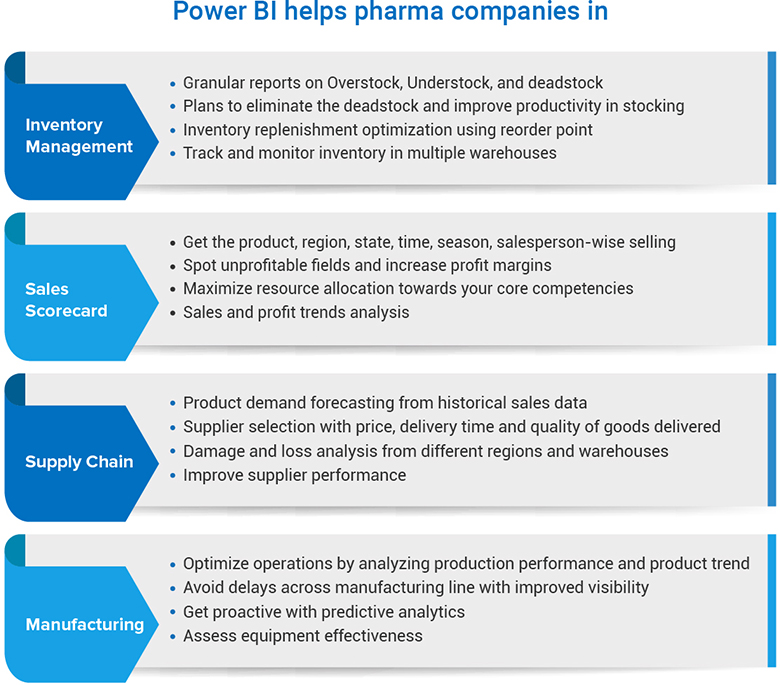 The final say
Enhanced visibility across manufacturing execution, procurement, sales force productivity, or financials is the critical step to change any industry.
Using Power BI, you can:
Create resilient supply chains,
Streamline manufacturing operations,
Engage customers in new ways,
Transform your workforce and
Explore new business opportunities
for your growing pharmaceutical company transforming into an agile organization. Power BI makes it possible via BI strategy, managed services, implementation, and support. Power BI provides 360-degree insights for business-critical functions such as manufacturing operations, sales, finance, supply chain, and more. That's why Power BI will remain a must-have product for leading pharmaceutical companies like you. Team up with us to start your analytics and business intelligence journey.