Every one of us, who belongs to the business world, would like to have leads in our mailbox every day and we all know that this can be achieved through the implementation of effective marketing strategies only. Marketing could be difficult for any business but, figuring out the correct marketing strategy for lead generation is one of the toughest tasks. There are many ways of generating leads, but as per the expert's guidelines marketing automation platforms are the best ways that you can implement for lead generation.
To start with marketing automation, first of all, you need to figure out what kind of solution you are looking for – just lead nurturing or a lead generation platform or both? Ideally, you should choose the right marketing automation platform depending upon your business goals, budget and other available resources. After identifying those goals you need to start searching for the appropriate tool that can help you the most with lead nurturing and/or lead generation.
Insights
Transform your Marketing from Manual to Modern
The world of marketing has changed and you need new tools and technologies in order to stand out of the competition.
First, let's see how you can generate more leads
Nowadays, most of the buyers want to interact with brands on their own terms and time. They also want interactions to be relevant, meaningful and personalized. So, how can you fulfill their requirement? The answer is inbound marketing.
Inbound marketing is an ideal approach which puts power into the hands of the target buyer. It has been the most effective marketing method for attracting your viewers online. Rather than using the old outbound marketing approaches of purchasing ads and email lists, and praying for quality leads, you can focus more on creating quality content that interests people towards your brand and product/service what they actually want. By providing the content according to customer's interest, you logically attract inbound traffic that you can convert, close and appreciate over the time.
Stages of inbound marketing methods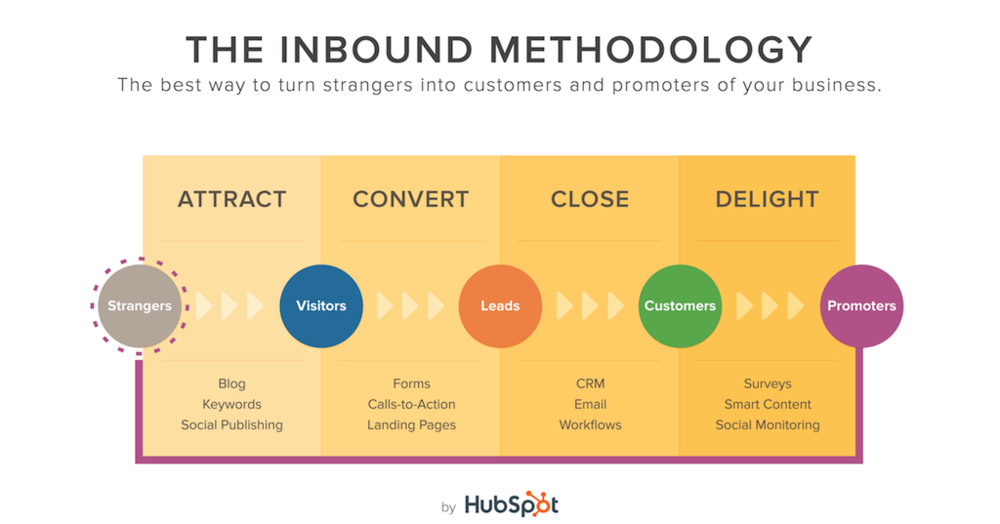 The key principles of inbound marketing:
Inbound marketing is all about creating quality content and sharing them with the right people. It can also shorten eligible prospects and nurture them towards right customers and loyal brand advocates.
Content (Create + Distribute): You should always create content that answers your customer's questions and help them to understand your product/service. After creating content, share it everywhere.
Lifecycle Marketing: Detailed marketing actions and tools transform viewers into prospects, contacts into the leads, leads into clients and clients into your promoters. The thing is you should take the right action at the right time to make this transformation possible.
Personalized marketing: You should provide tailored content that fulfills the needs of the people who are viewing it. This exercise will empower you to better personalize your messages based on their particular requirements.
Use of multi-channel: People generally prefer interacting on different channels. The inbound marketing approach involves learning which channels work best for you and your customers. That doesn't mean that you just select one channel and stick to it only. Inbound marketing is multi-channel by its features.
Basically, when you choose inbound marketing content creation, distribution, and analytics tools all work together to create a closed loop, allowing you to figure out what's working and what's not working.
Key benefits of inbound marketing:
Converts ideal buyers using targeted and relevant content, SEO, and social media channels.
It's internal and need-based.
Two-way communication is possible via social media, email, phone, live chat, and more.
Most of the content is value-based and very less promotional content.
The methodology is permission based and considered as "warm calling".
Now, let's figure out how marketing automation services can help you.
After following the lead generation process, you must be looking for something that can help you with lead nurturing. The best way to nurture your leads and automate the process is to implement a marketing automation platform. Most of the marketing automation platforms are designed for lead nurturing. To choose right marketing automation platform, you need to identify your goals, budget and other similar factors. Some platforms are more suitable for large companies whereas some are just for small to medium-sized enterprises (SMEs).
So, what is marketing automation? It's a platform that helps marketers to automate their marketing processes by integrating marketing collateral such as landing pages, emails and the published content. It syncs flawlessly with all major CRMs, so people can manage leads and get report on ROI without any stress.
Here, we have described a checklist for marketing automation tools that might help you in choosing the right one for you.
Evaluation- Before getting any marketing automation tool, it is recommended to evaluate your business on the priority basis. This process will help you understand the requirement of your business.
System integration- The system should be able to provide one platform to manage and launch email campaigns and other channels of communication.
CRM integration- You need to check whether the platform can be integrated with other platforms you are already using such as CRM, webinar or social media. Does your CRM allow you to transfer lead information flawlessly and dynamically in real time? Learn how the marketing automation tool and CRM balance each other and why you need both of them.
Dynamic content- The purpose of automating content management is to make content easier to use, revise, reuse and spread. It also keeps updating automatically. Does the tool provide a quick and easy way to create attractive and consistent content such as brand compliant emails, web forms or landing page templates that require just basic skills? You also need to check whether the tool covers branding throughout the campaigns via email content, auto responders, sending addresses, landing pages or social media. The tool should also have the library for templates for forms or landing pages, documents, graphics, and branding guidelines.
Automation- Automation program is one of the greatest qualities of marketing automation tool that would be difficult if a person tries to do manually. You should look for these capabilities when searching for the appropriate marketing automation tool.
Drip Marketing- In this section, you can send the pre-written set of messages in a sequence that is applicable to a particular behavior or as a status of the recipient. You should be able to create and schedule messages, exit conditions and also able to enter new leads in a running program.
Trigger marketing- Here you can take actions on a lead by triggering a response email to the person visiting a pricing page or downloading a document.
Speed- To speed up your automation tasks you should be able to create and deploy a campaign from scratch in little time. You should be able to reuse campaign elements and templates professionally. A marketing automation tool should provide the automated lead scoring so that your sales team can prioritize their time and activities.
Training and support- You should find out whether a tool provides online customer training, forum or any online help. You need clear answers for these three questions.
Is there any product training available (free or paid)?
Is the vendor support free or paid?
How quickly will their customer care executives respond to your queries?
To get these answers you should talk to their existing customers to measure third-party credibility, and ask them about the time they respond, quality of their service and reliability, etc.
Cost-After identifying the right marketing automation tool for your business you need to figure out the total estimation of a marketing automation tool that involves the total amount of acquisition and maintenance cost before making a purchase.
The right marketing automation platform will help you with generating and nurturing hot leads into sales in real time and you will be able to maintain your customer service in an efficient way.
If you want to make your brand stand out with marketing automation and confused about the tool that best suits your business, you can always contact Softweb Solutions – a marketing automation consulting company based in Chicago.