Why the biggest news storylines of 2017 were about how big data/ML/AI/IoT is pushing the limits of the imaginable?
Why is every industry today looking to apply AI to push their customer experience, operations, marketing, or supply chain management functions to new limits?
Why are we so excited about AI?
Because…
In the past, before the year Zero, it took about 1500 years to double knowledge. We then started to write things down and knowledge began to double every 250 years. Then we discovered science and it started to happen every 50 years. We then created information technology in 1980 and every 8 years it started to double. Right now, we are in the information age where knowledge doubling happens every 12 months. In fact, IBM has projected that at one point, this information will double every 12 hours.
The point is: with around 100 billion neurons our brain gets roughly 100 trillion data points. But the research has shown that we forget things as we learn new things. That's where AI comes in. Because all this massive information (50,000 GB of data in a second) that's coming in is going to get managed by AI to make businesses more agile, business processes smarter, and to make informed decisions.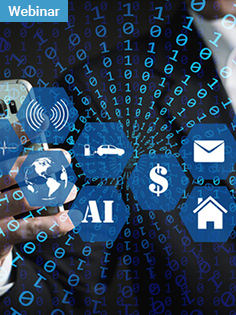 Discover what, why and how of Vision AI at the Edge
Webinar agenda
What is Vision AI at the Edge
Why vision AI at the edge is a game-changer
Applications of Vision AI at the Edge
Industrial use cases for accelerating AI at the Edge
Q & A
In fact,
Walmart now processes over 40 petabytes (i.e. 40 000 000 000 000 000) of data per day and with the help of AI, Walmart has gone from 700,000 to 60 million items online.
Akamai analyzes 75 million events per day to better target advertisements.
Heineken plans to improve beer recipes and customize beers for individuals by deploying AI from IntelligentX.
"To make any machine artificially intelligent what you need is the implementation of data as the lifeblood of the system." – Dr. Joseph Reger, CTO, Fujitsu EMEIA.
Never in the history of this planet has humankind enjoyed such abundance of data. And the prevalence of high-speed computing at an economical rate sets the conducive environment for diverse industries to adapt AI in some capacity to optimize and automate their processes. Here we are going to show you five industries where AI is having a transformative effect.
Artificial intelligence in Healthcare
On the one hand, the World Health Organization (WHO) projects that by 2020 the prevalence of non-communicable diseases is expected to increase to 57%; and on the other hand, WHO is estimating a global shortage of almost 4.3 million doctors and nurses.
Historically, anything that bridges this gap becomes a topic of discussion over the dining table. For example, till yesterday, identifying cancer or vascular diseases requires a huge investment of time, talent, and efforts. Today, AI identifies certain types of cancer and vascular diseases just from images or body scans.
Here is a very good example of how AI is transforming the process of the cancer diagnosis.
There are now more new cases of skin cancer in the USA than the combined incidence of cancers of the breast, prostate, lung, and colon. Every 54 minutes, one person dies due to melanoma (the most severe type of skin cancer). Moreover, every day 42 new cases are diagnosed positive for it. Research shows that early detection of melanoma can enhance the estimated 5-year survival rate of patients from 85% to over 99%. This really struck a chord with the people of the Artificial Intelligence Lab of Computer Science, led by Professor Sebastian Thrun at Stanford University.
They trained deep convolutional neural networks (CNNs) to identify skin cancers using a dataset of around 130,000 clinical images of skin, consisting of 2,032 different diseases. They then tested its performance against 21 board-certified dermatologists. The good news is: AI now classifies images of skin lesions as benign lesions or malignant skin cancers with the same accuracy as board-certified dermatologists.

Whether you are looking for a precise and timely diagnosis, minimally invasive surgeries, predictive analysis for patient health, or personalized medicine and patient monitoring and care – AI programs are set to take you further. Looking for something that is AI supported and you too can utilize in your daily lives, then look no further than the chatbots. Chatbots can serve as your health assistants and can help you to remember to eat well, take your meds, and get important diagnostic tests that could keep you out of the hospital. That might be the reason why:
Christopher Bishop, lab director at Microsoft Research in Cambridge, UK, said, "I think artificial intelligence is probably setting the medical domain for biggest transformation ever."
Artificial intelligence in Hospitality
"As a several billion pound industry encompassing everything from restaurants and bars, to hotels, cinemas, and transportation, there is no 'one size fits all' method of finding success. So, the hospitality industry is a notoriously difficult industry to survive in," says James Caan, founder and CEO of Hamilton Bradshaw.
However, the big news is AI now brings powerful ways to focus on the customer.
In fact, Jim Holthouser, Executive Vice President, Global Brands Hilton Worldwide, says, "Bringing AI (in the form of an AI robot called 'Connie') to Hilton is an opportunity to really delight customers in ways that they don't expect."
Connie can provide tips and suggestions on local attractions, restaurants, and information about the hotel to guests who interact with it. The most impressive part about it is that Connie learns from each interaction and continually expands her knowledge to make even more accurate and helpful recommendations.
Moreover, how AI chatbots can help you in monitoring guest sentiment, from trip planning through to check-out and their return home, watch the following video.

In all, from freeing up the front desk to enhancing the experience of guests, AI can ensure customer satisfaction and loyalty for you.
Artificial intelligence in Retail market
When it comes to opportunities of AI in retail; from PR Newswire, Business Wire, to Forbes – all – have one voice: "AI in the retail market is expected to grow from $ 993.6 million in 2017 to $ 5,034.0 million by 2022."
In a time, when more than 90% of consumers use their smartphones while shopping in retail stores, enhancing user experience is critical to most retailers. AI chatbots (currently in use by Blueberry, Tommy Hilfiger, and The North Face) and AI-powered visual search (in use by Walmart, Costco, Carrefour, Tesco, Kroger, Home Depot, and Target) are becoming increasingly attractive ways for retailers to improve customer experience.
"AI offers an interactive and engaging way to cut down the shopping time and a possibility to free up shoppers from searching customer support manager. It allows shoppers to enhance their ROI and to keep their costs low so it builds loyal customers." Chatbots Magazine.
For detailed reading about how AI changes the way retailers interact with customers.
Artificial intelligence in Insurance
Calling an insurance company is not among the activities most people enjoy. That's because the insurance industry is known for its outdated processes. Now AI can be applied to improve the claim process.
Insurance carriers that have instituted AI-powered claims acknowledge the following key benefits:
A seamless customer experience
Increased processing speed
Reduced loss adjustment expense
Decreased cycle times
"74% of consumers say they would be happy to get computer-generated insurance advice." Accenture's 2017 Global Distribution & Marketing Consumer Study.
In the insurance space, AI chatbots are being used to answer fundamental questions and resolve claims. Using chatbots, insurance carriers also sell products, address leads, and make sure their customers are adequately covered by insurance.
Artificial intelligence in Human Resource
AI is entirely reshaping the way that companies manage their workforce and make HR plans, which increases productivity and employee engagement in general.
"AI can help you to handle recruiting, productivity, and retention more efficiently than traditional HR methods. At the same time, it also allows you to do it faster than ever before." Donald Southern, an HR specialist at Resumes Planet.
Do you know, each week 427,000 resumes are posted on Monster, 89% of recruiters have hired someone through LinkedIn and more than 8,000,000 applicants found their job on Twitter. Talent acquisition has become an enormous challenge for HR managers. But AI brings good news for such overloaded and quality-oriented HR professionals because using AI they can eliminate 75% of the applicants.
AI can also help you to build customized onboarding procedures for every single position. This proves to be extremely productive in practice since new hires who undergo a structured onboarding program are 58% more likely to be with the company even after three years.
Al tools also enable HR managers to set concrete objectives and let the entire company work in smaller increments. This type of work is more comfortable to follow and assess when it comes to performance analysis, and it generates better overall results.
Deepak Bharadwaj, General Manager, HR Product Line, ServiceNow, also says, "92% of HR leaders agree that the future of providing an enhanced level of employee service will include chatbots."
These are just a few examples of the industries that we predict are pushing their limits on a massive scale as implementing and utilizing artificial intelligence programs have become more relaxed. To better understand the array of opportunities that AI can open up for your business, contact our subject matter experts today who would be happy to help you through your journey of gaining a competitive edge using AI.