Diesel generators have become an important part of almost every business setup. The problem of a power outage is very common and adversely affects productivity. Hence, every small and large enterprise depends largely upon diesel generators (DG) for power backup to maintain business continuity.
The commercial and industrial gensets that are used to produce large kW of power are quite expensive and incur heavy maintenance costs. Due to this, organizations have to allocate a heavy budget to run their DG sets. These diesel generators are of extreme importance for almost every industry and it is crucial to monitor these generators continuously to prevent power outages and downtime.
DG set monitoring helps to plan timely refilling and repairs. It helps to determine and prevent fuel thefts and generator failure. Various other reasons make it imperative to incorporate a generator monitoring system (GMS) for your diesel generators.
What are the signs that call for the implementation of a smart DG monitoring solution?
Fuel theft
If you see a sudden increase in fuel usage, you may wonder if there is leakage in the fuel tank or someone is stealing your fuel. Fuel theft and pilferage are the major hurdles that businesses face. Sometimes people also generate fake diesel bills which add to the operational cost. A genset fuel leakage monitoring solution provides you with a detailed analysis of fuel consumption, fuel-filled and fuel removed. It helps you to detect fuel theft and monitor your fuel expenditure efficiently.
Need of a centralized monitoring system
If you have multiple facilities, it becomes burdensome to monitor and manage all the DG sets manually. The integration of a diesel generator monitoring solution enables you to manage numerous generators located at multiple locations with the help of a single dashboard. You can also track the performance of every DG set using this dashboard and get real-time reports.
Real-time tracking
A DG monitoring solution helps you to monitor all the critical parameters from every diesel generator in real-time. It sends you alerts via SMS/email when it detects an abnormal pattern so that you can take immediate action. It monitors parameters like a generators' on and off status, GPS position, fuel levels, fuel inventory, etc.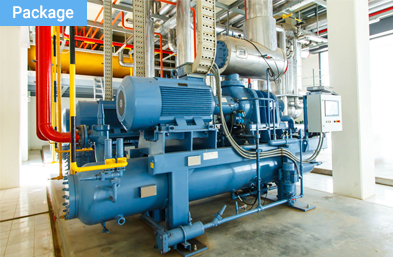 Smart Diesel Generator Monitoring Solution
Diesel generators have become a vital part of almost every business infrastructure. For seamless business continuity, DG sets play a crucial role by providing back up during power failures that may result in lost productivity.
High maintenance costs
If maintenance costs for your generators are exceptionally high and you're facing difficulty in scheduling maintenance of the same, then you surely need a generator monitoring system for your facilities. The system gives you real-time information like generator run-hours, battery voltage and temperature, etc. With this, you can schedule the maintenance checks easily. It will minimize early wear and tear and prevent downtime that will help you to save costs.
Over-heating
At times, diesel generators become very hot when they are used for a long period. This may be due to low coolant levels. A generator monitoring system would monitor the heat as well as lubricant levels and send you an alert to manage these parameters in time.
Vibration analysis
Vibration analysis is important to determine the operating and mechanical conditions of equipment. When you check your equipment for appropriate vibration, it becomes easy to identify problems before they develop and cause unscheduled downtime.
Improper turbulence
Turbulence is necessary for diesel generators to work. It is important to maintain its appropriate levels as lower levels of turbulence would lead to improper functioning of the diesel generator and higher levels may damage the fuel pipe. Hence, a DG monitoring system must be incorporated to monitor and maintain the appropriate levels of turbulence in the diesel generator.
An IoT-based remote monitoring solution helps you to monitor the turbulence and take necessary actions upon its threshold values.
The final say
The integration of a diesel generator monitoring system enables you to track and access crucial information from anywhere and anytime. It gives you access to generator control functions and operational data and helps to manage your generator(s) efficiently. This system also helps you to efficiently allocate resources for refueling and maintenance of generator(s). This reduces costs and prevents network downtime. A genset monitoring system minimizes the operational expenditure and maximizes your ROI. For more information about a diesel generator monitoring system, contact us today.
Insight
Five critical KPIs of diesel generator sets that boost their efficiency