IoT technology is transforming how consumers interact with devices. Smart diesel generator monitoring is among the unique IoT solutions for businesses which makes diesel generators (DG) smart with end-to-end automation. DG are essential to supply electrical power during an outage and prevent discontinuity of business operations. These generators provide years of dependable service and are an asset to any organization. Thus, maintaining these generators becomes a pressing task to make sure assigned work is executed without any hurdles. Many organizations are moving towards employing an IoT-enabled generator monitoring solution to facilitate smooth operations. In this blog post, we will highlight some of the compelling capabilities your smart DG monitoring should consist of.
What are the notable features of IoT-based DG monitoring system?
Real-time alerting
This feature provides you with real-time maintenance alerts, along with important notifications through email and text messages. Every time an anomaly is detected, the IoT sensors installed in the DG can trigger these alerts. Low fuel, leakage, overheating, increased engine temperature, noise-level variations and unforeseen breakdown are some of the anomalies that can be detected in the generators, which further helps to reduce resolution time drastically.
Fuel monitoring and tracking
Monitoring fuel consumption flow during operations is crucial as most of the incidents are prone to happen when operations are being conducted. For an efficient performance of generators, IoT-powered monitoring helps to track fuel usage patterns, refueling requirements, fuel leakages and more. And for optimum fuel management, it can further monitor fuel consumption at scheduled intervals such as hourly, daily, weekly and so on. Additionally, it can help to identify when fuel top-ups are required and how long the engine can run with that refilled fuel. Such close monitoring of fuel and real-time updates on its current usage can make your chain of operations smooth.
Remote management
This feature gives you the capability to control your DG sets remotely. You can turn a generator on or off or handle switching to avoid sudden seizures without manual intervention. Also, this feature is very helpful for businesses that have their DG set placed at a remote site. Additionally, it helps you to monitor your gensets' in real-time for maintenance and operational needs. You can also gain the visibility of health parameters for each generator individually to ease the monitoring process.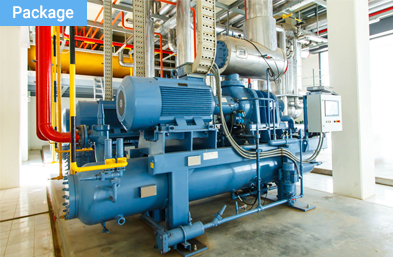 Smart Diesel Generator Monitoring Solution
Diesel generators have become a vital part of almost every business infrastructure. For seamless business continuity, DG sets play a crucial role by providing back up during power failures that may result in lost productivity.
Security and surveillance
Security is a vital factor when we think of managing an asset. With the help of IoT-based diesel generators monitoring, you can enable surveillance of the asset, no matter where your generator is placed. By doing so, you can get camera feeds for monitoring any activity around the premises. And the installed sensors will monitor the access of the doors and movements inside the premises and send you alerts when unauthorized access occurs.
Mobility
The entire idea of employing a DG monitoring system is to gain the ability to track and access information remotely. By gaining mobile control, you can automate schedule accessibility. And in critical cases, you can also raise maintenance tickets instantly and trigger the maintenance workflows for the operations team, all at your fingertips.
Intuitive dashboard
The entire solution of real-time diesel generator monitoring paves the way for an intuitive dashboard where you can view actionable insights with the help of multiple widgets as well as compare the parameters and generate reports on a daily, weekly and monthly basis. The dashboard also gives you the flexibility to view and manage the generators from anywhere.
Take away
Operating a diesel generator already costs an arm and a leg to growing enterprises. But with IoT-powered real-time health monitoring, you can gain transparency with fuel and power usage. Moreover, maintenance through predictive analytics will also help to improve your diesel generator's efficiency and result in lower operational costs. Therefore, employing a smart generator monitoring system makes complete sense, especially for businesses that are largely dependable on electrical power. If you are among those businesses who have decided to deploy a smart generator monitoring system, get in touch with us.
Insight
Five critical KPIs of diesel generator sets that boost their efficiency